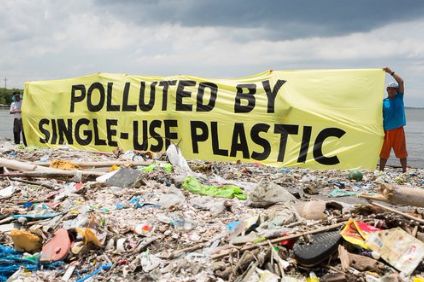 An increasing number of retailers and suppliers are pledging to go 'plastic-free', but will the industry ever do away with plastic completely? And what do drinks companies need to do to align themselves with this growing environmental concern? The third issue of FUTURES from just-drinks explores the possibility of a world without plastic.
More than a third of the food sold in the EU comes packaged in plastic, with estimates suggesting that, by 2020, Europe will consume more than 900 billion items of packaged food annually.
According to Greenpeace, this puts a truckload of plastic waste into our oceans every minute, where it becomes a hazard for marine wildlife and ends up in everything from seafood and drinking water to beer and sea salt.
Consumers are playing their part, too. A report from the UK government suggests plastic bag usage has dropped by 83% in England alone since the single-use bag charge came into effect in 2015, while plastic straw-free pubs and restaurants are becoming increasingly popular.
Campaigns encouraging shoppers to leave their plastic at supermarket tills are also gaining traction, as the general population becomes increasingly aware of the environmental consequences of the material.
Current targets hint at a more circular economy for plastics packaging. That is, ensuring the material is maximised and disposed of effectively, rather than eliminating it from use altogether. Each sector of the food and drinks industry will face different challenges in pursuit of this goal, but estimates suggest it is feasible within the next two decades or so.
A report from the Cambridge Institute for Sustainability Leadership, for example, says that plastic packaging waste could be eliminated from UK bottled water and soft drinks by 2030. The UK government, meanwhile, believes excess packaging waste from all industries could be eradicated by 2042.
Megatrends
Consumers around the world are waking up to the impact of plastic on the environment – and they are calling on food and drinks groups to do something about it. In turn, companies and governments are setting ambitious targets for the future.
The final episode in the BBC's Blue Planet II series sparked widespread shock when, for the first time, viewers could clearly see the impact of plastic on marine habitats. The TV show prompted far-reaching debate, and was cited as a major catalyst for the UK government's 25-year environmental plan. When HM Treasury called for responses to its consultation 'Tackling the plastic problem', it received 162,000 responses – the largest in its history.
The UK's 25-year environment plan aims to achieve zero avoidable waste by 2050, and seeks to eliminate avoidable plastic waste by the end of 2042. The UK Plastics Pact, a voluntary scheme from WRAP (The Waste and Resources Action Programme) aims to accelerate these goals.
Some 42 businesses across food manufacturing and retail have pledged to get rid of problematic or unnecessary single-use plastic through redesign and innovation by 2025, among other targets. In Australia, ministers this year endorsed a target of 100% of Australian packaging being recyclable, compostable or reusable by 2025.
The end of 2017 saw China impose strict limitations on imports of foreign waste, leaving 111 million metric tonnes of plastic waste from around the globe with nowhere to go by 2030.
Plastics are derived from oil, which is a finite resource. Once peak oil is reached, this resource will become increasingly expensive, making our current levels of plastic dependency economically unfeasible.
It's not certain when this will happen – in fact the timeframe changes with almost every report. One widely-cited study from the Royal Society on the future of oil supply, published in 2013, suggests that peak oil is 'probable' before 2030, and that there was a 'significant risk' that it would occur before 2020.
Businesses seen to be taking proactive sustainability measures are often perceived favourably by consumers.
According to a survey undertaken for supermarket chain Iceland, 80% of 5,000 respondents would support a shop's move to go plastic-free, while Unilever reports that brands falling under its 'sustainable living' label are growing nearly 50% faster than the rest of its business.
The feasibility of a plastic-free future
The plastics issue is driving remarkable innovation within the food and drinks sector.
Spanish company Laser Food has developed a labelling system that 'engraves' information on produce such as avocados and melons, eliminating the need for stickers or packaging. Waitrose has developed tomato packaging made from dried tomato vines, which is both widely recyclable and compostable.
And a company called Ooho has created an 'edible water ball', made of a natural, biodegradable membrane that can be fully swallowed and digested. For some companies and products, eradicating excess plastic will be easier than others. Iceland, for example, has begun bunching its bananas in cardboard, while Carlsberg is getting rid of more than 1,200 tonnes of plastic waste every year with a new 'Snap Pack' that bonds its beer cans together with glue instead of relying on plastic rings. Multiple coffee brands, meanwhile, have switched to 100% aluminium pods.
"Many alternatives can't offer the same benefits"
But plastic packaging serves a multitude of purposes, and it does so very well. Herein lies the major challenge in eliminating it from the waste stream: many alternatives can't offer the same benefits.
Producing drinks bottles in glass (an infinitely recyclable and easier to manage material) costs around the same as plastic bottles but boosts transportation costs significantly. Analysis by the Department of Engineering at the University of Cambridge shows that transporting glass bottles requires 40% more energy than plastic, and, according to CleanMetrics' carbon footprint and cost analyser, increases transport costs by up to five times per bottle.
Then there's the issue of food waste. According to the Netherlands-based Wageningen University, plastic packaging can triple the shelf life of more perishable products, so some quarters believe that doing away with plastic packaging will lead to a greater food waste problem than we already have.
Plastics manufacturers association Plastics Europe also estimates that using existing alternative materials in place of plastic packaging would almost triple the amount of greenhouse gases attributed to the food packaging sector.
However, a report from Friends of the Earth and Zero Waste Europe has found that an increase in plastic food packaging has not led to a decrease in food waste. Instead, consumer attitudes and expectations have created a complex relationship between the two, with multipacks, pre-prepared and convenience foods adding to both the food and plastic waste problem.
Karen Deans, MD of UK scoop-your-own frozen produce company Field Fare, says it's unlikely we'll ever be completely plastic-free. "There are many incidents where it's not needed, but it does have its place," she says. "When it is needed, it's vital that it should be recyclable, that consumers are educated correctly on how to recycle it, and that local authorities have the correct infrastructure in place to do so."
Indeed, confusion around current plastic recycling is a significant contributor to plastics pollution. Consumer brand Which? says it has found 'huge' inconsistencies within recycling labelling, with some recyclable packaging marked as non-recyclable and other items not marked at all.
At the same time, while many products are marked 'technically recyclable', there's little provision in place to manage with the complex processing required to deal with them (meanwhile, the British Plastics Federation (BPF) says extending facilities to better accommodate this material could create up to 25,000 new jobs by 2030). It's no surprise that a survey by waste and recycling firm Viridor found only 16% of 1,900 respondents felt recycling information on product packaging was easy to understand.
Clear labelling is vital, then, in helping consumers make informed choices about their purchases, not only in terms of recycling, but plastic consumption overall. The recently introduced Plastic Free Trust Mark, for example, allows shoppers to see at a glance whether plastic is used in a product's packaging. So far, the UK's Iceland supermarket and the Netherlands' Ekoplaza use the mark, as well as producers Teapigs and Percol Coffee.
Bioplastics will play a large role in the minimisation of 'traditional' plastic packaging. Made from renewable materials, bioplastics are designed to break down naturally, eliminating some of the risks associated with their oil-based counterparts.
A California start-up called Full Cycle Bioplastics, for example, uses bacteria to turn food or crop waste into a packaging material called PHA, which is foodsafe, compostable, and should it end up in the ocean, will safely degrade to become fish food. Numerous brands have adopted bioplastics in their packaging, such as Coca-Cola, PepsiCo and Heinz.
However, bioplastics can still inadvertently contribute to plastic pollution. According to the BPF, mixing the material in with traditional plastics during recycling can cause contamination, resulting in the entire load being sent to landfill.
Some innovative packaging can be recycled without specialist facilities. Global 'natural barrier packaging' brand Delipac, for example, is 100% recyclable, biodegradable and compostable, and offers the same robust grease and moisture properties as traditional plastic. But the material was in development for seven years, indicating the long-term timescales involved in determining credible plastic alternatives.
Consumer attitudes towards plastics are changing swiftly. According to a report from Charpak, 59% of UK consumers believe they're doing more to reduce the amount of plastic waste they generate compared to a year ago.
Another report states one-third of consumers are more likely to choose a product based on the packaging's recyclability than the brand or product's aesthetics. As such, companies will need to find ways to innovate existing products in order to empower consumers to make informed choices.
For example, in 2014 PepsiCo partnered with SodaStream to create a range of at-home carbonated drinks called Homemade – a move the companies claimed could help their consumers save up to 1,000 bottles and cans a year. PepsiCo maintained its interest in the at-home business and last year made a US$3.2bn move for the SodaStream business.
Other companies, such as Field Fare and Unpackaged, operate as 'bulk stores' where consumers can purchase the products they know and love in a loose 'fill your own' format. According to the World Economic Forum, schemes such as these could reduce packaging costs by at least US$8bn a year, and will play an important part in cutting waste – Charpak estimates that reuse 'provides an economically attractive' opportunity for at least 20% of current plastic packaging requirements.
These schemes will also force companies to drive innovation. The successful Refill campaign, for example, will see shops, cafes and businesses offer free water refill points in every major town and city in England by 2021. Bottled water companies will feel the impact of that, but it'll herald opportunities for new challengers such as Vivid Water, which is sold in recyclable boxes, and Just Water, which is sold in bottles made from plant-derived materials.
Plastic is clearly under the environmental spotlight, but financial challenges remain a barrier for many companies looking to make changes.
"If blue-chip companies make themselves plastic-free, it will be a lot easier for the rest to follow suit."
Innovation is costly, supply chains are complicated and while demand for bio-based materials is increasing and slowly bringing costs down, it remains comparatively more expensive. Even Coca-Cola has said that its plastic reduction efforts have led to increased costs. Smaller companies – while more agile and flexible than long-established brands – will benefit even less from economies of scale.
Theadora Alexander, co-founder of Young Foodies, a network of around 250 emerging food and drink companies, believes larger companies need to get the ball rolling. "If the blue-chip companies that account for 90% of our supermarkets make themselves plastic-free, it will be a lot easier for the rest to follow suit. Otherwise, it's not a level playing field – all that happens is our brands spend more on expensive alternative packaging, have to charge more to make themselves in any way profitable, and the mass market ends up going with the cheapest."
The plastics issue isn't going away and the packaging landscape could look very different in as little as seven years. Steve Lister, head of retail performance at marketing activation specialist KMMS, says it's important companies start looking ahead now:
"Brands do not want to make headlines for being the last to adopt a plastic-free stance. In any case, firms that focus on sustainability have been shown to perform better financially. Initial investment will be a concern, but there will be a positive financial return."
Expert opinion
For Colin Elkins, global industry director of process manufacturing at enterprise software company IFS, there needs to be more clarity around definitions of plastic alternatives in order for producers and manufacturers to get behind new packaging and communicate the benefits to consumers.
"I don't believe we will ever see a future where the food industry goes entirely plastic free. The achievable and sustainable future I see is one where the industry is utilising alternatives to single use plastics, made not from petrochemicals, but from truly biodegradable oils and sustainable plant matter.
"However, there has been a lot of confusion over the true definitions of alternatives such as biodegradable and compostable, which has muddied the waters and meant that we haven't quite reached the level of joined-up thinking across the industry to force change as yet. It will also be a few more years until we can be more certain on cost implications – as volume goes up, price comes down so current pricings are meaningless.
"Producers should nonetheless start seeking out alternatives now. They should be conducting testing to make sure the materials perform in their machines and deliver an acceptable level of protection for the product.
"Then they should be putting their full weight behind the marketing of their alternative packaging to gain a considerable leg up on the competition. The worst thing that a company can do is pretend that a move away from plastic will never happen. It will.
"Finally, one of the most important required changes will be a greater level of information, standardisation, and transparency for the consumer when it comes to the packaged food they buy. It should be clear what percentage of the packaging is biodegradable, how long it will take to degrade, and how best to recycle/compost it. Only then can producers truly satisfy environmentally-conscious consumers."
Exploring start-ups
Loliware
Loliware is a New York company dedicated to replacing single-use plastics with edible bioplastics derived from seaweed. The hero product? A straw that comes in several flavours including vanilla and rose. In July 2018, the start-up was named among the Sustainable Ocean Alliance's first five companies to become part of its Ocean Solutions Accelerator – a programme that offers funding and mentorship for "ocean entrepreneurs".
Repaq
Repaq makes food-compatible film packaging that is composted to CO2 and H2O within 42 days. The German start-up was last year short-listed for environmental compliance consulting company Landbell Group's Green Alley Award – the first European start-up award for the circular economy.
Sulapac
Sulapac was last year named one of Helsinki's hottest start-ups by Wired magazine. The company's products use a biodegradable material, suitable for foodstuffs, which is also free from microplastics. Its portfolio currently features a range of jars and will expand to include tubes.
Ooho
Aside from its edible water pouches, Skipping Rocks Lab's Ooho product can be used for sauce sachets. The UK company this July partnered with online takeaway outfit Just Eat to pilot edible seaweed-packaged ketchup.
Humble Bee
A New Zealand company working to use a material made by bees to waterproof nests, as an alternative to plastic. Humble Bee has received capital from New Zealand Venture Investment Fund, among other places, and reports suggest the Humble Bee innovation could be available in the next five years.
What you need to think about now
From negotiating with suppliers over new innovations to communicating your efforts to consumers, food and drinks companies need to consider plastic alternatives now.
Make sure labels clearly communicate what can be recycled and what can't. Organisations such as WRAP are there to offer help and guidance – contact them for advice on where your business can start.
It's a good time to negotiate innovation and trial packaging. If a plastic tax is introduced and you don't have options agreed with suppliers, negotiations will be a lot harder.
Small changes are better than none
It's better to make small steps as and when you can, than to put off measures entirely because they seem insignificant. Make plastic-reduction a long-term, continuous goal to steadily work towards.
Look for proactive solutions
Work behind the scenes is already taking place at companies such as Tetra Pak, where a move to make all of its beverage cartons fully recyclable will "double the value" of used cartons. Average beverage cartons contain 75% paperboard, which has a high value when turned into pulp. However, the rest is made up of plastic and aluminium, which can be more difficult to sell as secondary material.
Tetra Pak, in partnership with waste management company Veolia, has designed a new processing system that will convert the recovered polymer and aluminium mix (PolyAl) into a raw material designed for use in the plastics industry. The company aims to put all of its beverage cartons collected within the EU through the process by 2025. Meanwhile, PET manufacturer Sidel Group at this year's beverage industry show Brau Beviale talked about how its bottling lines were reducing waste and inefficiencies.
Consumers respond well to companies, demonstrating sustainability initiatives, so if you're doing something well, make sure they know about it.
In sum, industry's desire to be more efficient and sustainable, coupled with the seismic shift in consumer attitudes towards plastic, will continue to drive innovation from start-ups as well as from food and drinks companies.
Smarter recycling initiatives, coupled with plastic alternatives will be key not only to the food and drinks industries but also to the planet.