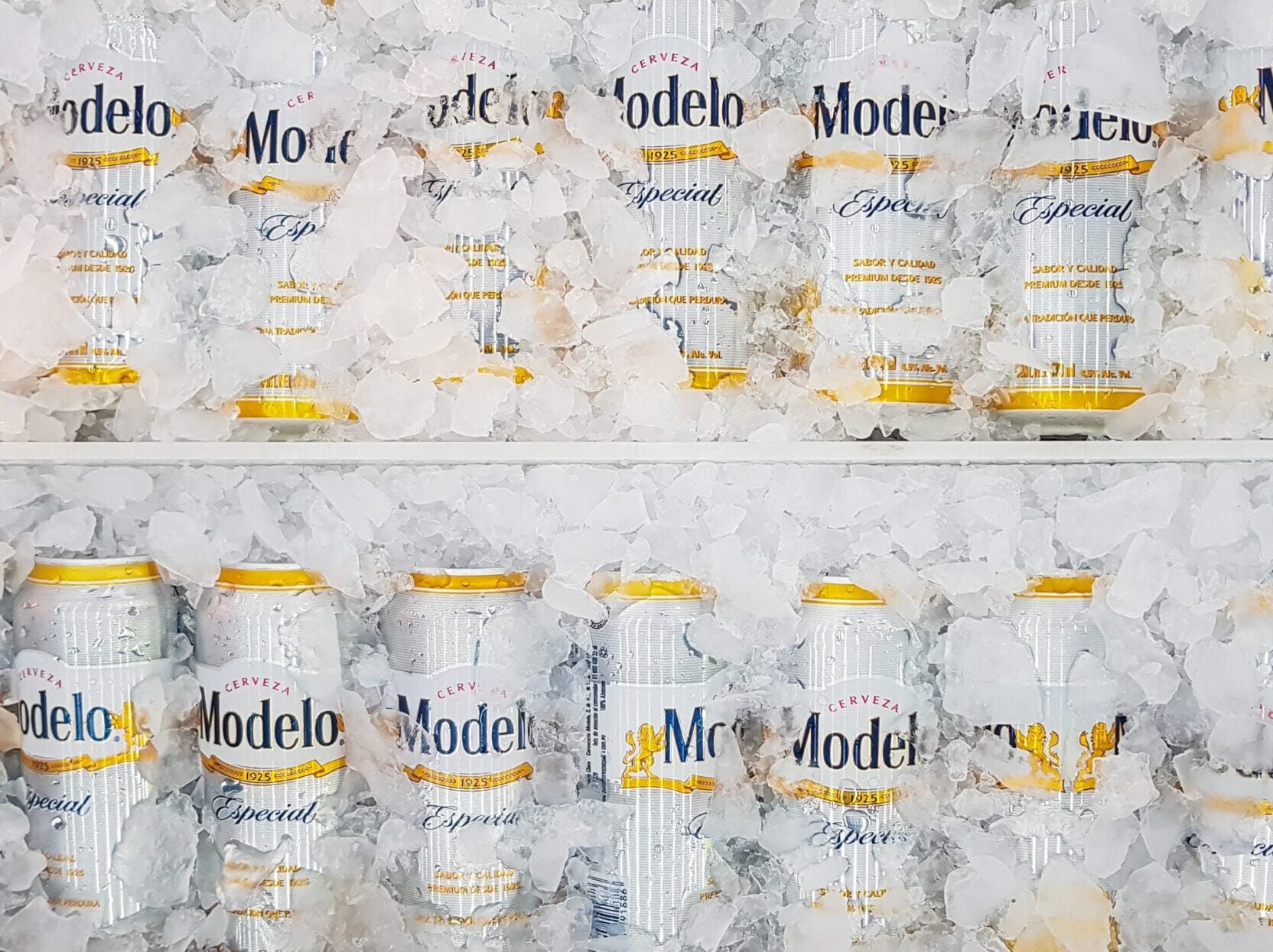 For a company that remains hugely reliant on beer as a revenue source – the category accounted for 76.5% of sales in fiscal 2022 – much intrigue still surrounds Constellation Brands' presence in other beverage categories, including wine, spirits, RTDs and cannabis drinks.
Both wine and spirits have witnessed a determined shift towards value and away from volume in recent years, encompassing acquisitions, disposals and new ventures. The company has also been hugely active in hard seltzers – with mixed results – while big questions surround its enormous investment in cannabis beverage partner Canopy Growth, which has endured a difficult recent past.
The persistent success of Constellation's Mexican beer roster – Corona and Modelo – in the US continues to drive the business, with recent growth spearheaded by the broadening of both brands' appeal beyond their traditional base among Hispanic consumers.
This in turn has encouraged Constellation to announce large-scale investments in boosting brewing capacity in Mexico but the company's record in the craft beer segment has been somewhat patchy over the past five years.
Constellation has boldly stated it wants to become the "number one leader in the fine wine category", and has spent the past few years shedding lower-priced brands – most notably in a much-changed, much-delayed US$810m sell-off to Gallo – and focusing on higher-margin names such as Kim Crawford, Robert Mondavi and The Prisoner.
How well do you
really

know your competitors?

Access the most comprehensive Company Profiles on the market, powered by GlobalData. Save hours of research. Gain competitive edge.
Company Profile – free sample
Thank you!
Your download email will arrive shortly
Not ready to buy yet? Download a free sample
We are confident about the unique quality of our Company Profiles. However, we want you to make the most beneficial decision for your business, so we offer a free sample that you can download by submitting the below form
By GlobalData
Spirits follow a similar pattern, with Canadian whisky brand Black Velvet and Paul Masson Grande Amber Brandy both disposed of, and the company taking stakes in a succession of craft operators. A new Fine Wine and Craft Spirits division aims to enhance profitability across both categories.
A year ago, Constellation CEO Bill Newlands was making highly positive noises about the prospects for the company's hard seltzer stable, but the reality check that has impacted the category since then has led to a writedown on unsold stock, and a wholesale rethink of the approach of the business to the broader AAB (alternative adult beverage) category.
Like many rival businesses, Constellation is pursuing a more nuanced cross-category approach to beverages in 2022, including a foray into functional soft drinks and an agreement with The Coca-Cola Company to produce RTDs for the latter's Fresca line.
There have been intermittent rumours of a potential merger with soft drinks operator Monster Beverage but, to date, nothing more definite has emerged – and Constellation's recent decision to spend $500m on a share buyback suggests any deal could be some way off.
Constellation Brands' sales performance trends
There's no doubt Constellation's strong focus on the US market, and in particular on its Mexican beer brands, Corona and Modelo, enabled the business to navigate the challenges of Covid-19 more successfully than many of its rivals.
Even a cursory glance at its sales trends over the past five years confirms this view, as well as illustrating the twin impacts of success in beer, and a reset in wine and spirits away from volume and towards value. This has reduced Constellation's scale in the latter two categories in an effort to enhance profitability.
Revenues have increased every fiscal year (Constellation's reporting period runs to the end of February), from the $7.59bn recorded in 2018 to the $8.82bn posted in fiscal 2022. Even in fiscal 2021, the year most affected by the pandemic, the company managed a 3% sales gain, mirroring the previous year's performance. Momentum slowed slightly in 2022, with a 2% sales rise secured thanks to a strong fourth quarter.
At the same time, Constellation's strong reliance on beer as a revenue source has only increased. Back in 2018, beer sales stood at $4.69bn, or just over 60% of global sales; by 2022, the figure had grown to $6.75bn, or almost 77%.
Constellation Brands' category performance trends
Beer
The success of Constellation's beer portfolio has only grown over the past few years – a 10% sales increase in fiscal 2021 was trumped by an 11% hike in 2022 – as Corona and Modelo continue their remarkable momentum in the US. The company has now seen 12 consecutive years of volume growth in beer.
Off-premise demand grew strongly during pandemic lockdowns and this has continued even as the on-premise has slowly reopened and recovered. In fiscal 2022, Modelo Especial (15% depletion growth) and Modelo Chelada (+30%) were highlighted by the company as especially strong performers.
Part of the secret to Constellation's success in a recently uninspiring US beer market has been the successful demographic expansion of its marquee brands. Hispanic consumers initially accounted for about 80% of Modelo Especial's sales but this figure has fallen to 50% as the brand's appeal has diversified. Bearing in mind Corona's consumer base is only 35% Hispanic, there could yet be good headroom for future growth.
Constellation has also moved to extend the reach of its marquee beer brands through NPD, using a regional approach to target local trends in the US with specialist products such as Modelo Oro, a premium light beer announced in March 2022, and fresh entries to the growing chelada segment.
Beer's impressive growth has prompted the company to invest heavily in boosting brewing capacity in Mexico, including $900m in its Obregon brewery in March 2018, and increasing the capacity of the Nava (Piedras Negras) facility to 27m hectolitres. However, plans to open a third brewery at Mexicali had to be shelved amid local protests over water shortage.
In April 2022, Constellation announced a further $5-5.5bn investment in boosting production at its existing two breweries, as well as building a third at a new site in Veracruz in the south east of Mexico.
Constellation's record in craft beer has been more patchy. The acquisition of Funky Buddha Brewery in Florida in 2017 was overshadowed by the woes experienced by Ballast Point, the craft brewer Constellation acquired for $1bn in 2015.
By the time the company offloaded the San Diego business to Kings & Convicts Brewing Co. in March 2020 for an undisclosed sum, Ballast Point's assets were listed as being worth only $42m.
Hard Seltzers/AABs
What a difference a couple of years makes. Corona Hard Seltzer was launched by Constellation in 2020 with a $40m marketing budget and huge optimism from CEO Newlands, despite a lawsuit from Anheuser-Busch InBev claiming that the product violated the terms of Constellation's US licensing agreement for the Corona brand.
Despite early success – Corona Hard Seltzer swiftly moved up to fourth place in the category rankings – by October 2021 Constellation had announced a rethink of its hard seltzers alongside a $66m writedown linked to unsold stocks and over-optimistic sales forecasts.
Now Newlands is notably more cautious about the prospects for further seltzer growth, recognising the company needs to adopt a more flexible, nuanced approach to the broader alternative adult beverage (AAB) space.
The fresh strategy has so far encompassed a reformulation of Corona Hard Seltzer, the withdrawal of the Corona Refresca FMB, and the introduction of new products such as Corona Lemonada Seltzerita.
More broadly across RTDs, the company has been very active of late, announcing the full acquisition of Austin Cocktails in April 2022 (having acquired a stake in late 2018) and NPD including Next Round, a line of wine-based cocktails, and two RTDs under the Svedka banner: Svedka Tropics Tea Spritz in March 2022, and Svedka Vodka Soda in July 2021.
Wine and spirits
Constellation's focus on enhancing value across the company's wine and spirits roster has strengthened over the past few years, but the approach has deeper roots, including the acquisitions of high-value wine brands such as Meiomi, The Prisoner and super-premium skus from the Charles Smith Winery dating back to 2015-16.
Since then, M&A activity has featured more disposals than purchases, but the company bought direct-to-consumer online startup Empathy Wines in July 2020, before acquiring a minority stake in Paso Robles winery Booker Vineyards later that year. It has also boosted its presence in the fast-growing rosé segment, buying a stake in US-based La Fête du Rosé, which sources wine from the South of France, plus pink California sparkler Sapere Aude in June 2021.
Wine disposals also have some history – Constellation's Canadian wine assets were sold off for just over CAD1bn as long ago as 2016 – but most attention recently has been devoted to the long-running sale of mainly low-priced US wines (plus some spirits) to Gallo.
The sale was eventually completed in January 2021, by which time the initial value of the deal had been more than halved from $1.7bn to just over $800m, thanks to revisions and regulatory issues. Constellation's Nobilo winery in New Zealand was also sold to Gallo in a separate deal worth $130m.
Spirits have followed a similar trajectory to wine, with an emphasis on a series of relatively small acquisitions among craft operators, including the acquisition of Copper & Kings in Kentucky, plus stakes in Nashville-based Nelson's Green Brier Distillery, Colorado rum maker Montanya Distillers and Durham Distillery, a North Carolina-based gin, vodka, liqueurs and RTD producer.
The spate of stake purchases has continued: The Real McCoy, a Barbadian rum made by Foursquare, New York Bourbon and gin maker Black Button Distilling and two mezcal businesses – El Silencio, and, in June 2021, Dos Hombres, the brand co-owned by Breaking Bad stars Bryan Cranston and Aaron Paul.
On the other side of the ledger, Paul Masson Grande Amber Brandy was offloaded to Sazerac for $255m in June 2020.
The result has been a sizeable reduction in reported sales from Constellation's wine and spirits stable, thanks to those disposals, but underlying trends are already more positive, with organic sales moving up by 9% in fiscal 2022, thanks to strong performances from The Prisoner, High West, Meiomi and Kim Crawford.
Cannabis/soft drinks
Constellation has bet big on cannabis beverages over the past five years, spending billions of dollars on amassing a 38.6% shareholding in its category partner, Canadian cannabis business Canopy Growth. So far, it has seen little return, and no end of questions about the wisdom of its investment.
Canopy Growth has seen its share price drop repeatedly in a challenging Canadian market beset by tough competition and restricted distribution opportunities, with a succession of layoffs culminating in 245 job losses (8% of its workforce) in April 2022.
Even the departures of the company's co-CEOs, to be replaced by Constellation CFO David Klein, have failed to stop the rot, and now Canopy Growth isn't expecting to post its first profit until 2024, rather than 2022 as originally planned.
Meanwhile, the first cannabis beverages have hit the market, despite production delays, including the launch of CBD-infused flavoured sparkling water Quatreau in the US in March 2021, as well as the debut of Karma CBD Water, a tie-up with Karma Wellness Water (in which Constellation owns a stake), which uses the company's beer distribution network in the US.
Constellation has also made a tentative foray into soft drinks, acquiring a minority stake in functional soft drink Hop Wtr, which contains hops and "stress-reducing" ingredients, in July 2021. The company has also joined forces with The Coca-Cola Co. on plans to launch a spirit-based RTD line for the latter's Fresca brand. Constellation will handle manufacture, marketing, distribution and launch activities.
The future?
Constellation Brands faces a number of challenges and opportunities during 2022, including:
Big in beer: The success of Corona and Modelo, coupled with wine and spirits sell-offs, has left Constellation with a very narrow revenue focus: reliant largely on two high-performing beer franchises and their fortunes in one market (the US). Might this imbalance spell trouble for the company further down the line?
Canopy capers: Constellation's position within the nascent but troubled cannabis beverage segment is very difficult right now. It's still relatively early days, but successive job losses and share price declines are so far making the company's huge investment look dubious, to say the least. Will Constellation stay patient? Given the cost of its stake in Canopy Growth, does it have any option?
Cross-category capers: Beyond cannabis beverages, Constellation has made a tentative foray into functional soft drinks, and has got together with Coca-Cola for the new Fresca RTD range. As the company looks to lessen its reliance on beer, might we see more activity in this area in the months and years to come?
Seltzer switch: After the rose-tinted optimism and unrealistic sales forecasts of 2020-21, Constellation's recently more sober assessment of the segment's prospects looks much more level-headed. The company is now pursuing a more balanced and broader-based RTD strategy that cuts across seltzers into a wide range of wine- and spirit-based premix products.
Mythical Monster?: On some levels, the idea of Monster Beverage and Constellation getting together looks enticing, thanks to the complementary nature of the businesses (in terms of geography and category). But an alternative view would see the companies as ill-suited because they are simply too different. Anyway, the recent $500m share buyback appears to have diminished the imminent prospect of any deal.
Fine wine and craft spirits: The name of Constellation's new high-end business unit, Fine Wine and Craft Spirits, neatly sums up the company's evolving approach to these two categories. So far the disposals have been more significant than the acquisitions, which have largely focused on minority stakes and boutique operators. That will have to change – on the wine side at least – if the company is to achieve its stated (if tautologous) aim to become "number one leader in the fine wine category".