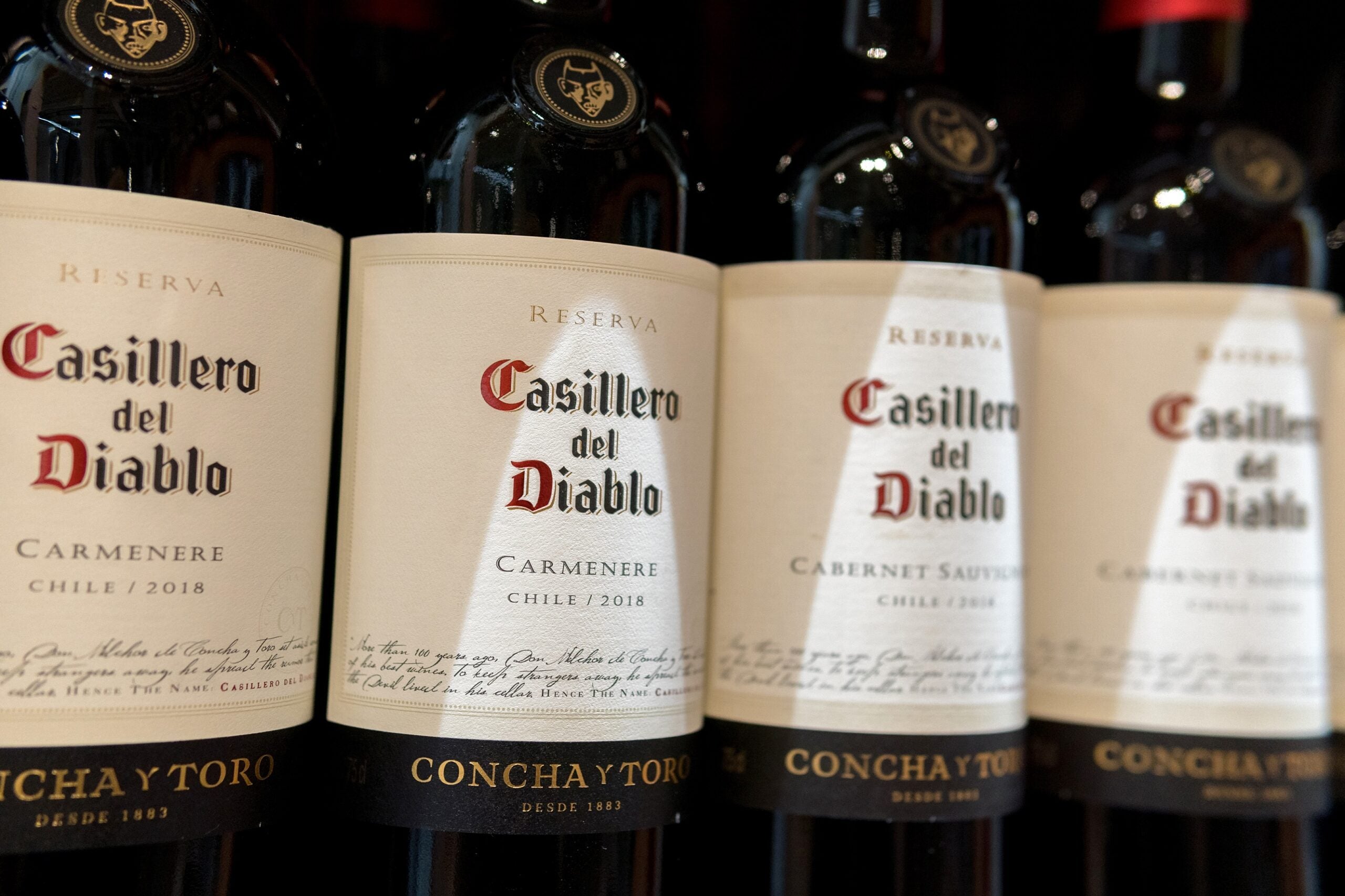 Concha y Toro, the pre-eminent presence in Chilean wine with additional interests in Argentina and California, continues to marry the stability of family control (the Guilisastis and Larrains are leading shareholders) with a premiumisation-driven strategy that has been prioritising value over volume since a corporate overhaul five years ago.
That 2022 strategic plan, announced in 2017, included a revamp of the company's production, logistics and support functions that took 12 months to complete. In branding terms, it has meant a renewed emphasis on more profitable brands, such as Casillero del Diablo, Cono Sur, Trivento and 1000 Stories, with mass-market wine activities deprioritised.
That strategic rethink might have been hampered by the impact of Covid-19 in 2020, but Concha y Toro's retail strength in key markets such as the UK protected it from the worst effects of the pandemic, with a double-digit revenue hike despite a slump in Asia and China in particular.
The company consolidated those gains in 2021, with a near-9% revenue hike to CLP836.7bn (US$936m). While price rises impacted volumes in Europe and the difficulties of a lacklustre domestic wine market in the US continued to hit Concha y Toro's Fetzer and Bonterra operations, Asia and Latin America both recorded impressive growth.
Casillero del Diablo is the company's clear leading brand, and its weapon of choice when expanding into new territories. In more mature markets, line extensions into higher price-points aim to enhance value and profitability.
Other brands aim to emulate that success, whether from Chile (Cono Sur, Marqués de Casa Concha, Don Melchor), Argentina (Trivento) or California (Bonterra, 1000 Stories). Concha y Toro still has a sizeable rump of lower-priced wine brands, especially in its home market of Chile and in the US, but has made a determined effort in the past few years to disengage from these less profitable activities.
While Concha y Toro remains a mainly export-focused business, Chile is still a significant market, with a 17.4% share of global sales. This is built both on a strong domestic wine presence (which is steadily premiumising) and third-party distribution of spirits and beer.
As costs and inflation has risen, the company was relatively quick to announce price increases, both in 2021 and the first quarter of 2022. This has had an impact on volumes in Europe, for instance, but is in line with the broader strategy pursued by Concha y Toro for the past five years.
Concha y Toro's sales performance by region
While Concha y Toro retains a strong presence in its home market of Chile, Europe has long been its leading region in revenue terms. More recently, the acquisition of Fetzer and Bonterra from Brown-Forman in 2011 gave the company a stronger presence in the US, and there has been a determined effort to expand sales in Asia.
Comparisons over a five-year period are troublesome for two reasons: firstly, because Concha y Toro publishes only reported (not organic) sales, which are influenced by currency fluctuations; and secondly, because the company has changed the way it splits its revenues geographically since 2017.
This was the revenue split reported by Concha y Toro in 2021 (and in 2020):
Europe: 39.2% (2020: 40.5%)
US/Canada: 18.5% (20.4%)
Chile: 17.4% (15.7%)
Latin America: 15.7% (14.5%)
Asia: 8.4% (8.2%)
Africa/Middle East: 0.8% (0.8%)
Europe
While its share of revenues has fallen slightly in recent years, Europe is still the mainstay of Concha y Toro's wine sales, and has accounted for more than half of the company's export volumes over the past five years.
The UK is a strong performer, with the company's robust retail presence underpinning that, particularly amid the on-trade closures and lockdowns of Covid-affected 2020.
Markets here are typically relatively mature, encouraging Concha y Toro to bring out value-led line extensions and limited editions linked to its successful Casillero del Diablo franchise, such as Diablo Black. More left-field innovations have included the Jacked flavoured wine range, and canned wine spritzer Ojos.
Regional volumes declined by 4% during 2021 after prices were raised, leading to a 14% increase in average value. Despite that volume fall, case sales remained 10% above the pre-pandemic year of 2019.
The first quarter of 2022 saw an at first glance surprising decline for the region: value down 5%, volumes slipping by 22.6%. The company blamed a combination of price rises and a big finish to 2021, with retailers still retaining plentiful unsold stocks early in 2022.
US
The US was already a strong market for Concha y Toro well over a decade ago, but the acquisition of Fetzer Vineyards from Brown-Forman in 2011 gave the Chilean company a much bigger presence in the market.
However, it hasn't always been easy, with the challenges of the US domestic wine market making growth elusive for Fetzer in particular. Generally speaking, overseas trends for the California brands have been far more dynamic than those at home.
Such difficulties have reinforced the importance of shifting the company's focus away from volume and towards value, most notably through the success of the 1000 Stories brand, and also through the South American duo of Casillero del Diablo and Trivento.
The strategic shift of 2017-18 saw Concha y Toro buy out its US distribution partner, Banfi Vintners, thus taking full control of their former joint venture business, Excelsior Wine Co, and combining it with the Fetzer Vineyards entity.
In 2021, US sales fell 3.5%, with volumes declining by 1.5%, but the company highlighted a 7.1% volume increase for its higher-end products, including Bonterra, Trivento Golden, Marqués de Casa Concha and Don Melchor – a further indication of the premiumisation shift. Meanwhile, its less profitable 'Protect' and 'Watch' brands declined.
That continued into the first quarter of 2022, when sales in the US rose by just over 8%, but volumes slumped by 14% as the company continued to give less emphasis to lower-margin products.
Chile
Concha y Toro has long been a dominant presence in its domestic wine market, but there have been a few challenges to face over the past five years, including the loss of distribution of Diageo's spirits brands in 2018, and social unrest during 2019.
However, Chile has provided a template for the company's enhanced value focus. In 2021, revenues rose by 25% and wine sales in the country were up by almost 15%, but there were contrasting fortunes at either end of the pricing spectrum: while volumes for the higher-margin 'Principal' and 'Invest' brands rose 63%, those of the company's mass market wines fell by 21.9%.
Revenues were boosted further by the performance of Concha y Toro's third-party distribution business – a range of spirits and beers, including Miller, Kross and Estrella Damm.
The pattern continued in the first quarter of 2022: revenues in Chile up 13.7%, with wine sales rising 2.1% and beer/spirits sales climbing by 36.1%. Wine volumes fell as mass-market products continued to decline.
Latin America
Mexico and Brazil, and to a lesser extent Argentina, are significant regional markets for Concha y Toro, and ones that have shown promising signs of growth in the recent past.
Argentina – a volatile market beset by economic issues – fluctuates between periods of strong growth and dwindling domestic consumption, but for the company it is more significant in terms of wine production, and is the home of Concha y Toro's Trivento brand.
Wines sourced from Argentina recorded double-digit gains in 2021, largely as a result of overseas success, which the company described as "remarkable" during the period.
The broader Latin American region, meanwhile, reported a 15% volume increase in 2021, which Concha y Toro attributed to the work of its distribution offices in Mexico and Brazil, witih prices up on average by 3.3%.
Asia
Asia has been a region of great promise for Concha y Toro, and one which the company has worked hard to exploit since establishing a local office in Singapore in 2010, as well as the Gan Lu Wine Trading arm in 2013, and VCT Japan, a joint venture with the Mercian Corporation and Mitsubishi Co, a year after that. China now has an integrated distribution model, which has proven successful elsewhere.
Bullish forecasts included a 1m-case sales target set for China by 2018 – hampered by a port workers' strike in Valparaiso – but more recently, as elsewhere, the emphasis has switched to one of value.
That appeared to be bearing fruit in 2019, when regional revenues rose by double digits despite volumes remaining flat, but then came the pandemic: volumes down 20% in 2020 (and -46% in China alone) – although South Korea was a bright spot with a 22% volume increase.
It seems that 2020 was a blip. Asia was a standout for Concha y Toro in 2021, with volumes up 4% and average prices rising by 11%. Revenues in China almost doubled on 2020, well ahead of a volume increase in the country of 57%, while South Korea continued its momentum: sales up 21% and volumes climbing by 20%.
The value shift was even more apparent in the first quarter of 2022, when regional revenues slipped by 8.3% on a volume decrease of 4.4%. While Japan recovered strongly – volumes up 39.5% – South Korea's volumes slumped by 34.5%.
Revenues in China fell by 12%, but the company highlighted a volume dip of -51% as evidence of its contined pivot away from mass-market wines and towards premium-and-above products.
Concha y Toro's brand performance
The strategic rethink in 2017/18 included the creation of a new 'brand matrix' of Concha y Toro's wines, split into four categories, roughly (but not precisely) in descending order of value:
Principal: Casillero del Diablo, plus line extensions
Invest: Don Melchor, Marqués de Casa Concha, Diablo, Trivento, Cono Sur, 1000 Stories and Bonterra
Watch: Sunrise, Tocornal and Anthony's Hill
Protect: Fetzer, Frontera, Reservado, Clos de Pirque, Exportación, Isla Negra and Maipo Core
The shift in emphasis in favour of value broadly favours the Principal and Invest subcategories – and 2021 proved to be a landmark year for them as they amassed a 53% share of wine revenues (49% of total company sales), up from 46% the year before. That came as a result of a 17% revenue hike for Principal and Invest brands, with volumes rising 11%.
Casillero del Diablo remains Concha y Toro's leading brand, pursuing a twin-track strategy of expanding into newer or emerging markets, while enhancing value through line extensions in more mature destinations – such as Casillero Reserva Privada and other super-premium spin-offs.
March 2021 saw the debut of the first non-Chilean Casillero wine, a Tempranillo from the Spanish region of Cariñena, and sold in the UK.
Elsewhere, among the company's South American wines, Argentina's Trivento Reserve has consolidated its solid presence in the US and UK, with Chile's Cono Sur Bicicleta also a strong fixture in the latter.
The rather more mixed performances of Concha y Toro's California wine brands are in part a reflection of some of the challenges inherent in the US wine market. While Fetzer has had a rollercoaster time of it, trends are more positive for higher-priced Bonterra and 1000 Stories.
The key questions facing Concha y Toro
Concha y Toro faces a number of opportunities and challenges, including:
Rising prices (I): The entire drinks industry is currently puzzling over how to manage rising costs and falling disposable incomes among its consumers. Price rises are inevitable, but how much will the market take? Concha y Toro moved earlier than most in putting up its prices, but nonetheless it will still face the same dilemma in the months ahead as costs increase and the supply chain remains squeezed.
Rising prices (II): Rising costs and spiralling inflation make the company's determination to prioritise value over volume even more strategically sound – and the move to do so five years ago now looks prescient. The pressures will continue in many markets, but sourcing the majority of your revenues from higher-margin products leaves you better equipped to ride out the crisis.
Support acts: Casillero del Diablo has huge equity and longevity – the 'devil's cellar' backstory has been a fixture of its marketing for more than 20 years – and the company has been hugely successful in continuing its momentum, especially with higher-value line extensions. Repeating that trick with Trivento Reserve, 1000 Stories and/or Bonterra will help diversify revenue streams in the future.

Asia – time will tell: Asia showed strong signs of recovery in 2021, but challenges remain. China continues to be subject to Covid-19 restrictions, impacting trade in major urban centre and, while Japan is showing positive signs of a resurgence, the dynamic growth of South Korea has juddered to a halt. Concha y Toro will want to see stability and positivity, not volatility, in the region during the years ahead.