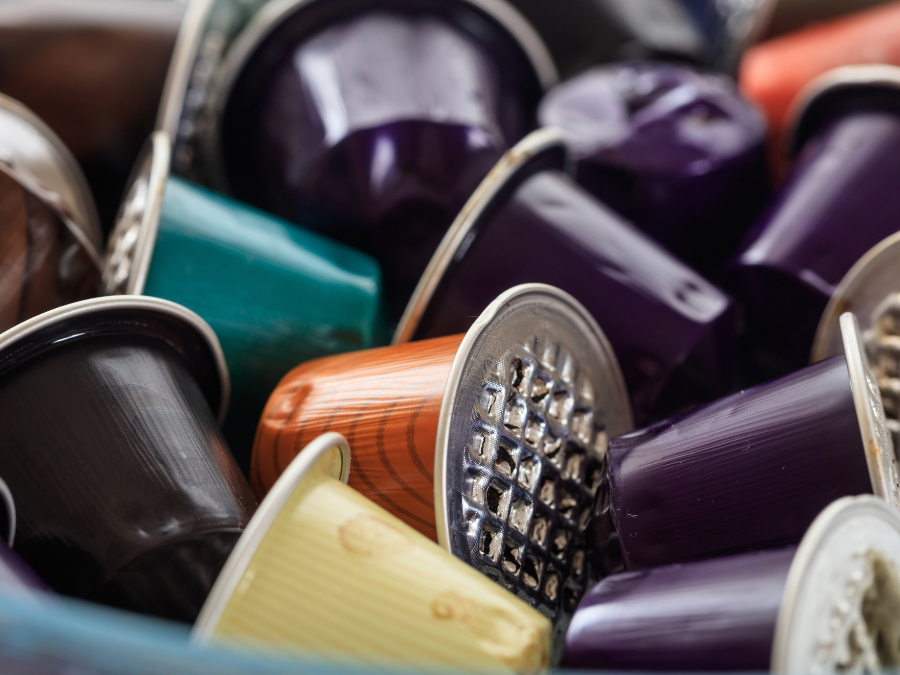 There's little point disputing that the invention of Nespresso in 1986 changed the at-home coffee market forever. Nestlé's pod-based system – invented by Swiss engineer Eric Favre – combined the convenience of domestic coffee with the quality associated with coffee shops and espresso bars, and the food-and-beverage giant has subsequently reaped the (quite considerable) rewards.
Today, the Swiss giant estimates more than 14bn Nespresso capsules are sold every year and more than 400 Nespressos are drunk every second. Many competitor brands have sprung up in the intervening period; some that work with Nestlé's own machine, and others that push their own pod-based systems, but none can match Nespresso in scope and scale. So ubiquitous is the coffee pod system that Nespresso has often been described as the Apple of the coffee world because of the way its invention has transformed the daily habits of millions of consumers.
As consumers become increasingly environmentally conscious, however, Nespresso's game-changing innovation has come under the microscope. Although in principle, the plastic and aluminium that makes up portioned coffee pods is recyclable, one estimate – from UK plastic-free coffee pod firm Halo – suggests as many as 29,000 of the 35,000 single-use coffee pods produced every minute globally end up in landfill. This is because the pods – often containing a mix of materials combined with the dregs of organic waste from the ground coffee – are difficult to process at standard recycling facilities.
There's also the issue of aluminium mining itself – a costly and profligate process that produces ten to 12 tonnes of waste for every tonne of metal extracted from the ground. According to Mining Technology, aluminium has the highest emissions per dollar intensity of any metal, at 10.2kg CO2e/$, far outpacing steel at 5.3kg and zinc at 1.9kg.
Each tonne of aluminium takes around 14 megawatt-hours of power to produce, enough to run an average UK home for more than three years, making the industry the fifth-largest energy consumer globally. Nespresso uses 80% recycled aluminium for its pods but, when you're selling 14bn pods a year, that's still a lot of non-recycled aluminium (3,724 tonnes per year, according to this author's fag-packet calculations*).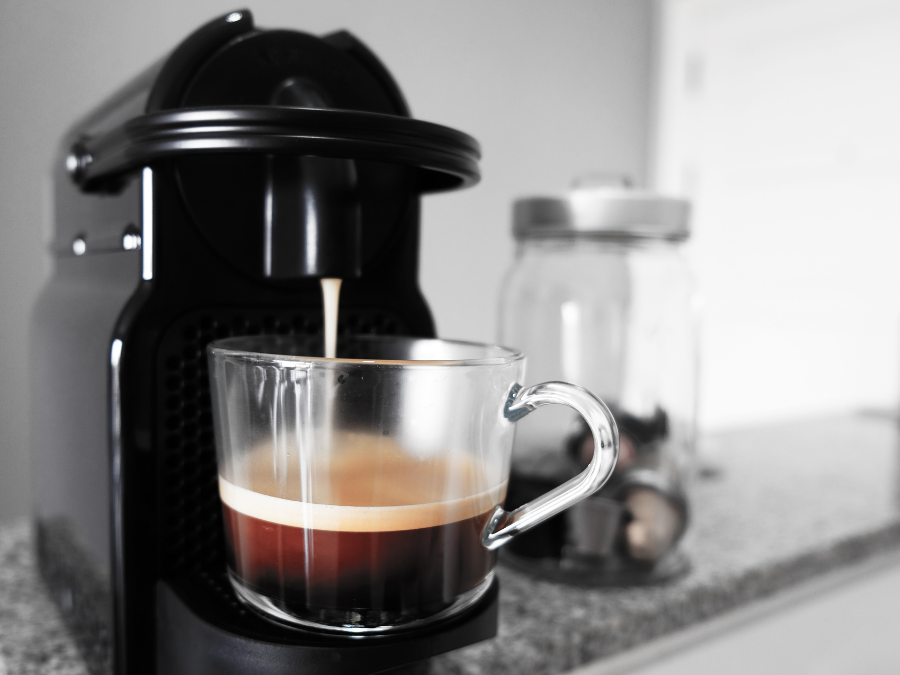 Could coffee pods be more widely recycled?
In its defence of the Nespresso system, Nestlé's coffee subsidiary states pod-based systems can be more sustainable than bean-to-cup methods of brewing coffee, due to the precise quantities of coffee, water and energy that are used per cup.
"Our system is very efficient compared to many other ways of making coffee," a Nespresso spokesperson told Just Drinks. "That's because a Nespresso machine uses only the exact amount of energy, water, and coffee to make one cup. Half of the cup's footprint comes from the coffee itself and 15% is driven by what happens in your kitchen when you make your coffee.
"When you see what's behind the product's footprint, you realise that using the exact quantity of coffee and water is a critical point to make an impact. It means that, when you compare a cup of Nespresso to other methods of making coffee, the impact can be better."
Nespresso claims a global recycling rate of 32% for its pods (note this means more than two-thirds of its pods end up in landfill) and states that 90% of Nespresso consumers worldwide have access to a convenient used-capsule recycling solution. The company refuses to reveal regional data about how and where its pods are recycled, however, and some experts suggest the real figure of single-use pods recycled globally is closer to 5%.
Between 2014 and 2020, the company says it invested over CHF240m ($241m) in recycling programmes across 70 countries. One such program is Podback – a UK-based joint venture between Nestlé and its coffee peer Jacobs Douwe Egberts. Launched in April 2021, the non-profit recycling scheme is paid for entirely by its members and claims to offer over half a million households the opportunity to recycle pods as part of their local authority kerbside service.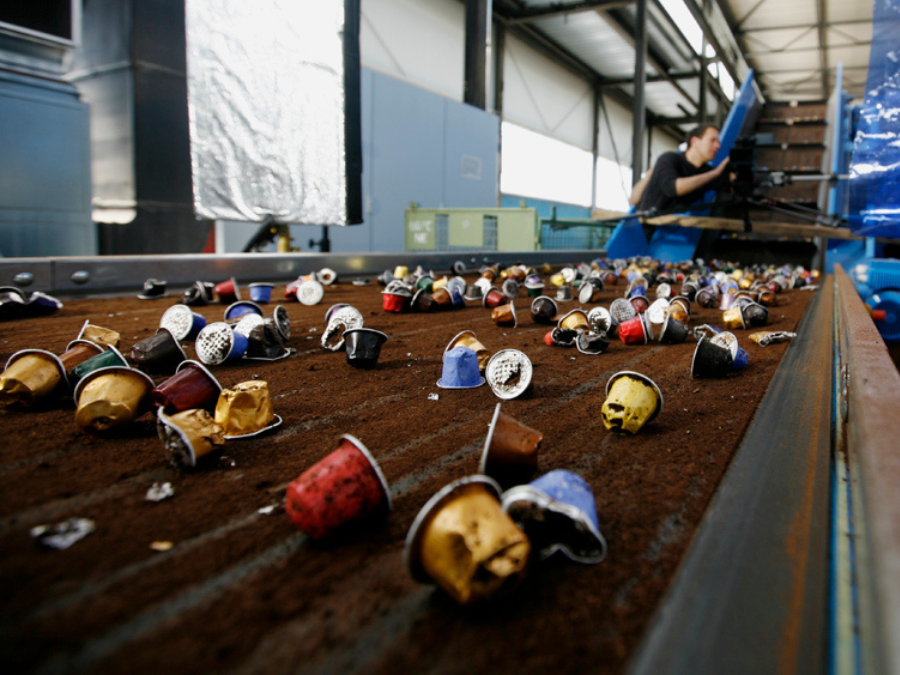 "We think it's important that the category gets behind one scheme so that it's a simple, easy message for consumers, or coffee producers," explains Podback executive director Rick Hindley. "All of the research we've done shows it needs to be simple for consumers, and it needs to be easy for them to understand what to do. Our research also showed that if it was really going to be successful, it had to be as convenient as recycling, which is why we needed to create a system that works alongside the existing kerbside collection system."
Podback is aiming to be able to offer kerbside pickup for half of UK households by 2026 and those not currently able to organise pick-ups (nine UK local authorities are currently signed onto the scheme) can order Podback recycling bags and drop off used pods at one of 6,500 dedicated collection centres across the country.
Hindley says that, if successful, the scheme could work internationally to tackle coffee pod waste on a larger scale.
"There's no doubt that eyes are on what we're doing here in the UK and, if it's successful, it's a model that could be replicated," he says. "We are currently looking at Ireland as a natural extension to the programme. If you look at the way packaging legislation is going and packaging regulations, it's all about producers taking on responsibility and paying the costs of collection and working together."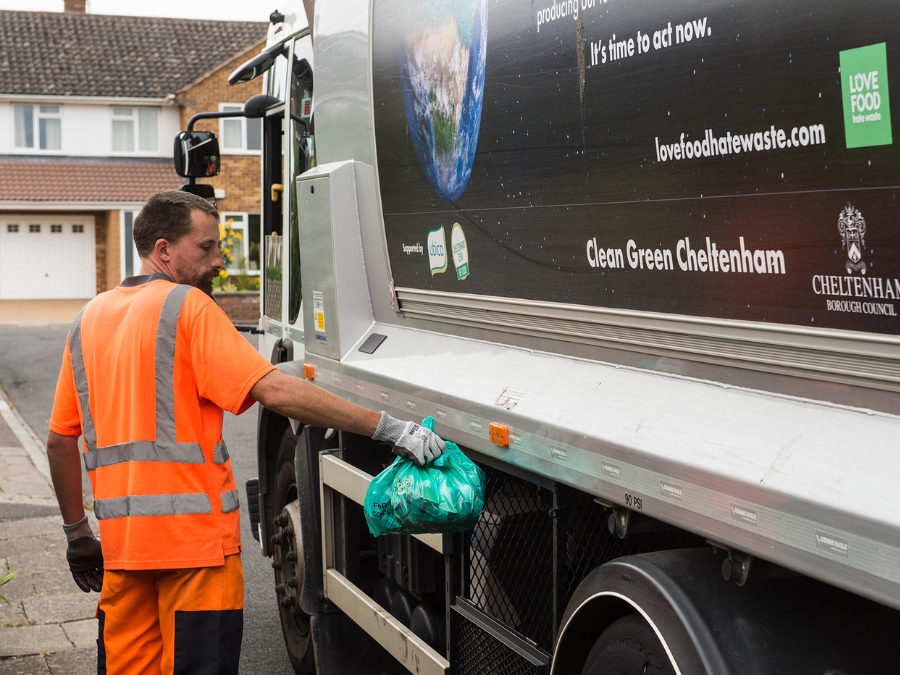 One of the drawbacks of the Podback system, however, is the inability to get accurate data on how many consumers are using the scheme, with local authorities not able to report the data on take-up at a granular level. What's more, the scheme relies on local authorities – with stretched budgets – being willing to take on another service, even if its costs are met by Podback's members.
"We all have to recognise that right now, local authorities are facing huge challenges in terms of financing and resourcing," Hindley admits. "So expanding any service is always going to be a challenge. But it is attractive to them, because the fact is we're paying for it, and it's an additional service they can add, whereas in other areas they are cutting back or certainly not launching new ones."
A more sustainable coffee pod alternative?
With the significant costs any coffee pod collection scheme is likely to incur (regardless of whether it is met by producers, local authorities, or consumers), it seems sensible to ask if there is another, more convenient solution. Since the expiration of Nestlé's Nespresso pod patent in 2011, several brands have begun to sell their own eco-friendly versions of the iconic capsules.
UK-based Rave Coffee began selling its single-use coffee pods in 2018. The company's current pods are made from a corn derivative that breaks down in 90 days in industrial composting settings and it is also working on a version that can be composted at home.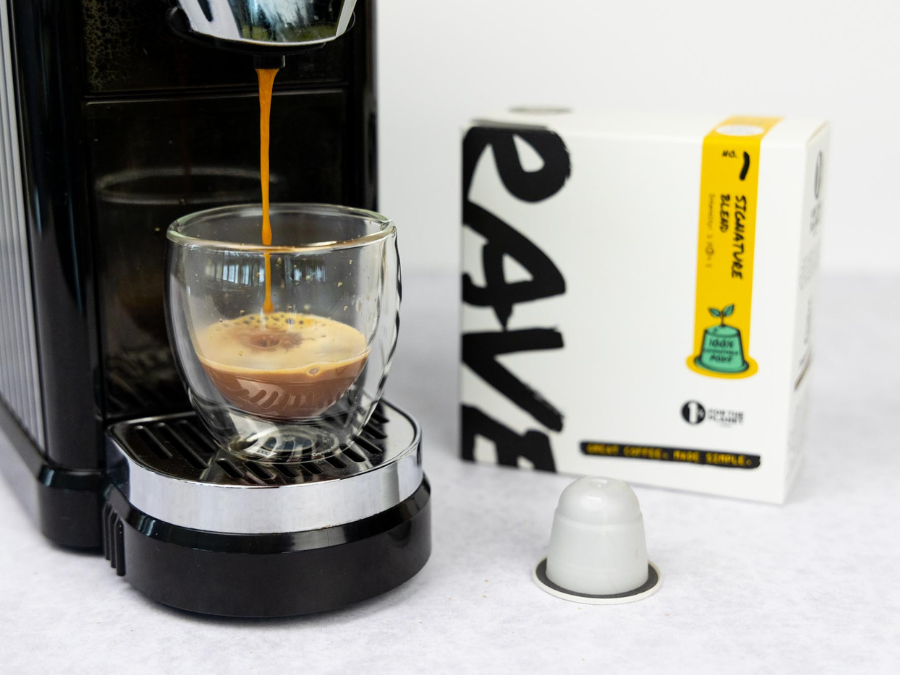 Rave's head of coffee, Ashlee Eastwood-Quinn, says guaranteeing coffee quality has been one of the biggest challenges in developing most sustainable single-use pods.
"Sustainability is always part as a huge part of our business, from farm to cup, but we still need to maintain quality of coffee," she says. "Having a profitable option that can also deliver on great flavour for every capsule has been the thing holding it [the development of more sustainable single-use pods] back. But we're nearly there."
Eastwood-Quinn acknowledges not all households will be able to compost Rave's biodegradable pods (many UK households don't have access to dedicated at-home food-waste disposal bins) but points out the pods that do end up going to landfill will decompose much quicker, reducing the environmental impact.
"There's always going to be a market for a single-use product," she says. "Whether that is in the home market, or in settings, like offices or hotel rooms. And for some people, single-use genuinely is the most sustainable option in terms of reducing waste and getting their price-per-cup down to something that is economically viable for them as well.
"Even if our pod does end up in general waste, it's not going to sit there for 1,000 years. You're still doing something better in choosing a compostable option."
Do we even need coffee pods at all?
But what if there were a way to remove the pod, and therefore any associated waste, entirely? That's the premise behind CoffeeB, an innovation from Swiss manufacturing firm Delica (a subsidiary of the Migros retail giant).
CoffeeB purports to have created an entirely compostable, biodegradable solution in the form of circular 'balls' of coffee that are wrapped in a protective algae-like film. The algae used is sourced from near Britany, northern France, but is grown worldwide, and has no impact on the flavour of the finished coffee. The residual algae structure left after the 'ball' has been used can be used as plant fertiliser, or thrown in regular household waste, and will break down "within weeks", according to Delica.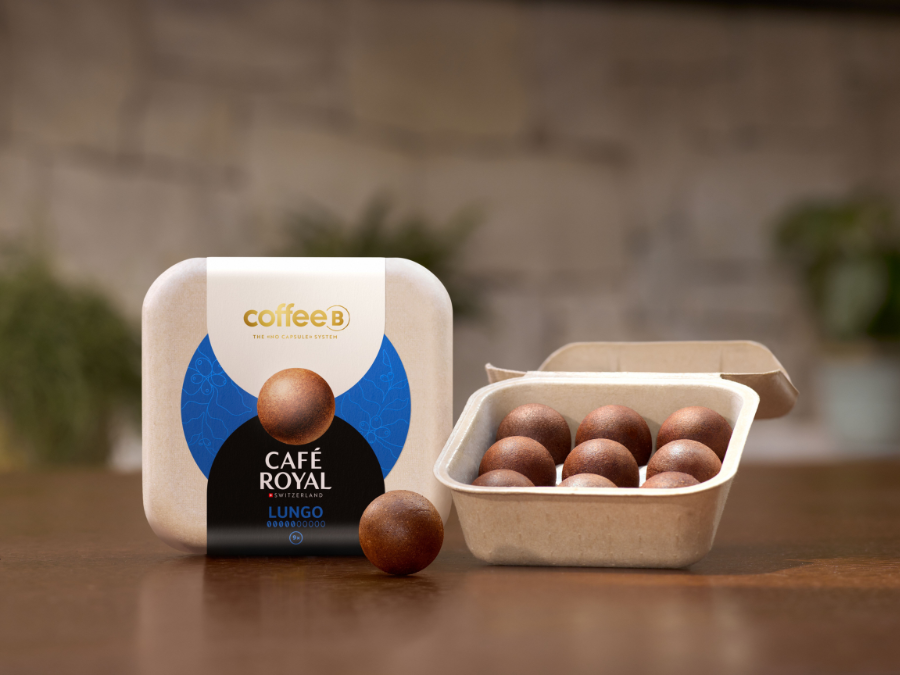 "The topic of capsule waste has always been a very, very big topic in Switzerland; we're very pro-recycling, every household in Switzerland has four or five bins for plastic and glass, aluminium, and metal. We recycle everything," explains the head of CoffeeB, Frank Wilde. "Over the past couple of years, we are seeing more and more consumers switch from capsule machines to bean to cup because they perceive it to be more sustainable, which it actually isn't, by the way."
"At Delica, we had the ambition to create this portioned coffee without a capsule, to give consumers the convenience, the one-touch system and the price of pod coffee, but without the waste."
CoffeeB's solution has already been launched in Switzerland and France, with a move into Germany confirmed for early 2023. Wilde believes that the system has the potential to become "the new standard" for portioned coffee worldwide.
"The problem of single-use capsules is a global one; we're talking about 100,000 tonnes of capsule waste generated every year, worldwide, which is the weight of ten times the Eiffel Tower," he says. "I'm pretty much convinced of our solution; the technology is so good and you get an excellently extracted coffee with great taste."
Can convenience and sustainability align?
One potential drawback to the CoffeeB system is the need to purchase Delica's own machine (SRP of EUR169 (US$166)) to use the capsules. If every household currently using a Nespresso-style machine were to suddenly switch to the CoffeeB system, millions of coffee machines would end up in landfill, undermining the entire mission to create a more sustainable coffee pod solution.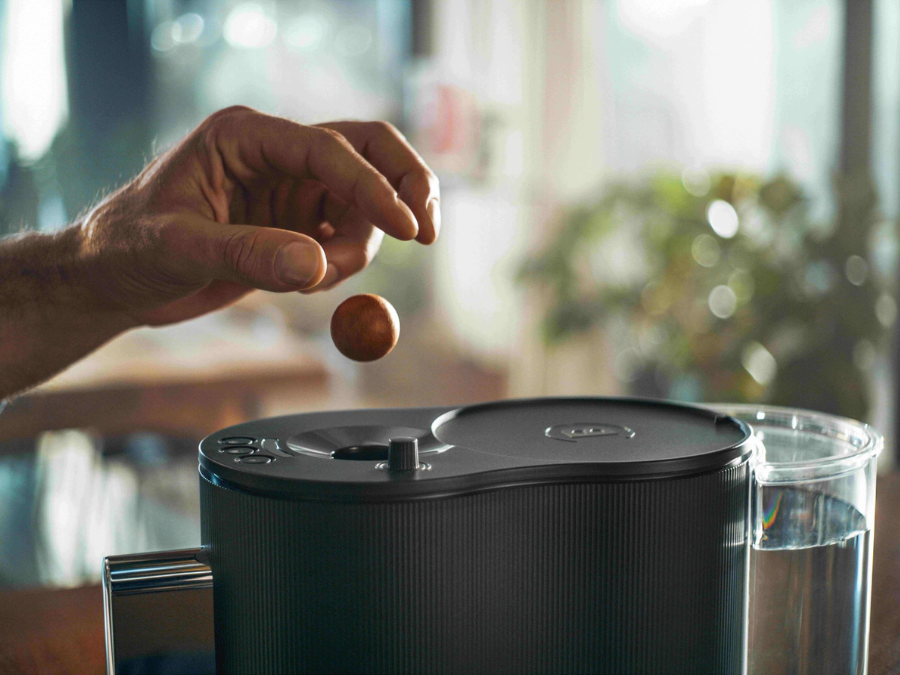 Wilde, however, states consumers shouldn't look to switch out functioning machines for Delicia's. Instead, he says, they should look to make it their next coffee machine purchase.
"If you have a functioning machine, you should not buy our system," he says. "You should only buy our system once your machine breaks down. This is very clear.
"On average, people who have coffee machines change their machine every four years for a new one, even if it is not broken. It is at this moment when I think they should investigate whether this could be something for them.
Nor does Wilde believe portioned coffee from the CoffeeB system will suit the needs of every consumer.
"There are many ways to drink coffee and drinking portioned coffee is a choice," he says. "Of course, the taste cannot be compared to an espresso in an Italian restaurant. But it's the most convenient way to enjoy good quality coffee and, for those people who do want portioned coffee and who do want to reduce their footprint for them, I think ours is the best system."
No matter how efficient pod-based systems are, as long as aluminium pods remain in circulation, the issue of their disposal will continue to be a topic of debate. Perhaps though, through a combination of better recycling initiatives, more widespread use of compostable pod-based alternatives and new innovations such as CoffeeB's biodegradable balls, the problem is one that will shrink in the future.
How quickly that happens, however, depends on how urgently portioned coffee consumers demand more sustainable practices from the firms that supply them with their daily caffeine fix.
(*based on an average aluminium content of 1.33g per capsule, 0.266g from non-recycled sources)