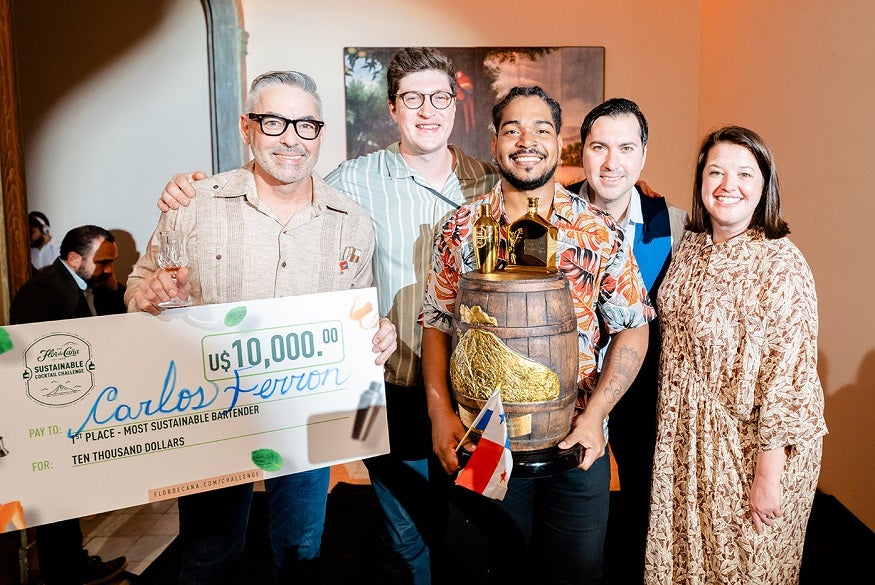 In the highly anticipated Global Final of Flor de Caña's Sustainable Cocktail Challenge, Carlos Ferron from La Cuadra Market Bar in Panama (representing Latin America) was crowned as the Global Champion after competing against the regional champions of Europe, North America and Asia Pacific to create the most amazing sustainable cocktails.
The Global Final took place on Saturday 4 February in the spectacular and unique natural scenario offered by the tropical volcanic islands of Granada, Nicaragua.
The judging panel was composed of some of the most influential industry personalities such as Giacomo Gianotti, owner of Paradiso Bar in Barcelona (#1 of The World's 50 Best Bars 2022); Alex Francis, Bar Manager of Little Red Door in France (2022 Most Sustainable Bar); Julio Cabrera, Owner of Café La Trova in Miami and 2019 Bartender of the Year; and Juliane Caillouette, Managing Director at Sustainable Restaurant Association in the UK.
The cocktails were evaluated by the judges based on elements such as the history and inspiration behind the cocktail, the use of sustainable ingredients/techniques and the level of creativity, in addition to its flavor and appearance.
Ferron, who qualified to compete in the Global Final after winning the Latin American Regional Final, took the competition's top spot by impressing the judges with his passion and skills to create his sustainable cocktails "Talamanca" and "5 Generaciones", both made with Flor de Caña 12 Year Rum and natural, home-made ingredients.
In addition to receiving the title of "Flor de Caña World's Most Sustainable Bartender", Ferron received the Global Champion trophy made from sustainable materials, a personalized bottle of Flor de Caña 25 Year Rum and a $10,000 prize. Ferron will also receive complimentary sustainability training and assessment from the competition's partner Food Made Good.
"It is an amazing honor to have been named 'World's Most Sustainable Bartender' representing Latin America. It's been a truly unforgettable experience and I thank everyone who supported me along the way, especially Flor de Caña who united us all under a single motto: sustainability, because being green is part of growing", said Ferron after receiving the highest distinction of the competition.
The other competitors were: Marco Pastanella from the US (representing North America), Tom Mchugh from Australia (representing the Asia-Pacific) and Dimitris Kaitalidis from Greece (representing Europe).
More than 30 countries participated in the Sustainable Cocktail Challenge, which is a celebration of Flor de Caña's historic commitment to sustainability and its way of sharing and promoting these values with the global bartending community. In addition to being the world's first Carbon Neutral and Fair Trade-certified spirit, its rum is distilled using 100% renewable energy, all CO₂ emissions during fermentation are captured and recycled and the brand plants 50,000 trees annually since 2005.