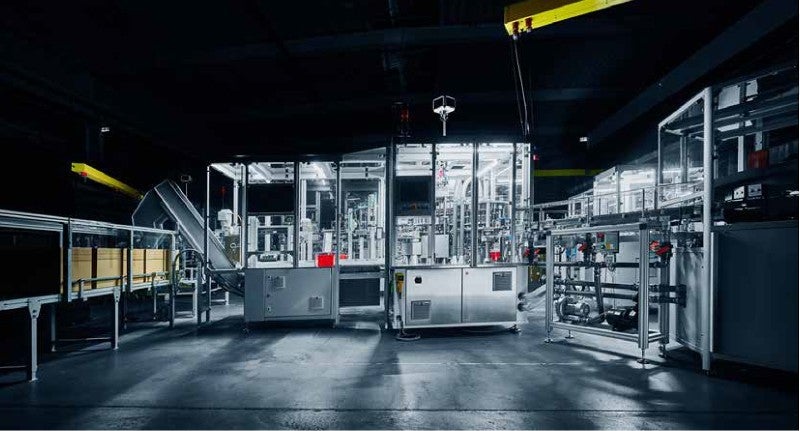 The market for closures is facing major challenges: The EU directive on reducing plastic waste known as the 'Single-Use-Plastics Directive' stipulates that from July 2024, caps must be connected to the bottle ('tethered caps'). Now, the manufacturers of caps & closures are faced with major tasks: new closures have to be developed or existing ones revised in a short time.
Single and multi-part tethered caps
Contexo offers a manufacturing solution that sets new standards. For over 30 years, Contexo has been designing systems for complex closures and innovative complete systems manufactured in plastic. This was the basis for the next step: the new, patented concept of the all-in-one system for single- and multi-part 'tethered caps'. A machine platform was developed and designed that integrates all the necessary processes in just one system: from assembly to folding and roll slitting of the TE band to closing and packaging.
Efficient machine platform
The advantages of the concept are obvious: small footprint, significantly reduced costs and less energy consumption. In short: less investment, more safety and a long machine service life.
All processes in one machine
The system is based on continuous-motion rotary presses. This guarantees maximum output rates. The integrated slitting unit eliminates the need to invest in expensive and high-maintenance injection moulds. Filigree in-mould operations are replaced by simple, safe processes, as material no longer has to be pressed through narrow channels. The integrated folding and roll cutting of the TE strip is not only more cost-effective but also more stable in the production process: the TE bridges are not stressed or damaged during handling, the downstream process and assembly. This also eliminates the high maintenance costs of the tools.
At the same time, the high speed and repeatability in the production process are guaranteed, i.e. significant cost reduction with more safety. The camera stations are used to inspect the typical elements inside and outside the closure and enable 100.00% quality control. This ensures that only technically flawless products are sent for further processing. The user-friendliness of the machine has also been taken into account: 360° accessibility, changeable slitting unit and low maintenance thanks to mechanical components.
More options for product design
It is also interesting for product development: this opens up unimagined possibilities for product design. Whereas previously there were restrictions in terms of shape and appearance, innovative, eye-catching designs are now possible with the Contexo system. The vulnerability of the TE bridges is eliminated, and the rotating mould axis makes unusual shapes possible. Even closures without TE bridges are feasible.
Advantages at a glance
COST REDUCTION: simple and safe processes take the place of expensive injection moulds and filigree in-mould processes.
LOW SPACE REQUIREMENTS: by integrating all processes in just one system, the space requirement can be reduced by up to 30%.
PRODUCT DESIGN: more options for innovative designs thanks to integrated slitting and rotating tool axis.
FULL PROCESS INTEGRATION: all necessary processes are integrated: Assembly, folding, pressing, slitting, closing, testing, and packaging.
REDUCED ENERGY CONSUMPTION: Savings of up to 50% due to compact, standardised plant concept.
INDIVIDUAL FORMAT ADJUSTMENT: The machine can be adapted to all single and multi-part tethered caps.