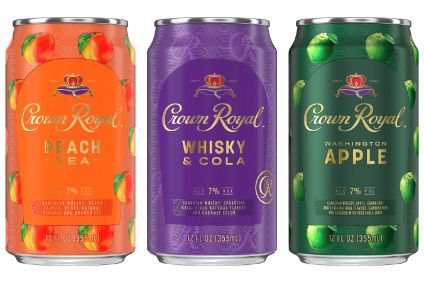 Everybody's at it! Indeed, if you're in spirits and you haven't got a premix on your roster, you likely soon will. This month, category commentator Richard Woodard considers the why's.
Never mind peak gin, have we reached peak RTD? By my most recent estimations, I reckon there were no fewer than six RTD launches in the space of five days earlier this month – and that's not including the news that Diageo had bought another RTD producer, Rhode Island-based Loyal 9 Cocktails.
The announcements came from the famous and the not-so-famous: Beefeater, Cazadores, Bombay Sapphire, Fishers Island, Vita Frute and Gordon's. Since that spike in RTD NPD, Opihr has joined in the fun, while Diageo's acquisition follows that of Lone River Ranch Water producer Far West Spirits, plus news of its US$80m investment in a new canning plant in Illinois.
What's going on?
I think it's fair to say that the industry has taken some of the lessons of the pandemic to heart. By common consent, RTDs were among the big lockdown winners, their innate convenience endearing them to pantry-loading shoppers in the US in particular.
It's part of the same broad consumer psychology that's driving the success of hard seltzers, minus the wellness angle. Everything about RTDs (and alcoholic sparkling water) is easy, from the taste to the price-point to the packaging and portability.
How well do you really know your competitors?
Access the most comprehensive Company Profiles on the market, powered by GlobalData. Save hours of research. Gain competitive edge.
Company Profile – free sample
Thank you!
Your download email will arrive shortly
Not ready to buy yet? Download a free sample
We are confident about the unique quality of our Company Profiles. However, we want you to make the most beneficial decision for your business, so we offer a free sample that you can download by submitting the below form
By GlobalData
As bandwagons go, it's also an easy one to leap aboard, and to jump away from too. You can bring a product to market in a heartbeat, and axe it almost as quickly if and when it stops performing. In short, what's not to like?
One of the big questions with hard seltzers at the moment centres around the geographical breadth of their appeal. They've broken the US, but what about Europe, Asia, Australia, Latin America and Africa? Plenty of products in the past have failed to translate their Stateside success elsewhere – and vice versa.
One of the ways around this disconnect is simply to rebadge a successful concept for an overseas audience. So blurred are the lines and so vague the category parameters that, I'd argue, one consumer's hard seltzer is another's RTD anyway. In any case, consumers are more fixated on flavour, image and brand than they are on industry categorisation.
Hard seltzer or RTD? when it comes to brands, there are two obvious approaches to take. One is pure NPD – the creation of a new franchise for the category. In hard seltzers, this has proven highly successful to date, in the shape of market leaders White Claw and Truly – but that could be changing.
As big brewers (and others) have attempted to surf the seltzer wave, they've used a more heterogeneous approach that smacks – cynics might suggest – of hedging their bets. Anheuser-Busch InBev is a case in point: virgin brands in Bon & Viv, Social Club, Natty Light and Mike's; established names in Bud Light Seltzer and Michelob Ultra Organic. And, Bud Light Seltzer seems to be doing pretty well so far.
For all the early hard seltzer success of White Claw and Truly, Bud Light's positive performance shouldn't come as a surprise. One of the other lessons of the pandemic – a phenomenon that tends to be repeated every time crisis hits – is the consumer gravitation to the reassurance offered by familiar brands. When all around you is so insecure, there's a comfort to be found in the tried and tested.
Take these two dynamics together and you can see why marquee spirits brands are queuing up to extend their already-considerable portfolios into RTDs. It's quick, it's easy and, even if the margins might not be quite on the scale of the mother brand, it's cash in the bank.
Will it also lure new consumers into buying that mother brand? I'm not convinced. RTD spin-offs tend to share more branding cues than flavour characteristics with the core offering. They may open up a brand to a new audience, but that new audience might only be interested in the RTD incarnation, and nothing else. Casting our minds right back, how many Bacardi Breezer drinkers became confirmed fans of Puerto Rican rum as a result?
Brand owners also ought to keep a wary eye on the devil that inevitably lurks in the detail of such line extensions. Get the execution right and you can enhance your inherent brand equity; get it wrong and you risk diluting it.
A low-priced brand can afford to take the odd liberty in product formulation and image; a more premium one can't. Does anyone think that Bacardi rum's brand image was elevated by Bacardi Breezer, for all the success that the latter enjoyed in its heyday?
With those caveats in mind, I'll say it again: what's not to like? RTDs are the beverage equivalent of karaoke-friendly, singalong pop: easy to like, easy to consume and easy to forget. They give consumers what they want, when they want it – and the booze industry isn't always so great at doing that.
They're essentially ephemeral; here today and gone tomorrow. But, they'll also return next month or next year in a subtly different form. And, paradoxically, that ability to reinvent themselves gives them longevity too.
After all, there's a reason why RTDs are sometimes also called FABs!