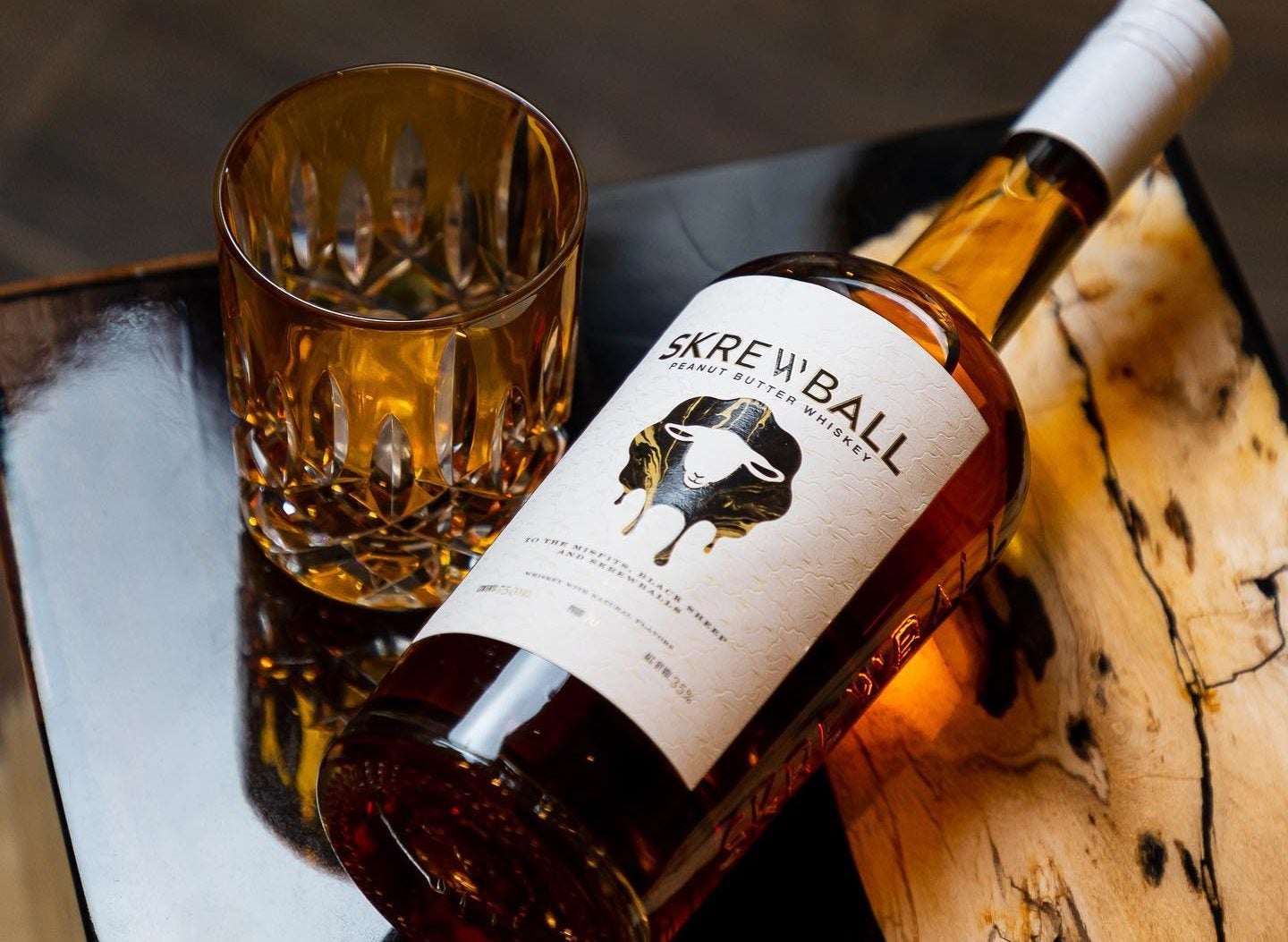 As claims to fame go, it's decidedly niche: "The world's first super-premium peanut butter-flavoured American whiskey." But then that just about sums up the unlikely narrative that lies behind Skrewball, the brand in which Pernod Ricard took a majority stake earlier this week.
Anyone who's been involved in the booze industry for more than five minutes knows something about its eyewatering NPD casualty rate, even for those brands created by skilled and experienced execs who (supposedly, at least) have some idea of what they're doing.
I still recall the excited faces back in 2002, at Allied Domecq's glitzy London unveiling of Tia Lusso, a Baileys-challenging cream liqueur spin-off from Tia Maria. They'd never seen focus group approval ratings like it and so confident were the brand team that they were investing GBP11m (US$13.5m) behind the launch.
Less than a decade later, Tia Lusso was axed by Pernod Ricard, after inheriting the brand when it bought Allied Domecq in 2005.
Tia Lusso was a spin-off of an established brand, in an already popular category, with all the muscle of a multinational behind it. So perhaps it's not so surprising that an American husband-and-wife team – Skrewball creators Steven and Brittany Yeng – initially struggled to secure investment for one of the more unlikely flavour concepts of recent times.
That Skrewball eventually worked – well, not even eventually; success came pretty fast – is a testament to the fact some trends are not born in some blue sky-thinking agency creative session, but via an altogether simpler process: someone tries something a bit unusual, people like it, and it goes from there.
How well do you
really

know your competitors?

Access the most comprehensive Company Profiles on the market, powered by GlobalData. Save hours of research. Gain competitive edge.
Company Profile – free sample
Thank you!
Your download email will arrive shortly
Not ready to buy yet? Download a free sample
We are confident about the unique quality of our Company Profiles. However, we want you to make the most beneficial decision for your business, so we offer a free sample that you can download by submitting the below form
By GlobalData
In this case, Steven Yeng is said to have started mixing peanut butter with whiskey at the three restaurants he ran with his brother in California (they had a peanut theme, which, come to think of it, is almost as bizarre as Skrewball itself). Apparently, he began thinking more might come of it when the restaurants started making US$10,000 a day out of peanut butter whiskey shots.
There are a lot of other eye-catching elements to the story, not least Yeng's early life – contracting polio as an infant, spending time in a Thai refugee camp after his family fled Cambodia and the Khmer Rouge – and the sheer bloody-minded persistence of the couple.
They were self-funded mainly because nobody would give them any money and had to lean on Brittany's chemistry degree to overcome the technical difficulties in creating a shelf-stable product that still tasted of, well, peanut butter and whiskey. But, looking back from the perspective of having just made (at a guess) tens of millions of dollars out of the Pernod Ricard deal, the Skrewball founders were also pretty smart.
If making a peanut butter whiskey wasn't weird enough, they decided to put a sheep on the label. Crucially, it was a black sheep – which both epitomised their own 'outsider' journey and appealed to 21st-century consumers keen to assert their own individuality and not follow the flock.
Once they found a distributor that could see past the left-field concept to the obvious consumer appeal, they went national surprisingly quickly – all 50 states within six months – to ward off the threat of copycat products. Just as well: once the success of Skrewball became known, dozens of me-too peanut butter whiskeys sprang up.
The Yengs also priced Skrewball at a premium level – typically $28 a bottle – which again kept them clear of the pack. When I wrote about Skrewball last year, company president Carl Carlson asserted it was "clearly the most profitable peanut butter whiskey", adding trade partners were quickly delisting rivals that would trade consumers down, or drive a much lower ROI.
If there was a 'mistake', it was being big in the on-premise when a global pandemic was just around the corner. But for Covid-19, Skrewball might have reached 1m cases in annual sales a year or two ago; it will surely get to that mark with the strength of Pernod Ricard behind it.
Skrewball deal follows Pernod's Jameson's Orange launch
And what does the acquisition say about the spirits giant? An analyst note from Jefferies praises the template of buying another stake in a premium, high-potential brand, adding the deal also strengthens the company's trading position in North America (especially on the back of other, similar, deals, such as those involving Código 1530 Tequila, Sovereign Brands, etc).
The note also suggested that, along with the successful Jameson's Orange launch, this represented a welcome shift to a more consumer-driven approach from Pernod Ricard. I'm not so sure about that – the company has always struck me as pretty responsive to its customers – but it's certainly true both flavoured ventures could be construed as a bit of a stretch, as well as a recognition of the continued strength of 'flavoured whiskey' in the US.
The only concerns I have revolve around the level of ambition that Pernod Ricard has for Skrewball, and the timing of the purchase. As AllianceBernstein analyst Nadine Sarwat cautions, flavours are a notoriously fickle part of the beverage alcohol landscape – and the recent explosion in the number of 'flavoured whiskey' products conjures the phantom of flavoured vodka fatigue from a decade or so ago. And we know how that played out…
Once you've got your head around the mere existence of a peanut butter-flavoured whiskey in the first place, the next question is where it goes from here. I'm sure Pernod Ricard can increase sales in the US – although bear in mind that the brand is already present in all 50 states – but does it have international plans as well? And, if so, just how translatable a concept is Skrewball to other countries, where peanut butter is, shall we say, rather less of a thing than it is in the US?
I kind of want Skrewball to continue to succeed. The Yengs' back story is a compelling one and there's a kind of comfort in knowing success in the world's most advanced beverage alcohol marketplace doesn't necessarily have to conform to any fixed formula but can seemingly come from pretty much nowhere.
All of that being said, I still can't stand peanut butter. Even in whiskey. Perhaps especially in whiskey.