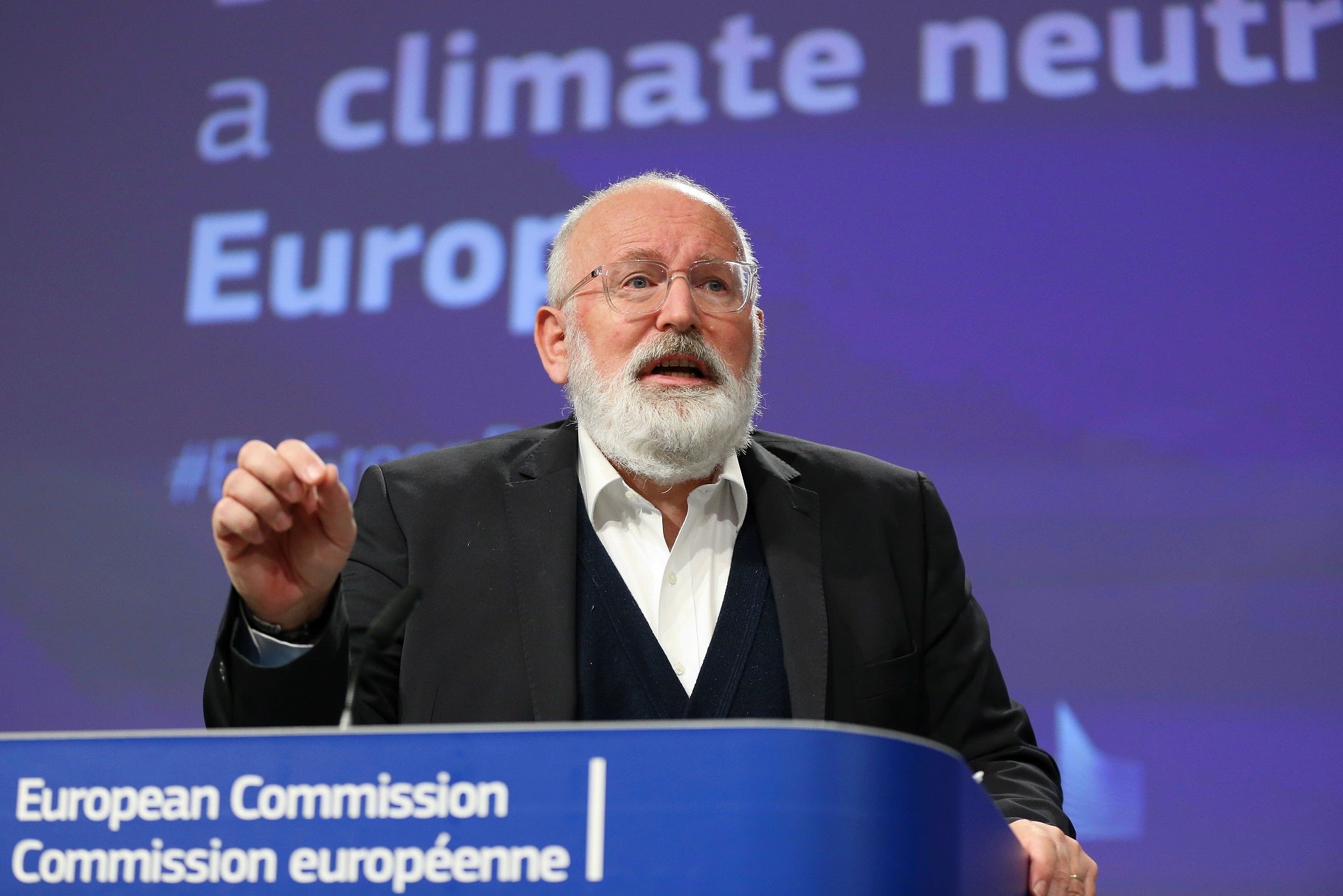 During the financial crisis of 2008, Gillian Tett, editor-at-large (US) for the Financial Times, referred to a 'Goldilocks shock'. This was the idea of actively trying to embrace shocks that, like Goldilocks' porridge, are hot enough to teach you a lesson, but not so hot that they burn the whole place down. That's economics. But the concept came to mind this week when the European Commission proposed new "common criteria" for making green claims in the EU.
Whether it's carbon-neutral bananas or bee-friendly juices or CO2-compensated deliveries, these claims are "everywhere" said the Commission's Executive Vice-President Frans Timmermans, but "way too often they are made with no evidence and justification".
So will the EU green claims directive – subject to approval by the European Parliament and Council and which sets out substantiation and verification guidelines – provide the small, regular shock that in Tett's words remind everyone of the need to monitor risks (in this case the risk of greenwashing)? Or will it incinerate any ideas food and beverage companies have to market their sustainable products or initiatives?
There is little doubt regulators need to do something about the proliferation of green claims being made. More than half (53.3%) of the claims Brussels assessed in 2020 provided "vague, misleading or unfounded information", and 40% were unsubstantiated.
Earlier this month, Changing Markets Foundation, a Netherlands-based NGO, revealed "rampant" greenwashing across the UK food and drink sector as it called out 54 cases that fell foul of the UK Competition and Market Authority's (CMA) green claims code. Companies including Arla Foods, Danish Crown, Danone, Fonterra, JBS, Marfrig, Nestlé and Saputo were all accused of using misleading marketing to capitalise on the environmental concerns of consumers without taking genuine action.
These I see as the 'hot porridge' in the tale of Goldilocks and the three bears: companies that are already being burned – and not just by campaigners. Arla's net-zero advertising claim has been banned in Sweden. JBS is facing similar scrutiny in the US for aspiring to reach net zero by 2040 but having little evidence showing how it'll achieve that and what it's doing to reduce emissions now.
How well do you
really

know your competitors?

Access the most comprehensive Company Profiles on the market, powered by GlobalData. Save hours of research. Gain competitive edge.
Company Profile – free sample
Thank you!
Your download email will arrive shortly
Not ready to buy yet? Download a free sample
We are confident about the unique quality of our Company Profiles. However, we want you to make the most beneficial decision for your business, so we offer a free sample that you can download by submitting the below form
By GlobalData
UK food manufacturers are also waiting anxiously for the results of the CMA's assessment into the sector's green claims. Three major fashion companies – ASOS, Boohoo and George at Asda – are already being investigated as the regulator looks for big fish to fry. The EU green claims directive is looking to close the regulatory net, too; penalties imposed by members states should be "effective, proportionate and dissuasive". This includes the potential for fines.
Tales of temptation
The reputational damage can be severe too, eroding trust in a brand. As experts from the London Business School, the University of Cyprus and the University of Peloponnese showed in research published in the Journal of Business Ethics, greenwashing negatively impacts a customer's experience with a company's product or service. Writing in the Havard Business Review recently, they warned it's not only a matter of bruised reputation. "We estimate that companies that are perceived to be greenwashing suffer, on average, a 1.34% drop in their American Customer Satisfaction Index score," they said. That mightn't seem much but consider the narrow range of ACSI scores companies are competing on and it's "economically significant".
Whether hot porridge brands are greenwashing out of ignorance or intention isn't clear. But the temptation not to check claims or carry on is enticing.
McKinsey and Nielsen IQ pored over five years of US sales data to June 2022 covering 600,000 individual product SKUs from 44,000 brands across food, drink, personal care and household goods. They found 93 different ESG-related claims and products carrying them accounted for 56% of all growth (18% more than they would have predicted in 2017). The 'green' products also boasted a 1.7 percentage point advantage on CAGR (compound annual growth rate) – which is "significant" in a mature and modestly-growing market, said the consultants (who didn't verify any of the claims).
A YouGov poll of UK and German consumers, published this month by Changing Markets, showed a willingness to buy into meat and dairy products that come with carbon-neutral, low-methane or carbon-positive claims. It's not quite as appealing as higher-animal-welfare labels but 22% would pay more for products pitched as 'low methane'. The findings show there is pent-up demand for lower-impact livestock products and companies are beginning to dip their toes into this area. They should do so tentatively, as the case of the US certification for low-carbon beef shows.
Changing Markets' report stuck the boot into meat and dairy brands. Their huge footprints and lobbying to maintain the status quo on production levels see the sector tarred as greenwashers: the 'bad apples' in efforts to reduce emissions and keep the climate in check.
But there is a twist in the tale here. A study tracking 7,365 companies in 47 countries over 15 years showed consumers financially penalised firms for greenwashing but not so much if they were already stigmatised as 'dirty'. They have a "boys will be boys" attitude to greenwashing by dirty firms, the authors of the study wrote in the Journal of Management Studies. The focus of the paper was oil companies but fingers are increasingly pointed at food and beverage company emissions figures, which are going the wrong way. Can bad boy brands really get away with greenwashing?
Cold shoulder
But back to girls and porridge – specifically the cold bowl which represents the brands cooling their claims on climate. One of four large companies with science-based net-zero targets will not be publicising them, according to South Pole, which identified a growing trend for 'greenhushing' in an October report. Investigative journalism calling out false green claims helps to keep corporate ambition on climate high and sincere, the consultants said, but "media scrutiny, NGO critique and the threat of lawsuits may be deterring companies who are voluntarily setting targets from being more open".
It's a worrying trend given the role of pioneers in pushing peers. But it's not surprising. Net-zero targets have undoubtedly been published under pressure from the competition; promises and half-baked plans are now being unpicked. "Because of analyses like ours, companies are more nervous about what they claim – and rightly so," says Sybrig Smit from the NewClimate Institute.
The think tank's latest corporate climate responsibility monitor lays into the claims made by the likes of Nestlé, PepsiCo, Carrefour and JBS. Carbon neutrality and carbon insetting are areas of particular concern. The former is certainly on the EU's radar, too, with companies expected to show explicitly how much their claims rely on controversial offsets under the new directive.
Green claims and baby bear's bathwater
Which brings us to our final bowl – the 'just right' porridge that the EU hopes its green claims directive will provide the ingredients for. CEOs will have their lawyers unpicking the 80 pages of the draft directive, which covers how claims and labels "will have to be third-party verified and certified". Marketing teams are going to have to work much more closely with those in quality, R&D and governance to ensure claims are robust and properly substantiated, notes Dominic Watkins, partner and global lead (consumer sector) at law firm DWF.
Marketing has for too long held sustainability hostage and chief executives will have been knocking on relevant doors this week to understand what the proposals mean for their companies. Tightening the rules to help "empower" consumers to make better-informed choices, as the Commission puts it, is welcome. But will the safe space for making sustainability claims shrink too far?
The Commission notes some green claims will be far more costly to substantiate than others: recycled content in packaging for example will be cheaper to evidence than a claim requiring a full life-cycle assessment. Watkins says: "I think the key is how [any green activity] is described and clearly it should not be exaggerated but, at present, it feels like the regulatory dial is swinging so far the other way that people are as likely to be greenhushing as greenwashing."
In other words: there could be cold and hot porridge but nothing in the sweet spot of 'just right'. This is concerning others, too. Ioannis Ioannou, associate professor at London Business School, was involved in the ACSI study mentioned above. He touched on greenwashing in a recent interview for the Can Marketing Save the Planet? podcast and tells me afterwards the concept of greenwashing – that is, companies misleading or cheating their way on sustainability – is sometimes confused with genuine attempts at sustainability that simply fail. "And failure is part of experimentation," he says.
Indeed, any company claiming to know all the answers to net zero is quite clearly greenwashing. Those that hold their hands up, are transparent in their reporting and highlight the gaps are not. One such gap is skills. Are CEOs and their fellow directors equipped to ask the right questions when marketing leads knock on their door with a new idea that will help a brand's green halo glow brighter?
Research by Stern in the US shows clearly not: around 1% of 1,188 Fortune 100 board members had relevant experience in any of nine categories relating to environment, or the 'E' in ESG. That was in 2018. Whether boards in 2023 have the skills to be confident in their climate claims is moot. Work published more recently by UK universities found companies with more female corporate leaders were less likely to exaggerate how positive their environmental impact is. Gender-diverse boards are more open and honest, they said.
Silence isn't golden
Keeping shtum on sustainability is risky. Shoppers want help to make better choices but many are frustrated the intention-action gap on sustainable choices isn't closing fast enough. Research among 30,000 people in 31 markets published by Globespan (and supported by PepsiCo, WWF and others) showed 47% want to change their lifestyle "a great deal" to be more environmentally friendly but only 23% have made major changes.
Polling generally shows young consumers are most climate-aware but they may well be most sceptical of green claims, too. The Future Food Movement youth advisory board, made of up 17 UK school children, discussed the topic at their meeting in February. "Greenwashing is […] deception," said one, summing up the general feeling; it's "a marketing tactic companies use to boost their profit".
Marketing directors at many companies have got away with too much for too long but the EU green claims directive should have them sweating. Will the future claims they serve up run hot, cold or just right?