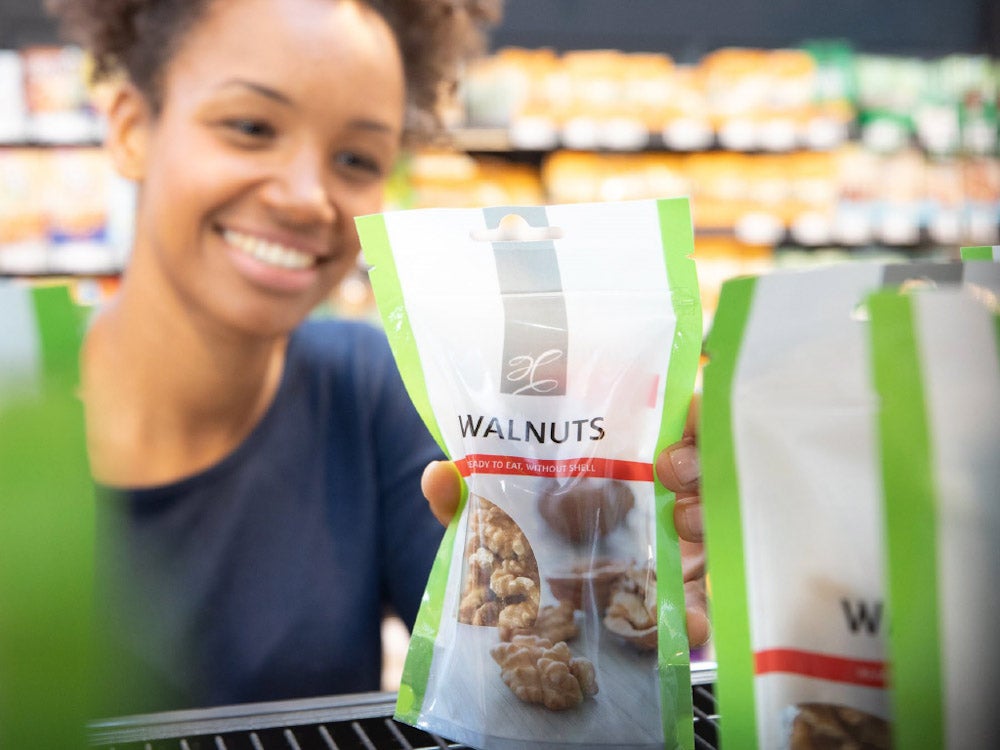 Oxygen barrier coatings on flexible food packaging extend the freshness of goods while using less material and not negatively impacting recyclability by replacing multi-layer structures with multi-functional thin layers.
Any exposure to oxygen accelerates the rate food expires. Food packaging must not only protect goods and keep them fresher for longer but also be safe for consumers.
However, to be compatible with the circular economy, any materials used for barriers must be easy to remove in the recycling process and must not affect the quality of the recycled material. Commonly, barrier films result in packaging structures made from multi-materials that are difficult to separate during recycling, reducing the amount of reusable material.
For this reason, barrier coatings are viewed as the best option for packaging brands and manufacturers seeking to improve the recyclability of products. In utilising a barrier coating, one barrier can be replaced with another, for instance PE-EVOH-PE can be replaced with a PE barrier coating. This results in mono-material packaging structures that are easier to recycle. However, such a solution presents challenges. A barrier coating must not only be produced in the capacity required for commercial production on packaging lines, but also be cost-competitive with existing solutions.
And creating such a solution has led to a partnership between two of the world's leading providers of industrial coatings.
Siegwerk, experts in sustainable printing inks and coatings and recognised leader in circular packaging solutions, has teamed up with Henkel, specialists in industrial adhesives, sealants, and functional coatings. The result is a coating that replaces less recyclable layers of plastic with a coating that has the same barrier properties without compromising performance. 
"We wanted to achieve the same performance as the standard solutions," says Lothar Schaeffeler, director of technology at Siegwerk. "We didn't make any compromises on performance to achieve this sustainably." 
Making sustainable coatings compatible with the circular economy
Coatings can be an overlooked area in recycling. While the main material may be easy to recycle, the materials used to make the coating can make recycling more difficult.
Films with barrier properties for flexible packaging are commonly made from multi-materials with combinations such as polyethene-ethylene vinyl alcohol-polyethylene (PE-EVOH-PE), and polyethene terephthalate-polyvinylidene chloride-polyethene (PET-PVDC/PE), as well as aluminium laminates or metallised films.
The biggest issue is that multiple-polymer materials are more much difficult, and sometimes impossible, to recycle given the challenges involved with separating the materials.
"Polyethylene has a good moisture barrier already. What's missing is the oxygen barrier. We can deliver that," explains Guenther Hering, business director of global business development in coatings for flexible packaging at Henkel.
The purpose of the Siegwerk-Henkel project was to combine resources from both companies and speed up the development process. The project is based on a coating that Henkel had been working on. Initially, Henkel found that it was not possible to print the coating faster than 50 metres a minute in the first deck, which is a significant problem as commercial printing speeds are typically upwards of 200 metres a minute.
However, Siegwerk's expertise in printing coatings solved this problem, delivering production speeds on printing presses comparable with other coatings on the market.
"We looked at various aspects in which formulation application market intelligence and who can provide what," says Hering of the partnership. "And it was almost like a perfect mix."
Sustainable barrier coatings for flexible packaging
Consumers are paying closer attention to the sustainability of product packaging, and this is having an impact on purchasing decisions. Brands must adapt to meet these demands.
When it comes to sustainable packaging solutions, Siegwerk is a global leader. These environmental considerations are also important to Henkel.  
"That was an important factor for our cooperation," adds Hering. "If we had just made the cooperation to make a functional product, I'm not sure it would have had the same support."
The system has a shelf-life of at least six months when stored in the recommended conditions. With a pilot phase that has been running for the last several months in the European and the US markets, the coating is being used on pouches that contain dry or semi-dry foods. Pilot customers have also been identified in Asia.
"We can create the pouch out of mono-materials, we can deink the whole pouch and then we
have products that are completely transparent," explains Schaeffeler. "After delamination and deinking, the pouches can be shredded into colourless flakes that can be turned into plastic bottles or pouches."
Schaeffeler and Hering actually grew up in the same part of Germany and played football together in their youth. Their careers have taken them on slightly different paths, but they have remained in contact and their friendship was a factor in the smooth running of the partnership between their companies, which resulted in the development of a sustainable oxygen barrier coating for dry food products.
Siegwerk and Henkel are also keen to work together to develop new sustainable coatings in the future across additional packaging segments. And this initial coating may be the first in a series.
To learn more about Siegwerk's sustainable inks and coatings, download the document on this page.