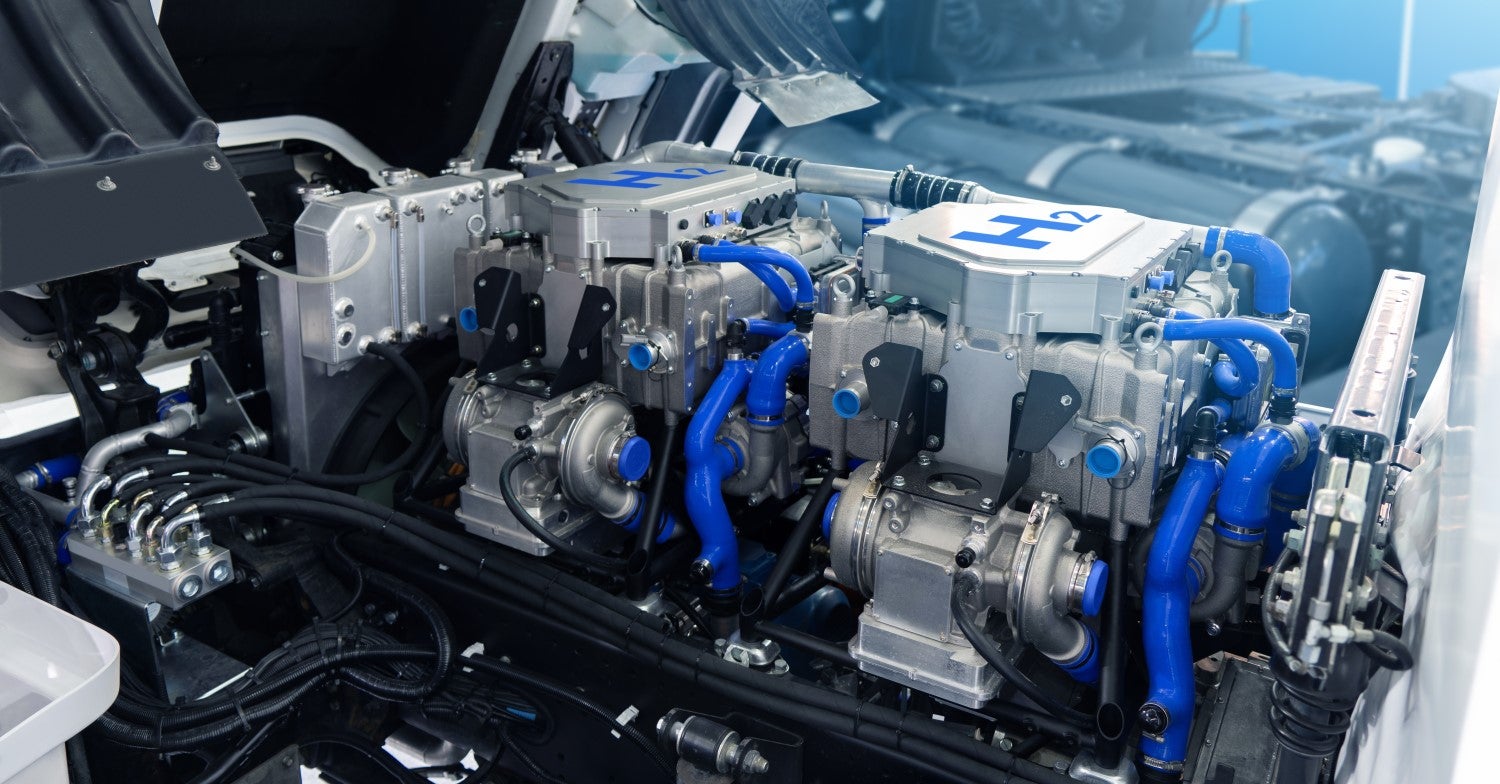 Beginning in the early 2000s, Pfeiffer Vacuum worked with one of the largest automotive manufacturers on a prototype of a hydrogen-powered car where it carried out rigorous leak detection on the hydrogen pipework.
It moved further into the market soon after by supporting another global manufacturer with the development of a prototype vehicle that converted an internal combustion engine (ICE) to be fuelled by hydrogen.
During the development of the hydrogen-fuel economy, Pfeiffer Vacuum also worked on the development of hydrogen fuel stations that are used to refuel FCEVs, such as airport buses, which continue to operate today.
Supporting the growth of the FCEV market
According to Precedence Research, a worldwide market research and consulting firm, the FCEV global market is set to capitalise on its transformational potential to reduce the global greenhouse gas (GHG) emissions generated by traditional ICEs and reach a forecasted value of US $35.60 bn by 2030, and Pfeiffer Vacuum is ideally placed to support this growth.
Leak testing is of particular importance to the FCEV market due to the critical need to ensure that both the fuel tank that supplies the hydrogen, and the fuel cell stack which converts it and oxygen into electricity, must meet rigorous safety and operational standards. Pfeiffer Vacuum not only tests the tank and stack/ BPP on FCEVs, but also many other components.
Hydrogen fuel cell stacks, which are at the heart of an FCEV, present particular challenges to leak testing processes. The length of all seals within a 120kW fuel cell stack could be as long as 1 km and must be fully tested. This process is further complicated by the need to check for leaks that are not visible to the human eye. Repair is only possible once they have been located.
"A human hair in the seal would leak around 10⁻² mbar l/s, and the typical human hair is between 30 and 70 microns wide," explains Konwitschny. "We specialize in finding these small types of defects."
Helping clients find the testing methods that are "right" for them
To identify small leaks throughout the fuel cell stack and the hydrogen storage tank, Pfeiffer Vacuum can apply either measurement or localizing methods which can be conducted either with tracer gas or with air.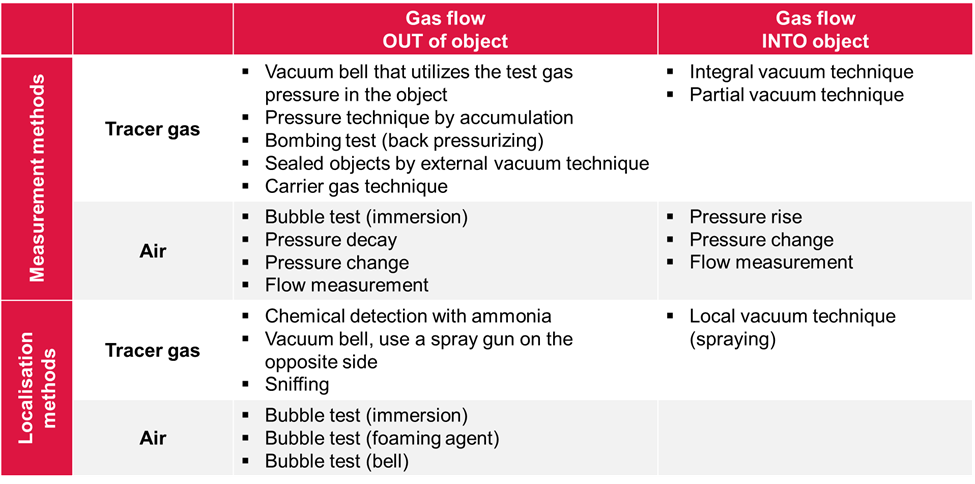 To define the ideal leak testing method for the customer, it is important to analyse some key points first:
Gas flow direction: In which direction would the gas normally flow if there is a leak? (The test scenario should be similar to operating conditions.)

Out of object
Into object

Start with a measurement method to check if there is a leak at all.

Define the right method according to the table.

Define a localizing method to check where the leak is located.
Define the right method according to the table.
For localizing leaks, only tracer gas methods are practical (localizing with air results in long drying phases and does not have good detection limits – a leak rate of 10-4 mbar l/s means ~1 bubble of 1 cc in 1 day.
"The majority of leak testing can be performed using the pressure decay method (which measures how much air is lost once the test vessel is at operating pressure) for example, or with airflow control methods (pressure ratio between outlet pressure/inlet pressure, and air mass flow from the compressor). So, we carry out leak tests with air rather than tracer gas," says Dr. Rudolf Konwitschny, who adds that these methods are also specifically cited in the industry regulations.
He goes on to say, "at Pfeiffer Vacuum we are, to my knowledge, the only company in the world that performs both tracer gas and airflow measurement leak detection. So, we advise our customers on the basis of the application's requirement."
By working closely with its clients to understand their unique needs, the company is able to develop a comprehensive and custom-designed solution.
FCEV leak testing systems
Pfeiffer Vacuum offers a broad range of integral leak testing systems and can also provide solutions for localizing leakages. Their expertise and product portfolio can analyse a company's requirements and bring in line with the current regulations.
Pfeiffer Vacuum can give objective and comprehensive advice on:
Selecting the optimal leak detection solution for your application(s)/budgets
Determining optimum processes, test criteria and equipment list
Identifying possible locations where leaks might appear recurringly
Maximum test process design efficiency to mitigate any possible issues (e.g., method of leak-point location and its root cause)
Feasibility studies in leak detection on request
The company's application support teams custom engineer client solutions to save costs and increase leak-testing efficiency, both during the development of FCEV systems and manufacturing of the end product.
For more, please visit Pfeiffer Vacuum's Hydrogen storage / Fuel Cells