City lawyer Rob Fink set up UK alcohol-free beer specialist Big Drop Brewing Co. in 2016, believing he could make better-tasting products than were on sale.
The company sells a range of non-alcoholic beers in 20 countries, with the US its largest market outside the UK.
Fink sat down with Just Drinks to discuss the rise of alcohol-free beer in the UK, how the market might expand further and Big Drop's own plans for growth, which include a fresh round of fundraising.
Just Drinks: How would summarise the state of play in the UK market for alcohol-free beer?
Rob Fink: I would describe the market as being significantly more interesting than it was five, six years ago, both in the range of beers available and also brands. Interestingly, retailers led the way with the growth in alcohol-free, as opposed to the on-trade, whereas I was always told it's the on-trade where you build a brand or style.
The on-premise was slightly late to the party but is now very much on board with the proposition that, as a hospitality venue, you need a better selection of adult non-alcoholic beverages. The on-premise now recognises there are these bigger ranges of styles and brands of alcohol-free beer.
Perhaps in some instances – not all and we've done very well with on-premise partners – there is a reluctance to embrace the newer brands. What's happened over the last five years is that the big brewers, having gone from a position of largely thinking alcohol-free beer was a distress purchase, have now embraced the category and are putting out significant numbers of alcohol-free versions of existing alcoholic beers. You name it, you can get it in zero.
Just Drinks: Focusing on retail first: how can specialist brewers like Big Drop compete with the investment from the larger players?
Fink: To an extent, it doesn't really matter whether it's beer or peanuts or ready meals: challenger brands need to focus on quality and innovation. That's why we started Big Drop. We were of the view that by and large alcohol-free beer didn't taste very nice. Our entire proposition was to make alcohol-free beer that tastes good. There are still annoyingly brands who bring out alcohol-free beers, you drink them and you think a) it doesn't taste very good and b) you're just jumping on the bandwagon here.
We can hold our own against that. In terms of marketing money, we can't compete with the levels of investment the bigger brewers are putting in but we'll happily hang our hat on quality and the whole point with Big Drop was that we always wanted to produce a range of styles. I don't know of any more established brewers that are bringing out a range. It's largely the lager brand.
There are bigger brands who are releasing beers that aren't good enough.
Just Drinks: Without naming names, is the quality in the category improving?
Fink: Yes, I think the quality is improving and I'm happy to name a name because they recognise what they've done wasn't good enough and it was Asahi, bringing out Peroni Libera. They launched it, much fanfare, it wasn't very good. They pulled it out and they released Peroni 0.0, which I genuinely do think is a pretty decent alcohol-free beer. There are bigger brands who are releasing beers that aren't good enough. Quality will out – it might not be that consumers come and drink Big Drop but you can't release a big brand 0.0 version of your own alcoholic beer that isn't very good because there's now one over there that is good.
Just Drinks: How do challenger brands stay on shelves?
Fink: Brands need to invest in their brand building outside of 'buy one, get one free' or whatever it is but, equally important to getting a consumer to buy a new brand, does require very often incentives or promotions. You will need to invest with that retailer and that is funding promotions, in-store activities, tasting events, aisle ends. It's not desperately complicated but, if you do your brand building and your brand selling, then fingers crossed, your rate of sale goes up.
Just Drinks: Is the need for that kind of promotional investment increasing?
Fink: Yes because the bigger players have more money to play with. You've got the double whammy of competing against an established brand with a great market presence and reputation and hard cash going in as well. It's very difficult.
Just Drinks: Has Big Drop upped its promotional spending in the last 12 months?
Fink: We've left it as is, I think. We've got our licence agreement, so we share costs with IGC but I don't think there is an anticipation that we will spend significantly more behind the brand than we have done at the moment. But there's also an element of 'how much money have you got?' Money is not cheap anymore and so you have to be smart about what you what you do with your money. You are more likely to find us now doing things like our partnership with Movember. They benefit and we benefit as well, perhaps with a less big cash investment than we would do otherwise. The retailers like it because it's charitable. We don't need to be horribly cynical all the time. It's a good thing. It works for everybody and it doesn't involve us throwing huge amounts of money at the wall.
Just Drinks: Do you expect the alcohol-free beer category at retail to continue to grow over the next two, three, four years and therefore retailers will devote more space to more products?
Fink: Yes, I think that it will. Obviously, it's all going to be driven by rate of sale and how much they think that the category can take. Outside of alcohol-free beer, I think in the category as a whole there will be some interesting moves in AF wine over the next couple of years because the quality has just not been there until now.
Also, I think the rules are set to change so you can call zero abv wine 'wine', whereas you couldn't call it wine before. That might open it up a bit more and then you're introducing more people to alcohol-free beverages as a whole, which is only good for the whole category. So, yes, I think there will be incremental growth, but I don't think anyone's going to suddenly strip out half of their alcohol, replace it with alcohol-free and then see what happens.
Just Drinks: Do you see consumer appetite for alcohol-free beer in the UK remaining robust?
Fink: Yeah, I think so but it's still a very, very small sector of beer overall. Say in the UK it's at 2%, something like that, maybe 3% now. In the US, it's still less than 1%. A consultant for food and beverage brands – Alex Smith – recently said something I thought was interesting: consumers, by and large, are very conservative. If you go into Sainsbury's, you're not, by and large, there to acquire or purchase innovative new brands that are promising to revolutionise your diet or your lifestyle. He basically was saying 'Disrupt. But not too much.'
I think that's why a lot of the alcohol-free spirits start-ups have struggled a little bit because they were creating a whole new sector. Alcohol-free spirits didn't exist six or seven years ago. They found that journey harder versus alcohol-free beer. It was always a thing, people always had drunk it, it was just a distress purchase. We wanted to make it a positive choice.
But consumers need to be walked along that path with you. You can't just turn around and expect consumers to go 'I will buy your completely random new thing that you've just created.' It doesn't work like that. Then you get to the question 'Is it tough to compete with the Heinekens and the Asahis?' Yes, of course, it is but what they are doing by spending the big marketing bucks on adverts in the Super Bowl and sponsoring Formula One is convincing consumers that it's okay to drink alcohol-free beer.
Then you've got this big base of consumers who are then happy to do a bit more experimentation and try a few more brands because the concept of alcohol-free beer itself has been positioned as positive.
So, the demand is strong and growing but the thing I've learned more than anything else in food and bev is it doesn't move as fast as tech and the problem is that a lot of investors want everything to move as fast as tech. When you say to them 'But it won't', they go 'Well, then I'll go and invest in tech.' Then you have to find someone that really gets it and wants to emotionally be involved in building this stuff.
People need to incorporate [new products]. You can't have it be a fad. It needs to be a trend that continues. I think alcohol-free beer is succeeding because it's easy for people to incorporate into their consumption habits.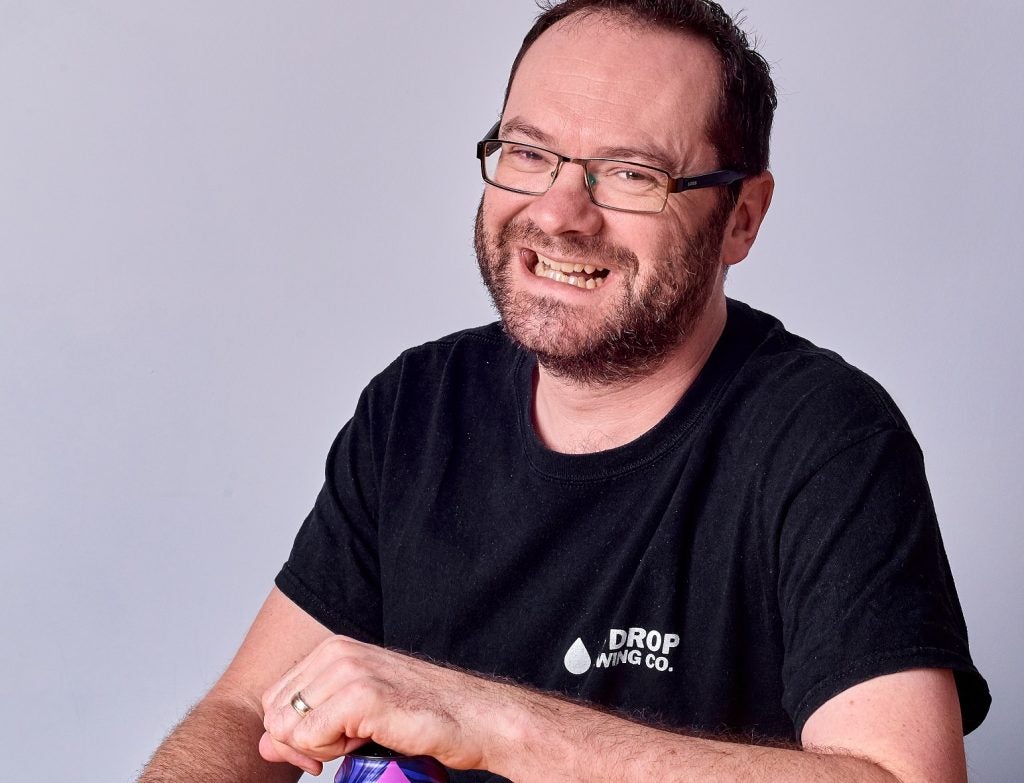 That's why I think that alcohol-free on draught is so essential to continuing to drive and even exponentially increasing consumer appetite for it. We all know how important the British pub is to our national culture and the pint as an institution. If you could have a pint of great tasting beer that happens to be alcohol-free I think that's just a whole new gateway -- an opening up of the market. I can drink four pints but two of them can be alcohol free. People drink what they can buy and, if they can buy a pint of it, my prediction is they drink it and they will continue to drink it because it's easy.
Just Drinks: What's needed to make that happen? Does it need an Asahi to secure a deal with a Stonegate for Peroni 0.0 and open up the market?
Fink: It's interesting because I think that the Peronis and the Heinekens – let's say they're leading the charge of the big brewers – I think at the moment they're quite reluctant to push draught because, if you want to put alcohol-free beer on draught, really you need to put preservatives in it. It's just like sulphites in wine, that's all. That's a preservative, that's not a problem.
What's needed is a larger pub company to put their head above the parapet
Going back to your point: yes, you're right. What it will take is one of the pubcos, one of the larger ones. We sell on draught. Lucky Saint sells on draught. We've got 100, 150 draught line accounts, something like that but they're, broadly speaking, small, independent hospitality venues who are a bit more innovative and who can turn on a sixpence, try something and, if it doesn't work, take it off and put something else on. What's needed is a larger pub company to put their head above the parapet but I think getting a bit of a mindset change in place takes time.
Just Drinks: When were your most recent discussions with some of the big pubcos?
Fink: They're always ongoing and I can't name names but there are there are some interesting ones now that are progressing and which would be with much larger pub companies. That would be a paradigm shift for Big Drop but also for the hospitality sector. We are never going to land 1,000 draught listings in one go but, if somebody owns 1,000 pubs, they put us on in 100 and it works then the year after that it will be 250 and the year after that it will be 500. Then, as that grows, other pub companies will look in and think 'So and so sells it and they keep increasing their draught line so we should look at this.'
Just Drinks: How likely is that to happen for Big Drop in 2024?
Fink: I always live in expectation rather than hope. As one of my fellow founders says 'I have yet to meet anybody who says that they intend to drink more alcohol next year.' People are, by and large, drinking less alcohol and they're drinking better. Therefore, if hospitality companies want people to continue to walk through their doors and pay money to them, they just have to offer more and better alcohol-free choices across the board.
Just Drinks: What are Big Drop's annual sales?
Fink: I can't give you a number but I will say that we are certainly we're good, solid, seven-figure revenues. Our growth rate over the last six years is 100% year on year. We've doubled on average every year.
Just Drinks: Are you expecting to double again in 2024 versus 2023?
Fink: It depends. The forecast isn't to double again but the short answer is it really depends on how much money I can raise.
Just Drinks: Big Drop's biggest market outside the UK is the US?
Fink: We contract brew in the US. The brewery is based in Illinois and that's probably our strongest state. I think we're now in 19 states but that's 2% of the battle because you have to then go and convince the retailers and the on-trade and consumers in those states that they should put it on shelves and then people should buy.
Just Drinks: How would you characterise the US market for alcohol-free beer?
Fink: You've got Athletic which is something like the 13th biggest craft brewery in the US now. Their annual revenue, ballpark, is $60m, something like that and then you've got a big chasing pack of probably half a dozen brands – of which we are one – doing anything from $500,000 to $2m run-rate, as in trailing 12 months. You look at the gap between the chasing pack and Athletic and my view is that there is an enormous opportunity for A.N. Other craft beer brand to break free of that pack. You ain't gonna catch Athletic next year but there's plenty of headroom.
Just Drinks: Have you had approaches from bigger brewers to invest in Big Drop? Would you look for that? Would you listen to those offers if they were to come?
Fink: Short answer is probably yes because this game is about distribution and who can get you on as many shelves as possible. My mission at the beginning of the journey was to make the best alcohol-free beer that we possibly could. We've done that I think.
Then you need to get people to buy it, so then you need to convince people that it's a brand worth investing in emotionally, in parting with their hard-earned cash. I think, again, we've done that in our own small way but consumers only drink what they can buy. That's not to disrespect the consumer. That's just a fact. If you're going to drink it, you need to be able to buy it. That's distribution. Distribution is achieved through scale, so what we need is to partner with somebody who has that access to scale, What I want is for as many people as possible to enjoy Big Drop not because I want to make lots and lots of money – although that would be lovely – but because, well, you can make something but, if nobody can buy it, then what's the point? Then it's just a business you're running in your shed. That's not what I wanted to achieve.