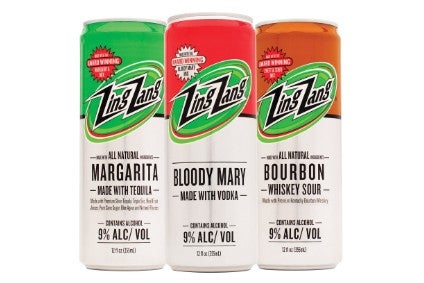 Zing Zang's RTD pre-mix canned cocktails
Category – Spirits-based RTDs, 9% abv
Available – From this month
Location – The US, initially available in 20 states
Price – SRP of US$12.99 per 4x12oz (35.5cl) cans
US cocktail mix company Zing Zang has launched its first range of spirits-based RTDs.
Zing Zang said today that its namesake range will comprise three varieties – Bloody Mary, Margarita and Bourbon Whiskey Sour. The RTDs blend Zing Zang's cocktail mixes with vodka, Tequila and Bourbon, respectively.
The range differs from many in the new wave of spirits-based cocktails in having an abv of 9%. Zing Zang said the alcohol strength, which is higher than the regular 5%-abv for RTDs, better reflects most bartender-made cocktails and allows for two servings from one 12oz can.
"Our new RTDs are real cocktails, made with our bold Zing Zang mixes and high-quality premium spirits, unlike most canned cocktail drinks and hard seltzers which are just watered-down malt or beer-based drinks," said company CEO Brent Albertson, who previously spent 30 years with Diageo in a number of roles.
Chicago-based Zing Zang was founded in 1997 and produces a range of non-alcoholic cocktail mix brands in the US. The RTDs are the company's first alcoholic beverages.