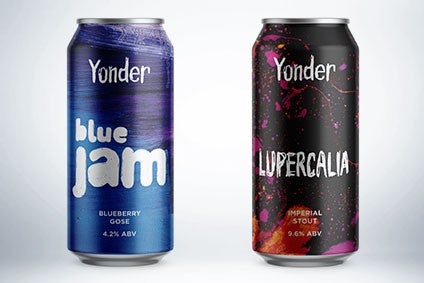 Yonder Brewing's Lupercalia, Blue Jam beers
Category – Beer, flavoured
Available – From this week, online
Location – The UK
Price – SRP of GBP7.95 (US$11.01) per can for Lupercalia, GBP5.50 for Blue Jam
UK start-up Yonder Brewing has released two flavoured beers. Lupercalia, a 9.6%-abv imperial stout with chocolate and rose, and the blueberry-flavoured, 4.2%-abv Blue Jam were unveiled by the craft brewer today.
The new beers are available from Yonder's website for purchase nationwide.
Stuart Winstone and Jasper Tupman, former employees at UK craft brewer The Wild Beer Co, founded Yonder in 2018. The brewery, in Somerset, uses locally-sourced ingredients.
Earlier this month, Heineken upped its holding in UK craft peer Brixton Brewery to take full control. The transaction, for an undisclosed sum, built on the multinational brewer's initial interest in the London-based brewer, which dates back to 2017.
Heineken in 2020 – click here for a just-drinks results preview