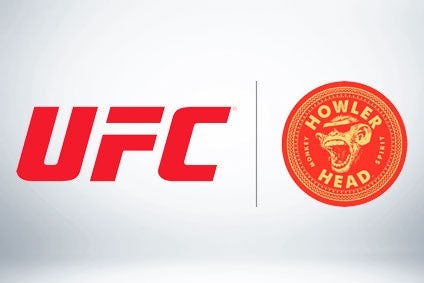 Wooler Brands has secured a sponsorship arrangement for its Howler Head flavoured whiskey brand with the Ultimate Fighting Championship (UFC).
Under the terms of the "multi-year agreement", announced yesterday, the US company's banana-flavoured Bourbon will be advertised at UFC events, along with in-venue and onsite fan activations. Also included in the terms are promotions on the mixed martial arts company's global television broadcasts and through on-premises retailers.
Financial details were not disclosed.
"We are excited to be partnering with UFC, one of the world's greatest marketing and brand build entities globally," said Wooler CEO Jason Wooler.
Howler Head's whiskies are available in 45 US states as well as the United Arab Emirates. Wooler, which also owns Bogtrotter Irish whiskey and Ginny's Gin, also plans to expand Howler Head into Canada's off-premise later this year.
UFC has engaged in partnerships with a range of beverage brands in recent years, including Heaven Hill Brands' Blackheart spiced rum and Ukrainian vodka brand Nemiroff.
Why whisky/whiskey can no longer ignore the allure of flavours – click here for a just-drinks comment