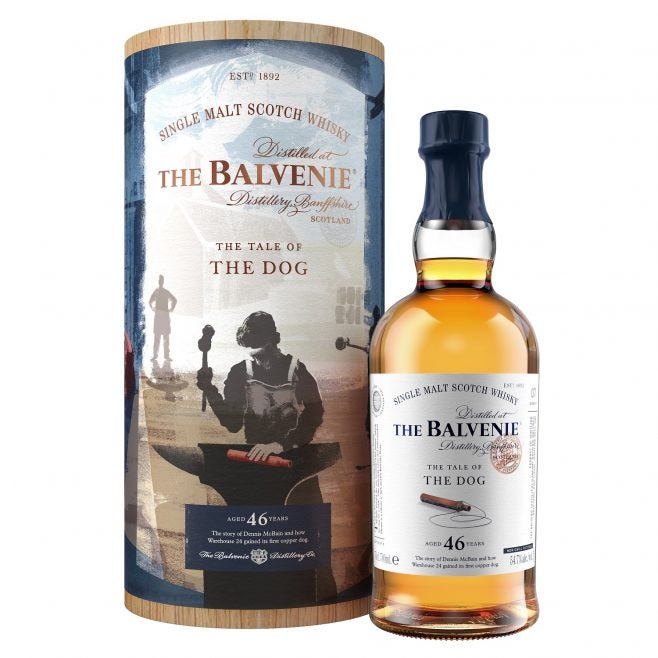 Category – Spirits, whisky, Scotch, single malt, 46 years old, 54.7% abv
Available – From this week
Location – Exclusive to the Global Travel Retail channel, through Gebr Heinemann outlets
Price – Local currency equivalent of GBP16,500 (US$22,000) per bottle
William Grant & Sons has added a limited-edition single malt to the 'Stories' series from Scotch whisky brand The Balvenie.
'The Tale of the Dog' will be available through ten Gebr Heinemann-run stores in GTR, with 34 bottles, sourced from one cask, on sale. Coinciding with the expression is a more affordable extension of the series: 'The Creation of a Classic', also a GTR exclusive, will retail globally for GBP57 per unit.
The 46-year-old Tale of the Dog refers to the 'copper dog', a vessel used in the past by distillery workers to steal small amounts of Scotch. A replica flattened copper dog is featured in the packaging. The flattening of the vessel signified that the worker's methods had been discovered by senior distillery staff.
The Creation of a Classic, meanwhile, comprises Balvenie single malt that has been finished in ex-Oloroso Sherry casks.
Why single malt Scotch must ignore its core consumer – Click here for a Just Drinks comment