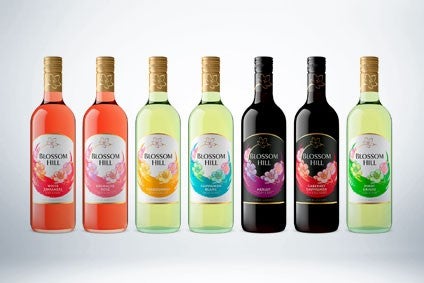 Treasury Wine Estates is to launch new packaging for the Blossom Hill brand.
The winery has updated the labelling across the entire Blossom Hills portfolio to give it a more "modern and sophisticated" look, it said today. The redesigned bottles, which will roll-out across the UK grocery channel by the end of May, aim to bring younger consumers to the brand.
"We know that Blossom Hill has strong brand awareness," said TWE's head of marketing for Europe, Middle East & Africa, Ben Blake. "We want to continue recruiting new and younger shoppers into the wine category, whilst reaffirming our positioning as an easy drinking, fruit-forward wine to share with friends – the new packaging is certainly more reflective of this."
The range, which includes White Zinfandel, Grenache Rose and Merlot varietals, will have an SRP of GBP6 (US$8) per bottle.
Last month, The Wine Group paid around AUD100m (US$76.9m) for the US licenses of four of TWE's value wine brands.
Why Treasury Wine Estates' woes don't equate to a Pernod Ricard purchase – click here for a just-drinks comment