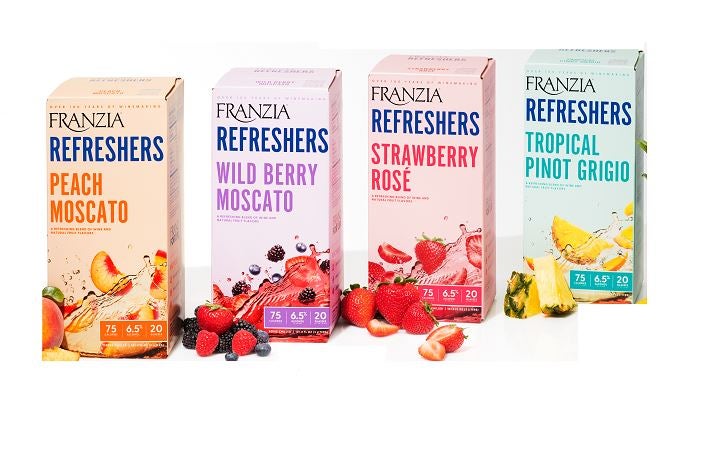 Category – Wine, rose, white, flavoured, 6.5% abv
Available – From this month
Location – The US
Price – SRP of US$15 (US$47) per 3-litre box
The Wine Group has added a range of fruit-flavoured boxed wines to its Franzia wine portfolio in the US.
Franzia Refreshers is a 6.5%-abv wine blended with natural fruit flavours. The range comprises Peach Moscato, Tropical Pinot Grigio, Strawberry Rosé and Wild Berry Moscato, all of which contain 75 calories per 5oz serving.
"Franzia enters the fruit-flavoured wine category with Franzia Refreshers … as we continue our focus on innovation and maintain our leadership in the boxed wine space," said The Wine Group's chief marketing officer, Jeff Dubiel. "We're anticipating Franzia Refreshers will become a go-to selection for new wine and beverage alcohol consumers."
In March, The Wine Group purchased the US licenses for Treasury Wine Estates' Coastal Estates and Meridian brands, as well as Beringer's Main & Vine and Founders' Estate offerings, in the Americas for about AUD100m (US$76.9m).
Treasury Wine Estates makes US offload to The Wine Group – But, who is The Wine Group? – Click here for a Just Drinks analysis