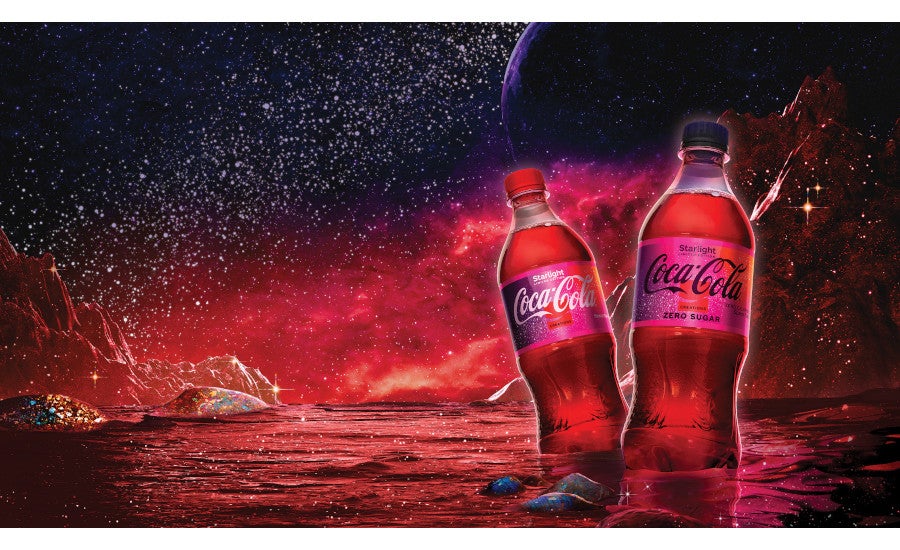 Category – Soft drinks, CSD
Available – From next week in North America, Europe TBC
Location – Off-premise, available from multiple retailers
The Coca-Cola Co has lined up the release of Starlight, the first CSD from a new Coca-Cola Creations range.
Launched off the back of 'The Real Magic' marketing platform, unveiled last year, the line will be aimed at gaming and music consumers. The activation includes a companion app that allows users to engage with online and augmented reality content.
Using the Coca-Cola app, the Starlight bottle allows access to an augmented reality experience, where singer Ava Max will appear and sing tracks from her albums against a cosmos backdrop.
The flavour of the new beverage has been called "space" by the company. The liquid looks like Coke but features purple and reddish hues when held up to the light. The range will comprise a number of limited-edition flavours in the coming year.
"When we launched 'Real Magic,' we wanted to connect with and celebrate the experiences that bring joy to young people today," said Coca-Cola's senior director of global strategy, Oana Vlad. "That has taken us to an exciting new territory."
Earlier this month, the group beat its expected performance for 2021, posting sales growth of 16%. Coca-Cola benefitted from the return of fountain business sales in North America as on-premises sites reopened.
Fresca Mixed launch shows The Coca-Cola Co's biggest rival to be Anheuser-Busch InBev – Click here for a Just Drinks comment