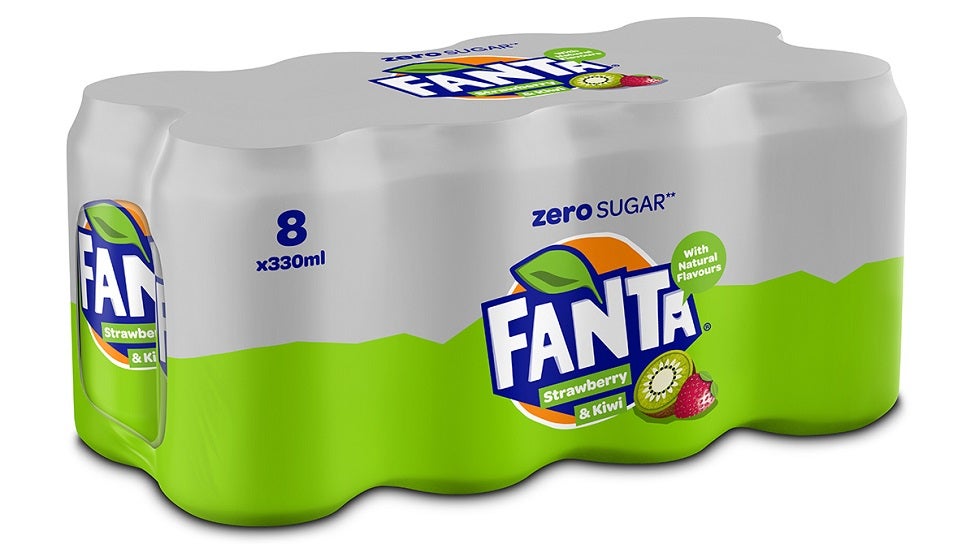 Category – Soft drinks, CSD
Available – Since last month
Location – Available in the UK as well as in selected EU and US states via supermarkets and convenience stores
Price – In the UK, SRP of GBP10.50 (US$13.98) per 24 x 33cl-can pack
After a bustle of consumer activity on Social Media, The Coca-Cola Co is bringing Fanta Zero Strawberry & Kiwi to the UK market.
Tourists from the UK who had tasted the flavour in markets such as Denmark and the US, took to Social Media asking for the brand extension to be brought to the UK. Coca-Cola said it had been 'inundated' with direct messages, social posts and emails about its availability.
The CSD will be stocked in Tesco, Londis, One Stop and Budgens stores across the UK in can multi-packs, as well as 50cl and 2-litre bottles.
Strawberry & Kiwi joins Fanta's zero sugar line, with Fanta Raspberry Zero Sugar launching in 2020.
"We were overwhelmed by the demand for Fanta Strawberry & Kiwi from our consumers and wanted to show we listen and care about what they want," said Fanta brand manager Charlotte Walsham. "This year we will build on the fantastic success of the Fanta Zero Sugar range, offering a new flavour to tantalise tastebuds."
Coca-Cola has previously trialled new flavours in the UK that are available overseas. Three years ago, the group used feedback and data from its self-serve soda dispensers to launch Fanta Grape Zero into the UK.
Forget PepsiCo, Fresca Mixed launch shows The Coca-Cola Co's biggest rival to be Anheuser-Busch InBev – Click here for a Just Drinks comment