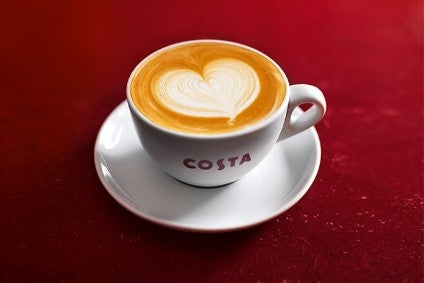 The Coca-Cola Co has bought automated coffee business Briggo, bringing the company's touchscreen vending machines into the Costa Coffee portfolio.
The soft drinks giant told just-drinks it acquired Austin, Texas-based Briggo earlier this year for an undisclosed sum. Briggo makes Briggo Coffee Hauses – free-standing, self-service coffee machines designed for public spaces and offices.
Following the acquisition, Coca-Cola has rebranded Briggo's machines as Costa Coffee Barista Bots. The Barista Bots can be operated through a smartphone app.
A spokesperson for the group said: "The investment in Briggo's technology and expertise … has been an exciting addition to Costa Coffee. It will help us accelerate our innovation around fully autonomous, touchless speciality coffee solutions.
"We will be rebranding existing Briggo Coffee Hauses to Costa Coffee branding. This is an exciting transition and we're committed to making it seamless for existing Briggo customers."
Coca-Cola, which completed its acquisition of Costa in January last year, is ramping up touchless technology in its self-service machines. All of the company's US Freestyle soda fountains will be modified to allow consumers to operate them through a smartphone by the end of this year.
Indonesia the wildcard for Coca-Cola European Partners in Coca-Cola Amatil acquisition – Click here for a just-drinks comment