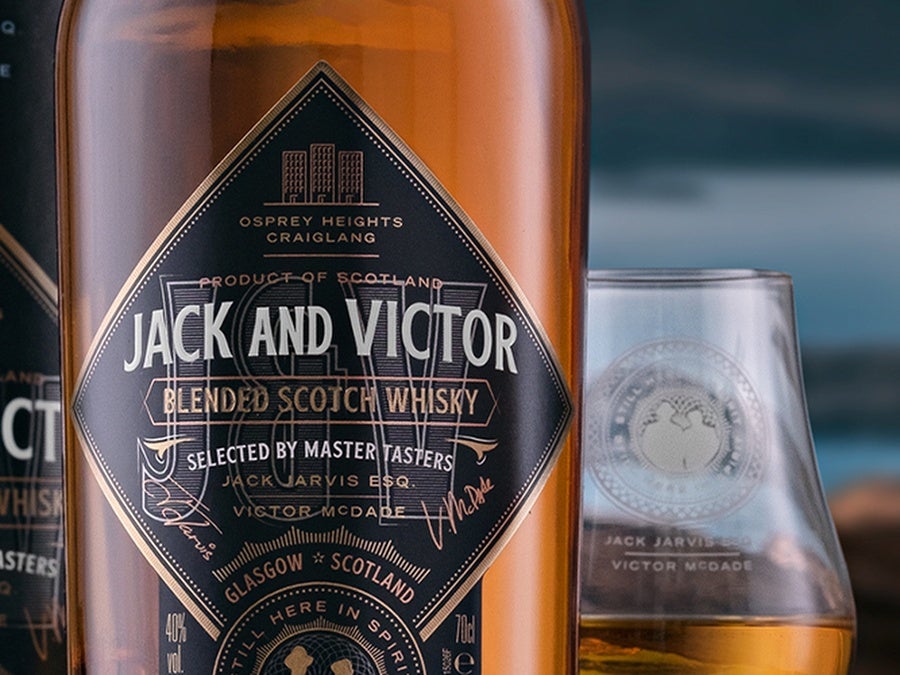 Two Scottish comedians have won a trademark battle against Jack Daniel's Properties over the creation of a Scotch whisky called Jack & Victor.
The US whiskey company was ordered to pay £3,200 ($3,950) in costs to Jack & Victor following a hearing at the UK Intellectual Property Office (UKIPO) last week (15 May).
Greg Hemphill and Ford Kiernan launched Jack & Victor in 2021, applying for a trademark for the whisky and branded merchandise on 8 March 2021.
The US whiskey company opposed the application over its similarities to Tennessee brand Jack Daniel's, which is owned by Brown-Forman.
The terms 'Jack', 'Gentleman Jack' and 'Jack Daniel's' are trademarked in the UK.
Jack Daniel's Properties claimed the Scotch brand was too similar to Jack Daniel's and that consumers would be confused by the name, assuming it to be affiliated.
But the UKIPO dismissed the complaint, saying the public was "unlikely to be deceived" when purchasing Jack & Victor-branded items.
UKIPO trademark hearing officer Heather Harrison said: "There will be no misrepresentation. The differences between "Jack & Victor" and "Jack Daniel's" are too great for the relevant public to believe that the contested goods are those of the opponent, despite the strong reputation of the earlier sign, even for identical goods."
Jack Daniel's Properties can appeal the ruling.
The Scotch was named after two characters in the Scottish comedy drama Still Game, produced by BBC Scotland, which ended in 2019. The nine-series drama followed two pensioners, Jack and Victor, living in the fictional town of Craiglang, Glasgow.
On its website, the Scotch fictitiously claims to be made in Craigland but is reportedly a blend of whiskies from Loch Lomond Distillery, Alexandria.
Jack & Victor is packaged in a rounded bottle with a black label and gold embossed design. Meanwhile Jack Daniel's core line is in a squared bottle, with a black label and white writing.