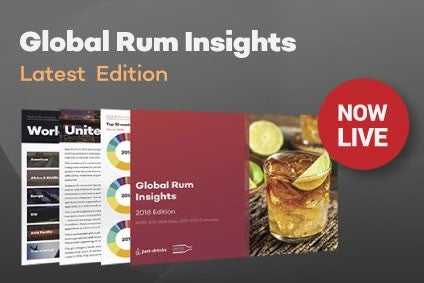 Global rum sales have disappointed in recent years, but the category could be set for a much-needed resurgence over the next five years, according to the Global Rum Insights 2018 report from just-drinks and The IWSR.
Blaming rum's poor recent performance on declines in the vital US market, the maturity of category leader Bacardi and its lack of premiumisation, the report notes that, following a peak in 2013, rum sales (excluding low-priced products) have consistently declined ever since. The immediate prospects, however, look much brighter, the report notes, despite predictions of continued declines in the US.
Between 2016 and 2021, all of rum's other top 15 markets, barring Venezuela and Italy, are expected to expand.
"Among the leading markets, France is likely to be the big mover, overtaking both Canada and the UK to become the world's second-largest market (excluding low-priced) by 2021," the report says.
And, while rum has come late to the premiumisation party, it is beginning to move, with premium-plus sales growing by almost 2.2m cases between 2011 and 2016.
This shift towards higher-price echelons is being helped by increasing consumer curiosity about the category's geographical and flavour diversity, as well as brands tapping into rum's helpful associations of provenance, history and lifestyle with an array of new products, especially within spiced, flavoured and sipping rum.