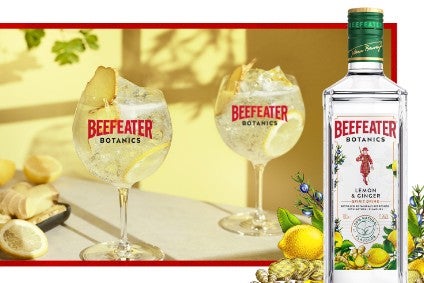 Pernod Ricard's Beefeater Botanics Lemon & Ginger
Category – 'Spirit drink', 27.5% abv
Available – From this month
Location – Available in Canada
Price – SRP of CAD30.45 (US$24) per 70cl bottle
Pernod Ricard has launched its second Beefeater 'spirit drink' of the year, a lemon & ginger flavoured version of the London dry gin brand.
By definition rules, Beefeater Botanics Lemon & Ginger, which carries an abv of 27.5% abv, cannot be categorised as a gin due to its lower alcohol content. Subsequently, Pernod uses the term 'spirit drink' instead.
The classification is the same one Pernod gave to Beefeater Light, a 20%-abv spirit drink launched in January. European Union regulations dictate that the abv of a gin must be no less than 37.5%.
Beefeater Botanics Lemon & Ginger is the first 27.5%-abv Beefeater product. Announcing the Canadian launch today, Pernod said the expression, which has a gin base, is "aimed at those looking for a refreshingly balanced taste without compromising on flavour or quality".
Pernod also owns the 20%-abv Ballantine's Light spirit drink, while last month Diageo launched the first lower-abv iteration from its Haig Club Scotch whisky brand.
Is Plymouth Gin the unluckiest spirits brand ever? – Click here for a just-drinks comment