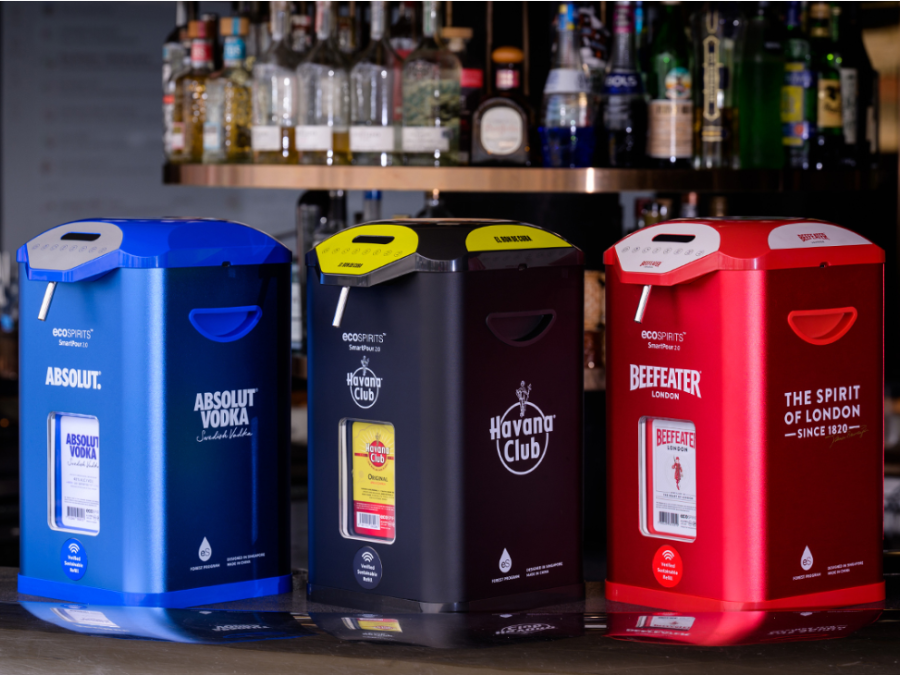 Pernod Ricard has acquired a minority stake in circular packaging company EcoSpirits.
The French wine and spirits group's investment in the Singapore business came as part of a $10m funding round led by New York-based investment group Closed Loop Partners.
Neither Pernod Ricard nor EcoSpirits disclosed the terms of the Beefeater brand owner's investment.
Pernod Ricard is trialling a closed-loop packaging concept in south-east Asia using technology developed by EcoSpirits.
The system, called EcoTote, is a re-useable glass container that holds 4.5 litres, held inside a branded outer shell. It aims to reduce packaging waste by providing on-premise locations with branded refillable containers.
Pernod Ricard started its trial of the product last year, distributing Beefeater gin, Absolut vodka and Havana Club rum to venues in Hong Kong and Singapore.
Speaking to Just Drinks, Pernod Ricard global circularity manager David Deka said: "Once we complete our pilot, which is currently on-going, we will use the leanings from that and then scale up with them. We are working closely with them to develop and improve their technology, their equipment, etc. and make sure that these are suitable for when we scale-up."
EcoSpirits' re-useable containers are connected to the Internet and can report back depletion levels. The system also allows for the pouring of spirits set to local measurements.
To facilitate the bottling and refilling of the containers in local regions, EcoSpirits maintains a facility called an 'EcoPlant', that operates as a bottling and EcoTote cleaning unit.
Other participants in the funding round were Asian and global institutional investors Proterra Asia and Pavilion Capital.
Pernod Ricard made its investment through in-house corporate-venture arm Convivialité Ventures.
EcoSpirits plans to use the capital to scale up its hardware, software and research into the internet of things. It will also be used to expand its operations in international markets, including the US.
Gwyneth Weller, Pernod Ricard's head of sustainability and responsibility engagement told Just Drinks, the company's trial of EcoSpirits was an indication of a "huge mindset shift" at the Malibu owner when it comes to packaging.
"It's really about changing the way we're working," Weller said. "In order to tackle this area, which is a huge amount of our carbon emissions, we need to find these new solutions and so piloting circular distribution models like EcoSpirits is part of our strategy."
She added: "There's also a huge expectation from regulators as well to do this kind of transition. The cost of not doing something is actually greater. On glass, for example, we know that there is a real challenge in being able to source glass and that we need to find alternatives. The system developed is also responding to the fact that materials are going to become harder to come by and more expensive."
Pernod Ricard is not the only spirit company to have run an EcoSpirits closed-circuit packaging pilot. Rémy Cointreau and Diageo have worked with the group.