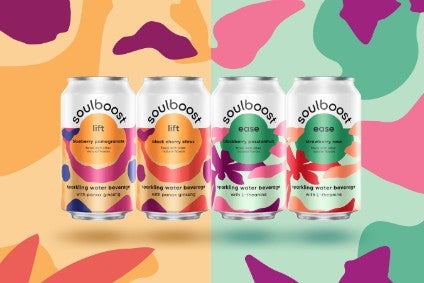 PepsiCo's Soulboost Lift, Ease
Category – Soft drinks, sparkling water
Available – From this week
Location – The US, available from selected 'natural retailers' and e-commerce channels
Price – Not immediately available
PepsiCo has launched a new functional sparkling water brand.
Soulboost, unveiled today, is described by the company as "guilt-free sparkling water refreshment" and contains 10-20 calories per 35cl can. The brand's debut range, which was developed by PepsiCo's innovation arm, comprises:
Lift – contains 200mg of panax ginseng to help support mental stamina, available in Blueberry Pomegranate and Black Cherry Citrus, and
Ease – contains 200mg of L-theanine to help support relaxation, available in Blackberry Passionfruit and Strawberry Rose.
"With consumers today increasingly looking for convenient ways to support mental stamina and relaxation in their daily routines or find alternatives to alcoholic beverages – and the pandemic having increased people's overall interest in wellness products – we knew it was time to introduce a game-changing product," said PepsiCo Beverages North America's VP of innovation & capabilities, Emily Silver.
The release marks further efforts from PepsiCo to strengthen its presence in the functional soft drinks category. In September, the company launched Driftwell, a zero-calorie beverage that aims to improve sleep quality.
According to GlobalData, the enhanced water category in the US has enjoyed consistent growth in recent years. Between 2016 and 2020, consumption swelled at a compound annual growth rate (CAGR) of 4.8%. This rise looks set to continue until 2025, albeit at a slower CAGR of 3.4%.
Why energy and functional drinks should be wary of coffee's renewed attack on the caffeine occasion – click here for a just-drinks comment