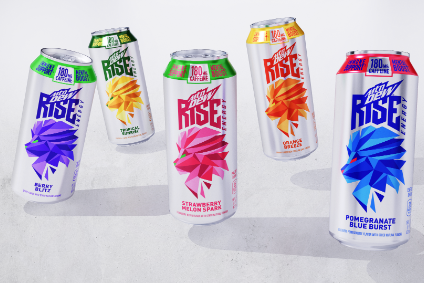 PepsiCo has unveiled a functional energy drinks line from Mtn Dew, supported by the brand's recently-recruited ambassador, professional basketball player LeBron James.
Mtn Dew Rise Energy, announced today, contains the nootropic ingredient Citicoline as well as 180mg of caffeine for "mental focus", and is available in six flavours; Pomegranate Blue Burst, Orange Breeze, Strawberry Melon Spark, Tropical Sunrise, Berry Blitz and Peach Mango Dawn. The line-up is available now across US retail stores at an average SRP of US$2.59 per 16oz (47.3cl) can.
James, whose 18-year sponsorship deal with The Coca-Cola Co ended last month, has signed a "multi-year" brand ambassador arrangement with Mtn Dew Rise Energy that also allows for an expansion to include snack brands in PepsiCo's portfolio, according to the company.
"Lebron James is not only going to be an incredible brand partner to Mtn Dew Rise Energy, but we also look forward to the collective impact we can make on the people we serve through education, social justice and community initiatives," said PepsiCo's media, sports & Entertainment senior VP, Adam Harter.
News of the partnership comes two weeks after PepsiCo renewed its status as the NBA's official soft drinks sponsor.
In November, James was named as a financial backer of the Lobos 1707 Tequila brand in the US and Mexico.
Why energy and functional drinks should be wary of coffee's renewed attack on the caffeine occasion – click here for a just-drinks comment