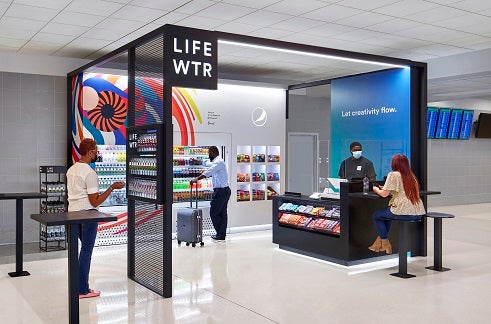 The 'Lifewtr Lounge', which opened this month at the Philadelphia International Airport, sells a range of Lifewtr products and offers international travellers a space to relax, PepsiCo said. Inside the lounge are a number of works from Philadelphia artists.
The new lounge is within the A-East security checkpoint at Philadelphia Airport, which caters to international flights. A range of PepsiCo beverages and snacks are on sale at the store, the company said.
Air passengers are more used to seeing spirits brands taking over airport stores, although the Global Travel Retail channel has been badly affected by the coronavirus pandemic. A Lifewtr spokesperson did not respond to a Just Drinks question regarding any other Travel Retail activations from Lifewtr.
PepsiCo has expanded the Lifewtr portfolio this year: In March, the brand owner launched Lifewtr Immune Support, which targets consumers looking to boost their immune systems.
How soft drinks can make the most of the reopening on-premise and foodservice channels – Click here for a Just Drinks comment