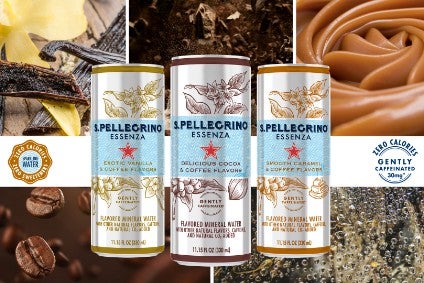 Nestle's San Pellegrino caffeinated Essenza
Category – Soft drinks, sparkling water
Available – From this month
Location – The US, available nation-wide
Price – SRP of US$5.99 per 8×11.15oz (33cl) pack
Nestle has joined the growing ranks of soft drinks companies to launch a lightly-caffeinated, zero-sugar sparkling water.
The new San Pellegrino Essenza extension contains 30mg of caffeine per can and comprises three flavours – Vanilla & Coffee, Cocoa & Coffee and Smooth Caramel & Coffee – that are all based on Italian coffee serves. They join the four flavours of the original San Pellegrino Essenza range, a non-caffeinated, fruit-flavoured collection of sugar-free sparkling waters launched in 2019.
"Building on the popularity of our San Pellegrino Essenza, featuring fresh Mediterranean fruit flavours, we turned to Italian coffee bars as inspiration for this new line," said Sara Mayer, Nestle's senior marketing manager for San Pellegrino. "This new offering is the perfect accompaniment to perk up your daily breaks and snack times."
Other caffeinated sparkling waters to roll out in the last two months include PepsiCo's zero-sugar Bubly Bounce and Ocean Spray Cranberries' Ocean Spray Wave, which contains 1g of sugar per can. The Coca-Cola Co released the zero-sugar Aha last year and overhauled the brand in February.
Nestle launched an energy drink under the Perrier brand last month. Perrier Energize contains 99mg of caffeine and 7g of sugar per can.
Are hard seltzers paving the way for 'soft seltzers'? – Click here for a just-drinks comment