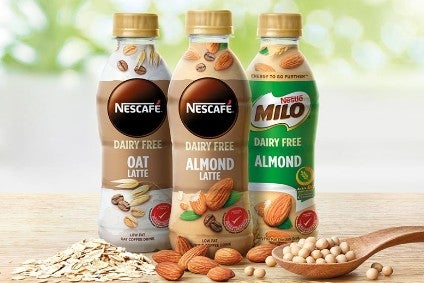 Nestle is to release three plant-based beverages in Asia as consumers in the region increasingly seek out non-dairy options.
Two new Nescafé lattes will contain oat and almond milk instead of dairy milk while an upcoming Milo chocolate malt release will use almond and soy, Nestle said late last week. The company is developing a variety of dairy alternatives for Asia and will look to launch more plant-based beverages.
Nescafé Dairy Free Almond Latte and Nescafé Dairy Free Oat Latte will be available in the region from April. Both are blended with Nescafé coffee and can be consumed hot or cold.
Meanwhile, Milo Dairy Free Almond rolls out in Malaysia from this month ahead of a wider Asia launch. Each bottle holds 6.5g of protein and is lower in sugar than regular Milo.
"We're expanding our offerings across Asia," said Guglielmo Bonora, head of Nestle's R&D centre in Singapore. "We want to make it easier for people to embrace plant-based alternatives in their diet, while also reducing our carbon footprint across the supply chain."
Nestle already produces plant-based drinks elsewhere, including a vegan Milo in Australia and plant-based Nescafé cappuccinos and lattes in Europe and Oceania. In January last year, Nestle launched the oat- and pea-based Nesquik GoodNes in the US.
According to a survey by GlobalData, around 40% of consumers in Asia are shifting to more plant-based diets, with 11% opting for vegetarian and vegan food, and a third moving to a 'flexitarian' diet that is lighter on meat and dairy products.
The rise of adaptogens – the continued evolution of health & wellness in soft drinks – Click here for a just-drinks comment