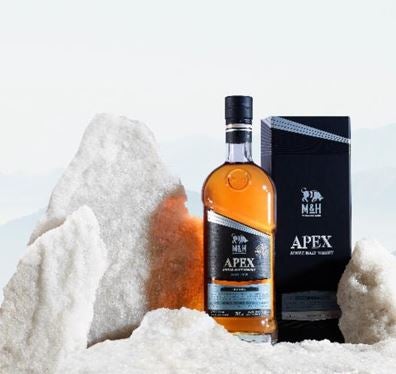 Category – Spirits, whisky, 56.2% abv
Available – From this week
Location – Selected international markets, available through spirits specialists and online
Price – Not immediately available
M&H Distillery has launched a whisky that has been aged in barrels at 423 metres below sea level.
Apex Dead Sea was laid down in ex-Bourbon and ex-red wine casks for one year in Israel's Dead Sea region. The iteration will be released in an unspecified number of batches, with the first run of 4,892 bottles available from selected retailers and online e-tailer The Whiskey Exchange in the Netherlands, Taiwan, UK, France and Germany.
"Understanding the impact of the desert climate on the cask was a fascinating experiment and study project," said head distiller Tomer Goren. "I look forward to continuing our geographical experiments, with the Sea of Galilee and the Jerusalem Mountains coming up next."
M&H, which stands for Milk & Honey, was founded in 2012 by Israeli technology entrepreneur Gal Kalkstein and claims to be the country's first whiskey distillery.
Earlier this week, Jack Daniels brand owner Brown-Forman welcomed a return to a   "level playing field" following the US-European Union removal of retaliatory tariffs on American whiskeys.
Spirits categories – What's in a name? – Click here for a Just Drinks comment