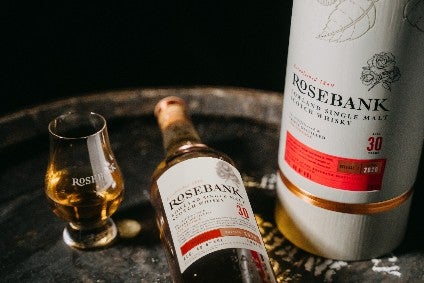 Ian Macleod Distillers' Rosebank 30 Year Old
Category – Spirits, whisky, Scotch, single malt, 48.6% abv
Available – From this week
Location – Available worldwide
Price – In the UK, SRP of GBP1,650 (US$2,150) per bottle
Ian Macleod Distillers has unveiled the first global release from its soon-to-be-reopened Rosebank Distillery in Scotland.
The Rosebank Lowland Single Malt 30 Year Old was distilled in 1990, three years before the Rosebank Distillery closed down. Ian Macleod acquired the site, along with the Rosebank brand name and the remaining stock, in late-2017 and plans to reopen it next year.
Only 4,350 bottles of Rosebank 30 Year Old will be available to buy worldwide. The liquid was matured in 62% refill Sherry butts and 38% refill Bourbon hogsheads. The expression has been dubbed 'Release One' by the distillery because it opens a new chapter in Rosebank's history, Ian Macleod said.
Will Q3 bring an end to 2020's hangover, are the softs going hard and would Stock Spirits fancy a beer? – The just-drinks Analyst