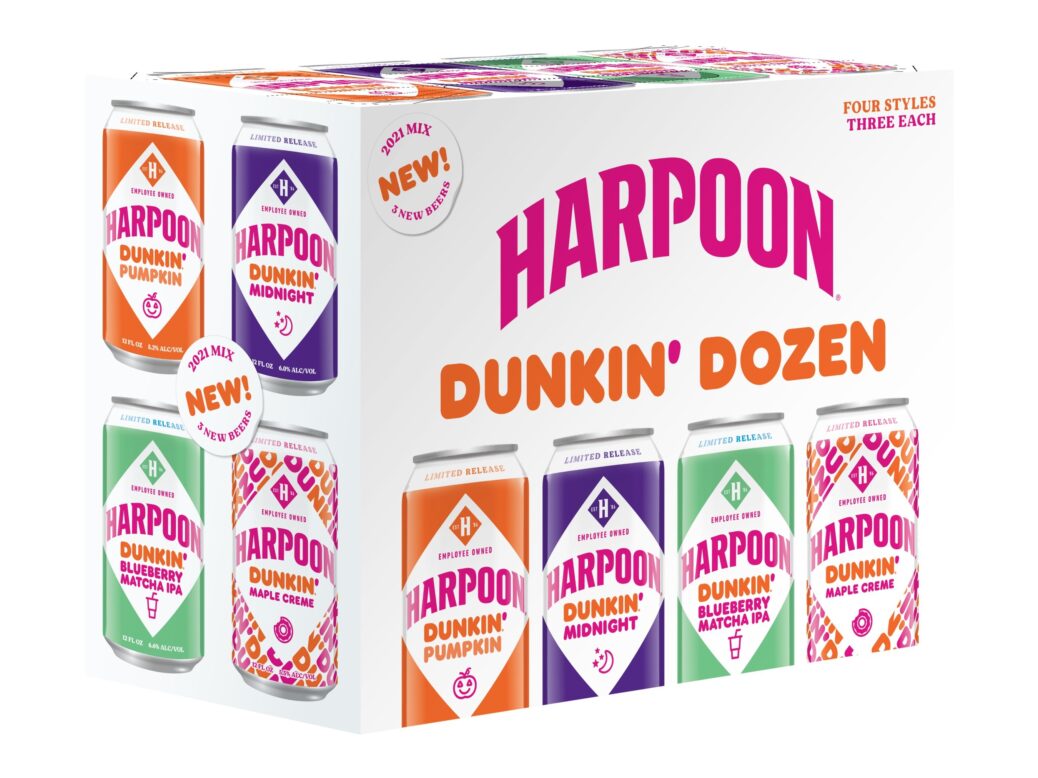 Harpoon Brewery is marking the fourth year of its Dunkin' collaboration with a four-strong line of beers, one of which has been brewed using the restaurant chain's doughnuts.
The latest activation from the partnership, which kicked off in 2018, sees the Boston-based craft brewer launch the Harpoon Dunkin' beers in the US next month. All four have been brewed with either coffee, doughnuts or matcha from Dunkin'.
The line comprises:
Harpoon Dunkin' Pumpkin Spiced Latte Ale – brewed with Dunkin' coffee, pumpkin puree, cinnamon and lactose, 5.2% abv
Harpoon Dunkin' Blueberry Matcha IPA – produced using blueberries, matcha and "a blend of traditional and modern hops", 6.6% abv
Harpoon Dunkin' Maple Crème Blonde Ale – brewed with donuts and maple syrup, 5.5%
Harpoon Dunkin' Midnight American Porter – brewed with Dunkin's Midnight Roast coffee, 6%
The Pumpkin beer will be available on draft and in six-packs of bottles, while the 'Harpoon Dunkin' Dozen' will be made up of three cans of each of the four beers.
Visitors to Harpoon's brewery this Monday, 30 August, will be offered an exclusive 'Dunkin' Harpoon IPA Donut' filled with a Harpoon IPA jelly. The company flagged that the doughnut "may contain trace amounts of alcohol" and will be available to LDA consumers only.
Why craft beer should be wary of the battle for the middle tier – Click here for a Just Drinks comment