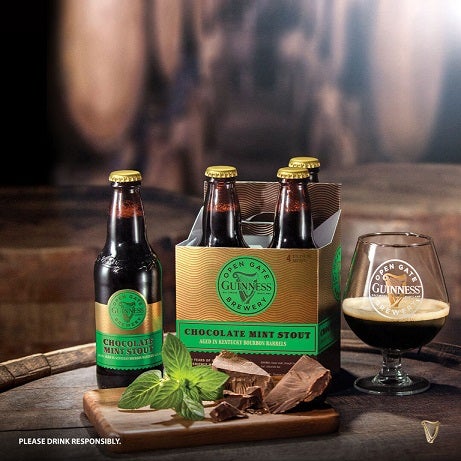 Category – Beer, stout, 10.8% abv
Available – From this week
Location – The US, available nationwide in the off-premise channel
Price – SRP of US$19.99 per four-pack of 11.2oz (31.8cl) bottles
Diageo has released a barrel-aged, chocolate mint-flavoured stout from its Guinness brand in the US.
Brewed at the company's Open Gate Brewery in Baltimore, Guinness Chocolate Mint Stout Aged in Kentucky Bourbon Barrels will be available throughout the market for a limited – albeit unspecified – period. The 10.8% abv beer has been flavoured using dried mint leaves and cacao and has a slight Bourbon character.
"With each new beer from our barrel-ageing programme, we look to challenge ourselves with flavour combinations and tastes that most people wouldn't expect from Guinness," said Open Gate head brewer Sean Brennan.
Earlier this week, Diageo raised its sales growth forecasts for the coming years, also setting the target of increasing its share of 'total beverage alcohol' worldwide from the current 4% to 6% by 2030.
How craft beer can work through its #MeToo moment – Click here for a Just Drinks comment