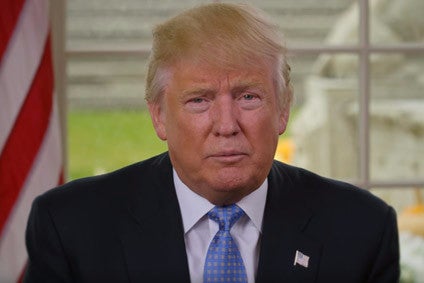 The Trump administration's "bold" approach to international trade could help resolve the tariff dispute impacting spirits producers on both sides of the Atlantic, according to the CEO of The Distilled Spirits Council.
In mid-2018, the European Union announced a 25% tariff on American whiskey, in response to US tariffs on steel and aluminium imports – followed by the US imposing a 25% tariff on imports of malt Scotch, Irish whiskey from Northern Ireland, plus cordials and liqueurs last October. At the end of the year, Champagne came into view with the US threatening the category in response to France's introduction of a tax hitting US tech companies.
Speaking to just-drinks in the first instalment of an exclusive two-part interview this week, Chris Swonger said: "We want it all to go away. Since 1997, the US and the EU had enjoyed a zero-for-zero tariff-free zone. That all ended in 2018. So, we've got to get back to that.
"It's creating great anxiety for all in the industry."
Swonger said the Council would continue to work "constructively" with fellow trade organisations including the Scotch Whisky Association and spiritsEUROPE.
"We're all working in coordination to try to encourage both the US and the EU to get to the negotiating table," he added. "If these things don't get resolved, then the EU is poised to increase the tariffs on American whiskey by another 25% in January 2021. So, this thing's got to get resolved."
"The Trump administration has been bold in addressing long-standing trade barriers" – just-drinks speaks to Distilled Spirits Council CEO Chris Swonger – Part I