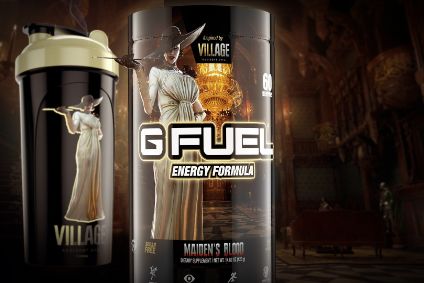 Gamma Enterprises has teamed up with Capcom for another video game tie-up for its G-Fuel energy drink brand.
Inspired by a character from Capcom's Resident Evil video game series, the Lady Dimitrescu bundle can be purchased via the Gamma website. The bundle includes a 60-serving tub of the US energy drink maker's latest powder, Maiden Blood, as well as a 68cl cup.
According to Gamma, the bundle can be shipped to North America, Europe (UK, Russia, Eastern European countries), Middle East, Africa, Oceania and India.
Maiden's Blood, which contains 140mg of caffeine per serving, was created to mark the release of the Resident Evil Village game last week. It is the third Gamma product to come out of a partnership with Japanese video game developer Capcom, following the Resident Evil 3-inspired Nemesis Tea and Monster Hunter Rise-inspired Mega Potion unveiled in March 2020 and April 2021, respectively.
In January, Gamma Enterprises joined forces with US entertainment group Warner Bros to release two new flavoured powders based on the Mortal Kombat gaming series.
How soft drinks can make the most of the reopening on-premise and foodservice channels – click here for a Just Drinks comment