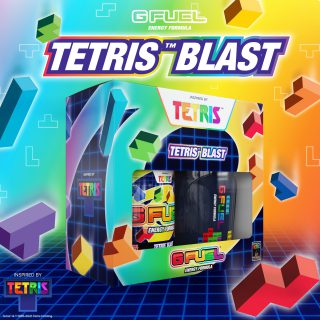 Gamma Enterprises has released a new flavour for its energy drink brand G-Fuel, inspired by the Tetris videogame.
A collector's edition of G Fuel Tetris Blast, comprising a 40-serving tub of energy drink powder along with a 16oz shaker cup, is available to purchase from the brand's online store while stocks last. Later this month, the tub will be made available online to consumers worldwide, as well as in four and six 16oz-can packs in the US.
Each powdered serving of G Fuel Tetris Blast contains 15 calories and 140 mg of caffeine, while a single 16oz can has zero calories and 300 mg of caffeine.
The product was released to mark 'World Tetris Day' earlier this week.
"We're honoured to team up with the iconic Tetris brand and for the first time in history, to take fans from just playing Tetris to playing and tasting Tetris in the form of an energy drink," said G-Fuel CEO Cliff Morgan.
Earlier this year, Gamma Enterprises released Scorpion Sting and Ice Shatter flavours for G Fuel, based on the Mortal Kombat videogame series.
Why the demise of Coca-Cola Energy opens up major energy drinks opportunity – click here for a Just Drinks analysis