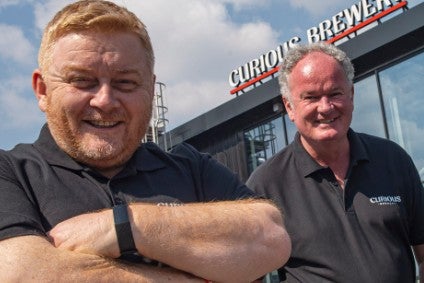 Former Budejovicky Budvar UK head Simon George is to run Curious Brewery following its sale to a private-equity group.
George, who left Budvar at the start of this year, will lead Kent-based Curious Brewery as MD alongside another UK brewing veteran, Mark Crowther, who will come in as chair. Crowther has held senior roles with Carlsberg and Diageo and was the CEO of pub & brewery company Liberation Group before its sale in 2016.
The duo were announced as the new management team as UK investor group Risk Capital Partners completed its purchase of Curious Brewery from Chapel Down winery late last week. The acquisition followed Chapel Down's strategic review into the collapse of Curious Drinks' business as UK bars and restaurants closed during the pandemic. Nine-tenths of the brewer's revenues came from the on-premise and in the first six months of the year, its beer & cider sales plunged 38% to GBP1.2m.
Commenting on the appointment of Crowther and George, RCP founder Luke Johnson said: "We are delighted to be working with Mark and Simon, who together bring an enormous wealth of experience and expertise, adding immense value to this business. I couldn't think of two better people to help unleash the potential for Curious Brewery, and we're looking forward to supporting them as they get stuck in."
Heineken throws Q1 surprise but stage set for LatAm battle – Click here for a just-drinks analysis