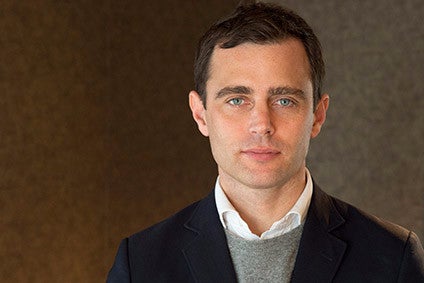 The managing director of English wine maker Chapel Down has warned fellow producers they must be "realistic" over how big the fast-growing sector could become.
Mark Harvey, who moved to Chapel Down from luxury goods maker LVMH last year, said English wine has the potential to become ten times its current size in 30 years. However, he said the industry must have a plan on how to reach that target.
"Be ambitious but be realistic," Harvey told just-drinks in an interview this week. "[The size of the category] will be a country mile from where we are today, but let's have some logic in how we will get to that number. The danger is if you don't do that and you say you'll be 100m bottles. How?"
Harvey added: "There needs to be either a commercial argument or a supply argument, or both. But, you need a logical argument on how to get there."
Harvey was speaking ahead of the London Wine Fair, which opens today. English wine producers will again be out in force at the show as global interest grows in a segment that has doubled in the past five years, according to UK Government figures.
In March, the UK's environment secretary Liz Truss announced that English wine producers had pledged to increase their combined exports ten-fold over the next four years to 2.5m bottles. Truss also said that annual overseas sales could reach GBP30m (US$44m) in the same period, up from GBP3.2m last year.
Harvey told just-drinks that Chapel Down will focus on exports this year, with plans to enter the US market for the first time. The company will target key cities in the US, as well as in Europe and Asia. It launched in Copenhagen last month.
However, Harvey said exports will be a "secondary focus" for Chapel Down as it continues to mine potential in the UK market. "You'd be crazy if you didn't capitalise on the bags of potential in the UK," he said. "The country buys 30m bottles of Champagne, 80m bottles of Prosecco but just 2m bottles of English sparkling wine. You hear one or two people saying that in the mid-term they see 50% of their volumes exported. I don't see why you would take that route, when we're still a relatively small piece of the pie in the UK."