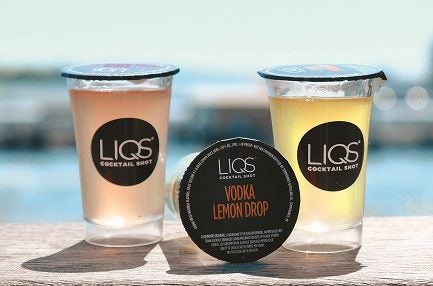 Following on from April's purchase of Agave Loco, the US owner of cream liqueur brand RumChata, the US wine giant has this week bought the pre-mix cocktail brand, Liqs. The transaction, made by Gallo's spirits division, has come about against a backdrop of consumers looking to replicate the on-premise experience at home.
Financial details were not disclosed.
Liqs, which is a shortened version of 'liquor shots', launched in Florida in 2013 with a four-strong line of 5cl shots in three-packs retailing at US$7.99. Gallo confirmed this week that a four-pack format, which costs $9.99, will roll out across the US during the Summer.
The range comprises:
Vodka Kamikaze
Vodka Lemon Drop
Vodka Lychee Grapefruit
Tequila Cinnamon Orange, and
Whiskey Fireshot, all of which are spirits-based, as well as
Margarita
Lemon Drop, and
Kamikaze wine-based shots
Also launching in September will be 1.5-litre bottle formats of Margarita, Strawberry Margarita and Mojito.
"Consumers want to enjoy their favourite cocktails now more than ever," said Gallo Spirits' GM, Britt West. "With premium ingredients and convenient formats, consumers can more easily enjoy their favourite bartender-quality shots and cocktails wherever, whenever they want with Liqs."