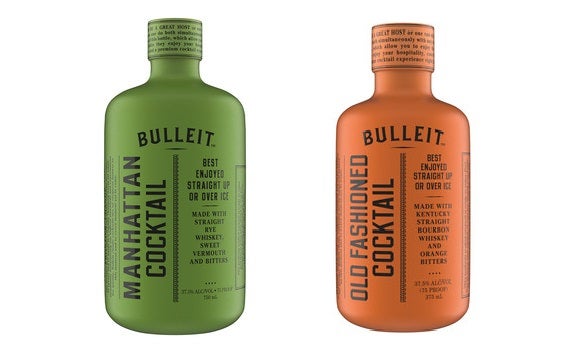 Category – RTDs, spirits-based, 37.5% abv
Available – From this month
Location – The US, available nationwide
Price – SRP of US$29.99 per 75cl bottle
Diageo is aiming to capitalise on the continuing trend towards making cocktails at home in the US with the launch of two premix cocktails from Kentucky whiskey brand Bulleit.
The range, unveiled this week, consists of Bulleit Manhattan and Bulleit Old Fashioned. Available in 37.5cl and 75cl bottles, the pair use Bulleit's Kentucky straight Bourbon whiskey as their base.
Packaging was developed with the brand's orange and green branding in the frame, resulting in a fully green bottle for the Manhattan and an orange container for the Old Fashioned.
"It can take time to master a Manhattan or Old Fashioned," said Bulleit brand ambassador Adam Geissler. "Luckily, bartenders … have been skillfully making these cocktails with our whiskeys for years, so it was only right we had them help us create these products to help put bartender quality cocktails in the hands of people (21+) to enjoy without the time or fuss of cocktail preparation."
Earlier this week, Diageo announced plans to open a US$110m canning facility in the US. The 225,000 square-foot site in Illinois will have an annual capacity of 25m cases of RTDs.
Just Drinks' Mergers & Acquisitions round-up – February 2022