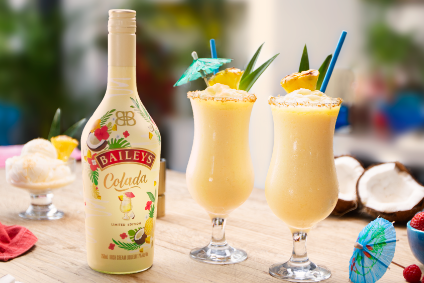 Diageo's Baileys Colada – Product Launch
Category – Cream liqueur, 17% abv
Available – From this month
Location – The US, available nation-wide
Price – SRP of US$24.99 per 75cl bottle
Diageo has released a Baileys with the flavour of a pina colada cocktail.
Baileys Colada is a blend of the Irish cream liqueur with coconut and pineapple flavours. The launch is a limited-time release, although Diageo did not provide details on how long the flavour will be available for.
To support the launch, Diageo has partnered with TV personality La La Anthony to create a Baileys Colada serve called 'Baileys Co-La La'. A customised Baileys Colada portable blender has also been developed with US blender maker BlendJet.
Stacey Cunningham, director of Baileys & liqueurs for Diageo North America, said: "We're excited to introduce Baileys Colada to welcome in the warmer weather months and give people yet another reason to treat themselves. Whether you want to enjoy it blended with ice, poured over ice, or on top of ice cream, your vacation starts the second you take that first sip."
The cream liqueur market in the US is becoming more competitive. In February, Diageo launched a Baileys with 40% less sugar. Meanwhile, this week, E&J Gallo announced it will buy RumChata owner Agave Loco.
Forget premiumisation, it's all about value right now – consumer trends