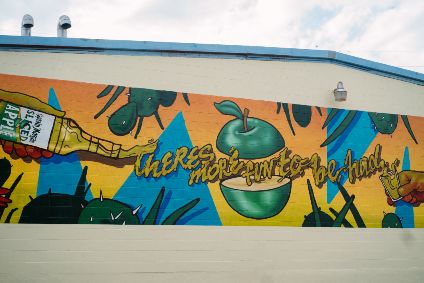 Diageo has lined up a number of tie-ups with street artists and content creators as it looks to promote a new Captain Morgan extension in the US.
The company said yesterday that the campaign will feature in ten US cities and include 11 murals and nine artists. The move is designed to highlight Captain Morgan Sliced Apple Spiced Rum, which was released in the US and Canada last month.
The programme has started with five artists in New York City, Los Angeles, Miami, Austin and Atlanta who have worked with Captain Morgan to design murals in their local communities. The activation also features content creators across four different categories – comedy, visual effects (VFX), music and dance – "competing to see who can make the best #Ad for Captain Morgan Sliced Apple".
Murals include artist Brandy Swope's homage to the Latin-American influences on the local community in Miami, while the creator activations include LeJuan James and Benito Skinner "squaring off in the 'comedy' category".
"We all thrive when we can support each other's growth, passions and local businesses," said Sam Salameh, VP for Captain Morgan at Diageo North America. "We're partnering with artists and creators from all walks of life to give our neighbourhoods across the country something they can celebrate together."
Why rum producers should ignore their past to win in the future – Click here for a just-drinks comment