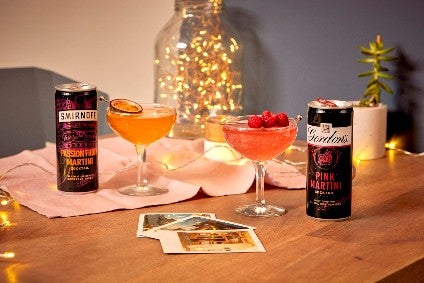 Diageo has added two new cocktails to its RTD spirits stable, including a Smirnoff Passion Fruit Martini.
The 5%-abv Smirnoff cocktail will launch in the UK off-premise from the middle of this month, Diageo said today. It will be joined in the country by Gordon's Pink Martini, a 5%-abv gin cocktail.
Diageo said the new launches tap into the growing demand for pre-mix cocktails as consumers look for convenience and quality. Listings for the two carbonated RTDs include Ocado, Asda, Bargain Booze and Spar.
Anita Robinson, GB marketing director for Diageo, said: "At Diageo, we are continuously researching and innovating to meet the ever-evolving demands of our customers and consumers. We're extremely excited to be launching two expertly-mixed cocktails in a convenient format from two of the biggest spirits brands in the world."
According to the group, Smirnoff Passion Fruit Martini is the brand's take on popular cocktail Pornstar Martini.
Why alcohol companies must be resolute in their support of responsible drinking bodies – sustainability spotlight