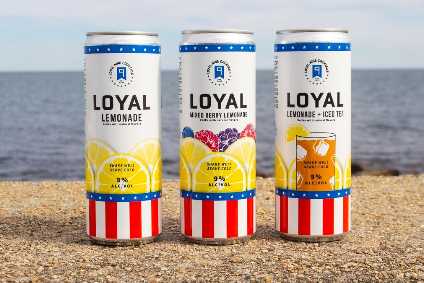 Diageo has bought its second US RTD brand in a month with the purchase of Rhode Island's Loyal 9 Cocktails.
The acquisition, from Sons of Liberty Spirits Co, brings the 9%-abv Loyal 9 range of vodka-based canned cocktails into the Diageo portfolio. Loyal 9 joins Texan hard seltzer Lone River Ranch Water, which the group took control of in March when it bought owner Far West Spirits.
Diageo appears set on a ramp-up of its US RTD footprint. Last month, the company unveiled plans for an US$80m canning plant in Illinois that will focus on Smirnoff hard seltzers and newly-launched spirits-based RTD cocktails from Crown Royal and Ketel One Botanicals. Diageo already operates two canning lines in North America – one in Relay, Maryland, the other in Valleyfield, Quebec.
Financial details of the Loyal 9 acquisition were not disclosed, but Diageo North America president Debra Crew said the transaction forms part of a "clear strategy" to diversify the company's RTD offerings.
"Loyal 9 hits an RTD 'sweet spot', merging American consumers' growing appreciation for better quality ingredients with the full flavour lemonade they love, and a classic Americana feel," Crew added.
Loyal 9 flavours include Lemonade, Mixed Berry Lemonade and Watermelon Lemonade and are a blend of vodka and fruit. Each 12oz (35.5cl) can contains 255 calories and up to 20g of sugar.
Heineken's hard seltzer switch and the rise of ranch water – Click here for a just-drinks focus