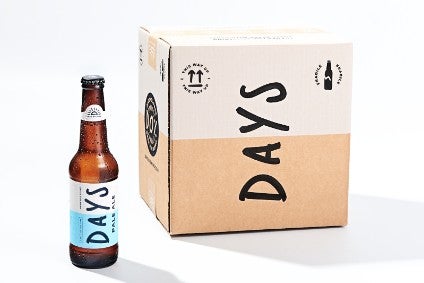 Days Brewing's Days non-alcoholic beer
Category – Beer, 0.0% abv
Available – From this month
Location – The UK
Price – TBC
UK start-up Days Brewing has launched a non-alcoholic beer brand that is produced using Scottish water.
Days, which was co-founded by a former employee of Anheuser-Busch InBev's ZX Ventures incubator unit, said today its namesake beer is a 0.0%-abv drink for "people with active lifestyles". The Days range comprises two styles – Lager and Pale Ale – and is brewed in Scotland using a "unique alcohol-free brewing technique", it added.
Days was founded earlier this year by Mike Gammell and Duncan Keith. Gammell previously worked for ZX Ventures as a manager and Keith for food companies Proper Corn and Genius Food.
The company will give 2% of sales to mental health charities.
Explaining the decision, Gammell said: "There are many people out there who are aspiring to live healthier, happier and more active lives. We believe it's time to open up an honest conversation about alcohol and its role in our physical and mental wellbeing, and we want every Days sold to have a positive impact for our community."
Will Q3 bring an end to 2020's hangover, are the softs going hard and would Stock Spirits fancy a beer? – The just-drinks Analyst