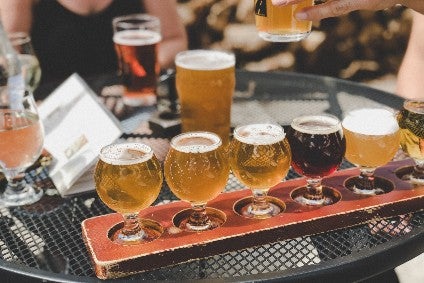 Craft's volume share of the US beer market fell last year as the coronavirus appeared to weaken independents more than major brewers.
According to recent figures from the Brewers Association (BA), craft's share of the total US beer category in volume terms dropped from 13.6% in 2019 to 12.3% in 2020. The decline came as craft beer volumes suffered a 9% loss in the COVID-hit year.
The BA figures show that craft brewers fared worse in 2020 than the overall beer category, where volumes dropped by just 3%. During the year, smaller US brewers were forced to compete with a consumer switch away from the closed on-premise to grocery and e-commerce sales. According to the BA, draught beer volumes dropped by 40% in 2020.
Craft's share decline follows years of increases during which the sub-category has become a major force in US beer. Multinationals including Anheuser-Busch InBev and Heineken have bought several US craft brewers and fitted them into their own portfolios. A-B InBev has even taken some of its US craft brands international. In 2018, the company started brewing Chicago's Goose Island in China.
Despite the declines in 2020, the BA remained optimistic for the independent US beer sector. The number of operating craft brewers in the country continued to climb in 2020, reaching an all-time high of 8,764.
"2020 was obviously a challenging year for many small brewers, but also one that proved their resilient and entrepreneurial nature," said Bart Watson, chief economist for the Brewers Association.
Why craft beer is exploring the value market – very carefully – Click here for a just-drinks comment