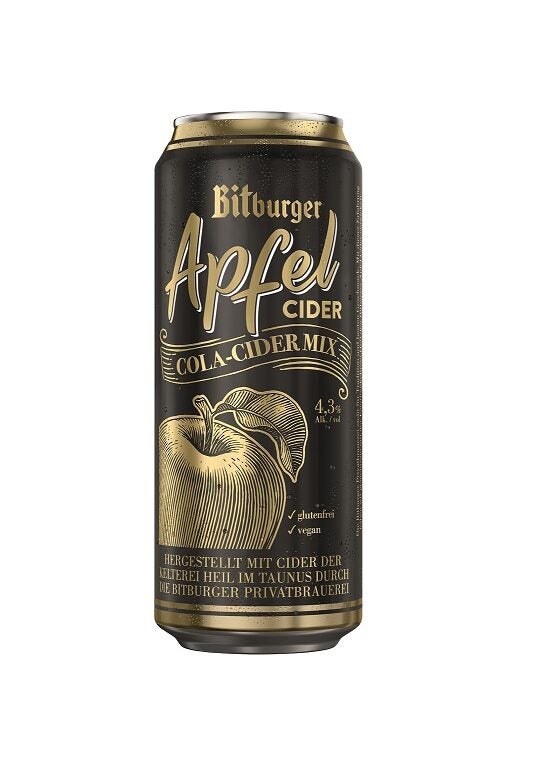 Bitburger Cola-Cider Mix is a 4.3%-abv beverage that contains 70% cider and 30% cola. The hybrid has been produced in partnership with the Heil cidery in the Taunus mountains north of Frankfurt.
The other product in the new range is Bitburger Apple Cider, a 5.3%-abv regular cider. Both products are on sale in the company's domestic market for EUR1.19 (US$1.45) per 50cl can.
Bitburger, one of Germany's largest brewers, said the launches target young legal-age consumers with a "known and trusted" brand. "We know that especially younger consumers in Germany drink less beer," said company spokesperson Axel Dahm. "We see a great opportunity here to interest and inspire consumers in the beer category through a product as close to beer as cider."
Non-beer alcoholic products are becoming increasingly important to brewers that operate in Germany. In April, Anheuser-Busch InBev added the country to the European roll-out of the 5%-abv Mike's Hard Seltzer.

According to GlobalData, Bitburger was the fourth largest beer brand owner in Germany last year. The company was only just behind Krombacher and Anheuser-Busch InBev in the race for second in 2020, with Radeburger almost double the size of A-B InBev.
Are hard seltzers paving the way for 'soft seltzers'? - Click here for a Just Drinks comment