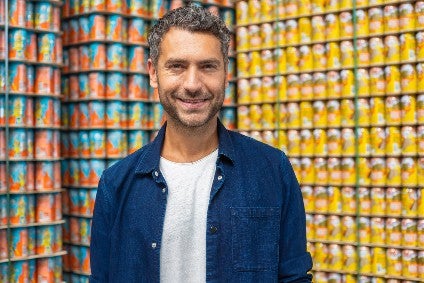 London's Beavertown Brewery has unveiled a new production facility in the city, built with investment from partner Heineken.
The Gamma Ray and Neck Oil brand owner sold a minority stake to Heineken in 2018 in return for GBP40m (US$52m) to build the brewery. The Enfield, north London site has a production capacity of 50m litres a year, ten times the craft brewer's previous capacity in Tottenham Hale.
Speaking exclusively to just-drinks yesterday, Beavertown founder Logan Plant said the facility is London's biggest brewery and marks a new chapter for the company he started from his kitchen in 2011.
The new brewery, called Beaverworld, started production last month and includes a brewhouse, packaging space, warehouse, logistics hub and offices. The Enfield site covers six acres with a 129,000 square-foot building.
"It was just eight years ago that I was home brewing and now we've built London's biggest brewery," Plant said. "The journey is just beginning. We've got so much to do and now we've got a great stage to project it from."
"Having a big uncle or auntie over your shoulder is priceless" – just-drinks speaks to Beavertown Brewery founder & Heineken partner Logan Plant