Just Drinks speaks to four women working in the whisk(e)y industry about how they've got to where they are and what advice they have to others wanting to get into the sector.
Desiree Reid – founder, Cardrona Distillery, New Zealand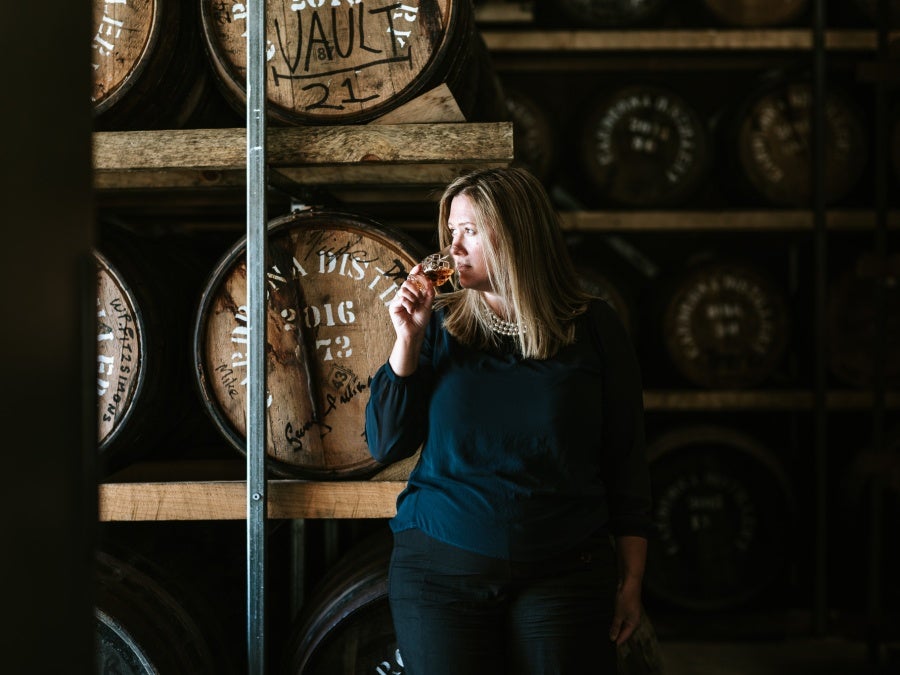 Reid entered the whisky industry after a successful career as a first-generation farmer. Following her divorce, she decided to embark upon a new business and toyed with the idea of going into perfume – but in the research process was won over by alcohol production. After learning from distillers in the US and Scotland, she founded Cardrona Distillery in Central Otago. The distillery now employs 50 people, with the potential to produce 200,000 litres of pure alcohol of whisky per year, and is available in New Zealand, the UK and the US.
I was 27 when I was elected by the 300 farmers from my region to represent their views in New Zealand's largest company [Fonterra]. On a council of 35 people, four were women. Inside that body, I was promoted to one of the most important jobs which was to assure the international valuation of what is a multi-billion-dollar company, to the farmers.
My mum and dad are absolutely tenacious. They were the first generation to purchase their farm as well. We moved there when I was three and I just saw the work that is required to make a dream. In doing anything special or great, whether that be in a business or personally, there are obstacles and they can come in any form, shape and size. I was given an incredible example of how to make your business succeed – which is huge personal sacrifice and perseverance.
I don't see gender myself and I've never looked for it. And maybe that's something about my personality type; I'm too busy doing what I'm doing to notice sexism. That's not diminishing other people's experience but, for me, I live in the future and I'm too dogged focusing upon what I'm doing. There's an irony, I'm quite an impatient person even though I'm making whisky, which takes time to make!
I'll be direct – in terms of the help that I had, there was nobody in New Zealand to seek advice from and so I heavily relied upon the established industries in Scotland and the US. I had enormous help from men – the Forsyths, both Richard senior and junior, were instrumental in helping me understand what I had to do to build the distillery.
How well do you
really

know your competitors?

Access the most comprehensive Company Profiles on the market, powered by GlobalData. Save hours of research. Gain competitive edge.
Company Profile – free sample
Thank you!
Your download email will arrive shortly
Not ready to buy yet? Download a free sample
We are confident about the unique quality of our Company Profiles. However, we want you to make the most beneficial decision for your business, so we offer a free sample that you can download by submitting the below form
By GlobalData
There are obstacles for everybody, regardless of gender. I think the way to get around obstacles is to focus on what you're going to achieve. And the obstacles fade away. It's not saying that the obstacle doesn't exist. I've just focused upon the prize, which is great whisky in this case.
I'm sure there were people along the way who weren't going to talk to me because I was a woman. However, I didn't notice them because they weren't going to help me get to the place that I was going. They were of no interest.
I've read that [women have a better sense of smell than men]. If I had only the same as a man, then would it have stopped me from making whisky? I don't think it would! I've been fortunate enough to have my grounding in industries that don't see gender as well and will promote regardless of gender or age.
It's the hard times that set you apart, how you react to them and navigate the obstacle. Right now with inflation, it's hard but it's a reality and we just have to make sure that when we invest a limited resource, we do it wisely to get a result. It's hard times that create the diamond, right?
Dr Emma Walker – master blender, Johnnie Walker, Scotland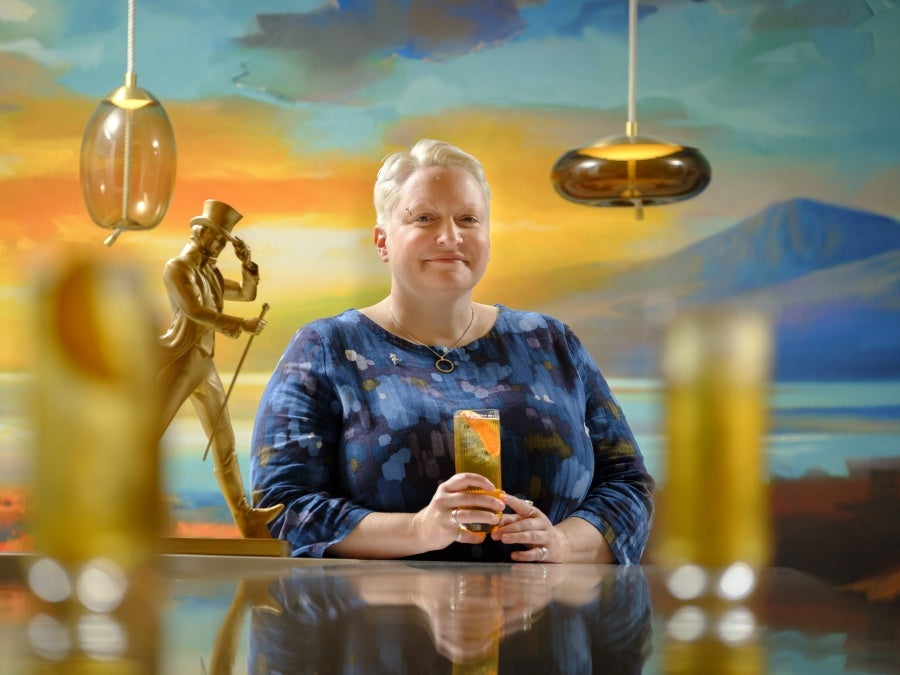 Walker is Johnnie Walker's first female master blender and has worked in the industry for almost 15 years. Following a chemistry Ph.D. she worked in chemists but quickly moved into whisk(e)y, joining Diageo as a project scientist and has since moved around in production and site management. She says the industry is "a very inclusive space" where she has always felt supported. And, no, her nose is not insured.
I've absolutely loved [working in whisk(e)y]. My first interview for Diageo was led by Jim Beveridge [Johnnie Walker's previous master blender] and Maureen [Robinson, master blender at Diageo], so I've always worked with lots of amazing men and women across the industry. They've all been amazing mentors. Everyone is proud of what they do and want to give others the opportunities they've had. It's just been such an inclusive space.
I think I've been very lucky; I've spoken to people who've had other experiences. But for myself, it's always been equal across the team and we've ended up having a 50:50 gender mix.
I've had amazing mentors who have pushed me. I've definitely got self-doubt and imposter syndrome – I feel worried about being getting caught out! Sometimes you need that external validation to say that you're ready to do something. I'm still waiting for someone to go: "We've realised this wasn't the right decision!" It's just something that's a part of my character. Something we learned from Jim is it's not always about the more experienced members of the team teaching other people, it's definitely a two-way thing. Having that mindset really does help.
I've also found asking for feedback has been a really good way of being able to deal with imposter syndrome. I think we're always our worst critic. We're very good at seeing the things where we've not been 100% whereas other people might think we're doing a fantastic job.
I get to see a lot of things Johnnie Walker is doing and with some of their recent advertising you can really see diversity coming through to the fore – the brand has done an amazing piece of work on that. Also with Diageo as a whole, we've got Diageo Society 2030 [a ten-year ESG action plan with goals including a 50-50 split of female/male leaders by 2030]. It looks at everything from neurodivergence, age, race, gender, everything that you can think of. There's very open conversations and a lot of training as well to help people to understand different viewpoints and challenges people might be having.
In terms of the industry, I think certain areas have been faster to diversify than others. We've seen a massive increase in the number of women that are applying for apprenticeships that would traditionally be thought of as being more male-dominated. We've got female coppersmiths, two female coopers, we're seeing a lot more women coming into engineering roles across the business as well. So I think things are changing. It's about looking at what attracts people to certain roles and maybe not to others and seeing what we can do to improve that.
Are women better than men in terms of sensory work? I've heard the conversations about that but then you've also got the conversations about younger people having better senses than older people. One of the reasons that we have a team of 12 is because we want a range of different people in the conversation. I remember Jim getting asked if his nose was insured but the insurance is having a team! If someone's got a cold, you want a team that is able to do the sensory work, plus you want different ideas of what something smells and tastes like.
If you want to get into the world of whisk(e)y, talk to people, do your research and have a look at the different types of jobs that are available. If it's a new industry for you, there'll be skills and experience that you have that will cross over into that space to help you make the jump. If you're interested in the blending side, try – responsibly – different whiskies! A lot of it is about building up not just the knowledge but your confidence of being able to talk about how flavours mix together. Build up a circle of people that you can talk to about opportunities.
The world of whisk(e)y is absolutely amazing. I'm obviously biased, Scottish whisky is the best, but for me, if people are drinking [any] whisk(e)y then that's fantastic.
Fawn Weaver – founder and CEO, Uncle Nearest, US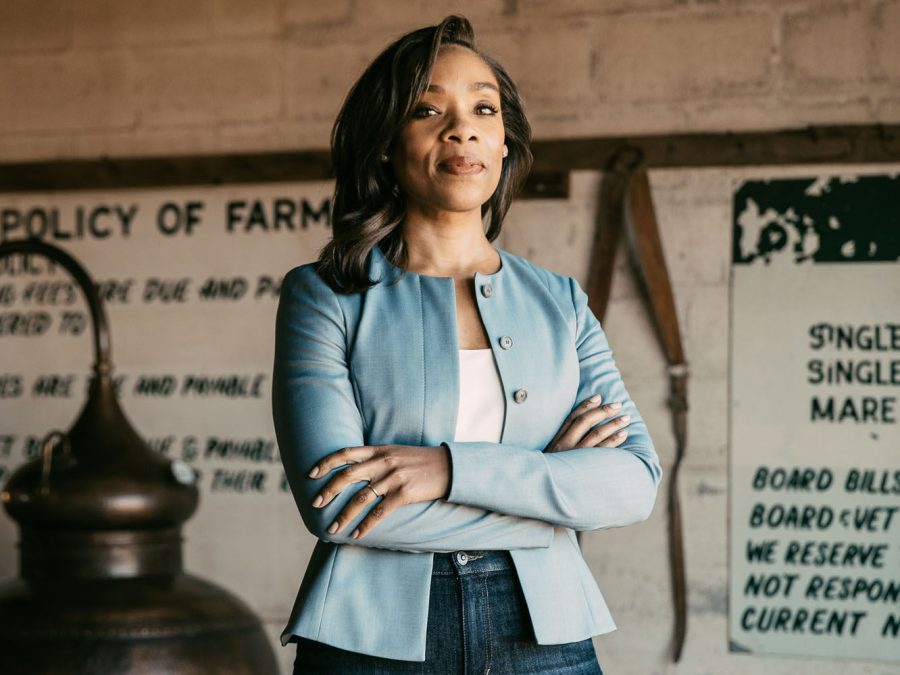 Weaver opened Nearest Green Distillery in Shelbyville, Tennessee, in September 2017 after becoming fascinated by the first known African-American master distiller, Nearest Green – an enslaved man who reportedly taught Jack Daniel how to make whiskey. Last October, the business exceeded total sales of over US$100m. A serial entrepreneur, Weaver also founded the non-profit Nearest Green Foundation, offering scholarships to Green's descendants. In 2020, the foundation formed the Nearest and Jack Advancement Initiative with Jack Daniel Distillery to increase diversity in the industry. In 2021, Weaver launched the Uncle Nearest Venture Fund, investing $50m in minority-founded, owned and led brands.
The most successful founders all seem to have similar stories. Nearly all of us are college dropouts. Each one I know had a period in their company's lifespan where their bank accounts were almost $0. They couldn't cover payroll. But I need to point out that I don't see myself as being different just because I'm a female founder, other than to say I think it works in my favour. Science (and track records) have long proven that women are more effective in leading during a crisis – and we've been in a constant state of turmoil and crisis since 2016.
Uncle Nearest debuted in July 2017 and I have weathered more potentially catastrophic events than most CEOs in the lifespan of their careers. In that regard, being a woman, particularly a Black woman, played to my strengths. At no time during the BLM protests of 2020 or during lockdown or the subsequent global supply challenge did I get nervous and start worrying about our company. I never thought about reducing our marketing spending or downsizing our team. On the contrary, I made decisions based on where I knew we were going long-term and refused to allow any of those temporary problems to define our company's growth.
Of course, being the first to succeed as a woman or a person of colour in any industry comes with challenges. But, for anyone who knows me, I spend no time focusing on challenges except to knock them out of the park and move on to the opportunities.
One of the most significant opportunities has been showing women and people of colour how to stop asking for a seat at the table and build their own. And to not just build their own table but to do it with such excellence that even those who are not minorities want a seat at your table. That is when real change happens. I'm honoured to have been a catalyst for this change and I am grateful to continue to have the opportunity to improve upon it.
Many women still feel a glass ceiling exists. I do not. Because too many women have gotten through that ceiling for it to exist. So, if it is there, it's got a crack the size of Hades. The incredible women and people of colour who came before us have shattered the ceiling that was once above us and it's now up to us to not only believe that we can jump higher but to take the risk to do so. I am a Black woman who risked jumping high enough and can confirm that women and people of colour can do anything and everything their heart dreams if they are willing to do it with excellence, sustained over time, and not give up.
Uncle Nearest has always been a purpose-driven company. The first thing we did to encourage more women into the industry was to succeed at the highest level. It is easier for others to do what they have already seen successfully done.
Our entire executive leadership team, from day one, has been women. If you speak to any of the men, they'll tell you they never want to work for a man again. Our paternity leave is equal to our maternity leave. That may not be rare in other countries, but in the US, it's nearly nonexistent. We pay 100% of health benefits to ensure women and their families have everything they need to thrive.
My advice to entrepreneurs is: have a solid business plan that includes a detailed SWOT analysis. The most important thing you will do in the beginning is to make sure you get that business plan to raise the money you'll need to succeed. Only do it if you have the funding or access to a friends and family round. The failure rate is more than 99.99%. Uncle Nearest is an anomaly. We had friends and family willing to risk $3m on us initially and that barely scratched the surface of what we would ultimately need.
Undercalculate your likely sales and overcalculate your potential expenses. Suppose you have people who can help (and don't look to banks, private equity, venture capitalists, or anyone looking for a business track record). In that case, you must have friends and family willing to invest.
The barrier to entry in the whiskey business is very low. You can buy one or two barrels, create a label, slap it on a stock bottle and voila… you're in business! However, the barrier to success in the whiskey industry is an entirely different story. Unlike vodka, gin, liqueurs, or many other spirits, the whiskey must be aged, and stock is minimal and expensive on the secondary market. So, you must figure out a path to distilling your own whiskey while also buying whiskey barrels that can easily cost more than $3,000 each, and that is no easy feat. And if you can manage to do both of those, you have to contend with a significant shortage of oak for barrels and cooperages that are out of stock and not taking orders for at least two more years.
Purpose, diversity and inclusion are the most significant factors behind the brand's success. While other companies in our business are solely focused on year-over-year growth, we're focused on raising the next generation to carry our success forward. From the beginning, we determined that we would build a team that looked like the country in which we lived. That allows us to market to a consumer base as diverse as us.
The table in which decisions are made in my company includes everyone, and I mean everyone. I have had my ideas overruled by a better one from an admin or coordinator. There is no ego with that. The best feeling as CEO is to know people at every level in your organisation can rise at any moment and give you the next "big idea" to catapult us to the next level. We cultivate that at Uncle Nearest and that is one of our superpowers.
Kelsey McKechnie – malt master, The Balvenie, Scotland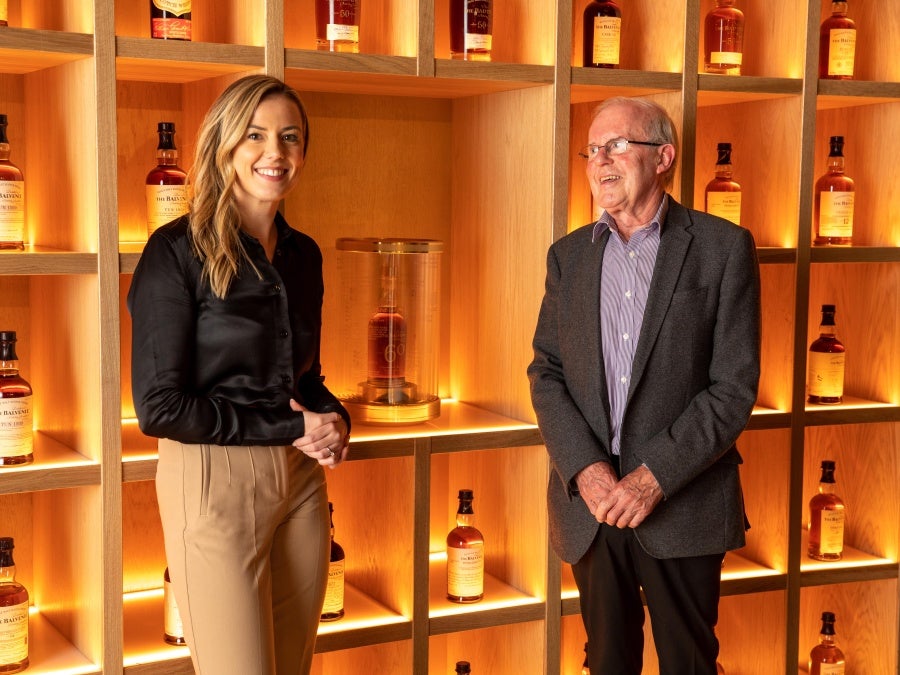 McKechnie began working in the lab at William Grant and Sons' distillery in the Lowlands following a biology degree and a brief stint at UK health retailer Boots. She began learning how to make whisk(e)y and joined the "nosing panel", spending time in Ireland with Tullamore Dew and Speyside with Glenfiddich and The Balvenie. Now with two master's degrees (in distilling and brewing, and business administration) under her belt, she began her malt master apprenticeship in 2017 aged 26, mentored by malt master David Stewart.
The whisk(e)y industry has been like another home for me. It's a great environment to be in. People that work in Scotch tend to know each other fairly well so you're always crossing paths.
There definitely are more male whisk(e)y drinkers than there are female. I do think it's changing but that's just the way it is at the moment. Whisk(e)y drinkers often have the view that there are less women in the industry than there really are. I've been at William Grant for ten years next year and I've only had one male boss, I've always worked for women. Even in the lab, there's more women than men. It's definitely not the rule across the entire industry though.
With The Balvenie and across all our products we are definitely conscious that it helps having women in visible roles because it speaks to other women and says the job is an option for them. It's a slow and steady game. Having women in more visible roles – so that could be across the on-trade, bartenders, at our visitor centers – can carry such a weight.
I think women are really determined. And I think we're great multitaskers, we are determined to get the job done and do it well. I would challenge any woman, even when it comes to whisk(e)y nosing, to give it a go and see if they like it. It's all about training.
When I started out I didn't realise my job was even a job for a couple of years. Then when I heard of it I knew it was what I wanted to do. I say this to people all the time: you could work for a whisk(e)y company and have four or five different careers.
People always ask how much of what I do is science and how much of it is art and I think it's a meeting in the middle. So many of the skills that I've been able to pick up over the years are ones anyone could do, so long as you're willing to be determined and stick with it. It does take a long time to be able to pick up specific flavours and to work out how we can create these flavours during fermentation and distillation, so having a science background does help.
You also need that secondary [creative] point of view. You can have two casks that are filled with the exact same spirit and the casks are seemingly exactly the same and they'll produce different flavours – so it's almost making peace with there not always being a justification.
The job can be daunting. When I started here many moons ago, (William Grant & Sons master blender) Brian Kinsman was saying that if you think of the magnitude and the scale of all the stock that we've got moving at any one time, it can be really daunting and you think about what can go wrong. And so we shouldn't think about it. And that was probably one of the best pieces of advice. To focus and be confident in what you do and be proud of the way that we work.
I would encourage anyone to get involved in the industry. I think it's worthwhile knowing what you want to do. That's one thing that stood me in good stead. I've always said: "I really love this aspect of distilling, producing the spirit and tasting it." And it's definitely helped me along the way to pick up those skills.
Learn as much as you can about the industry and reach out to people. We will always say yes, yes, yes to more people wanting to learn about whisk(e)y!
"Now volatility is part of the new system" – Absolut's VP of operations Anna Schreil talks sustainability and market surges